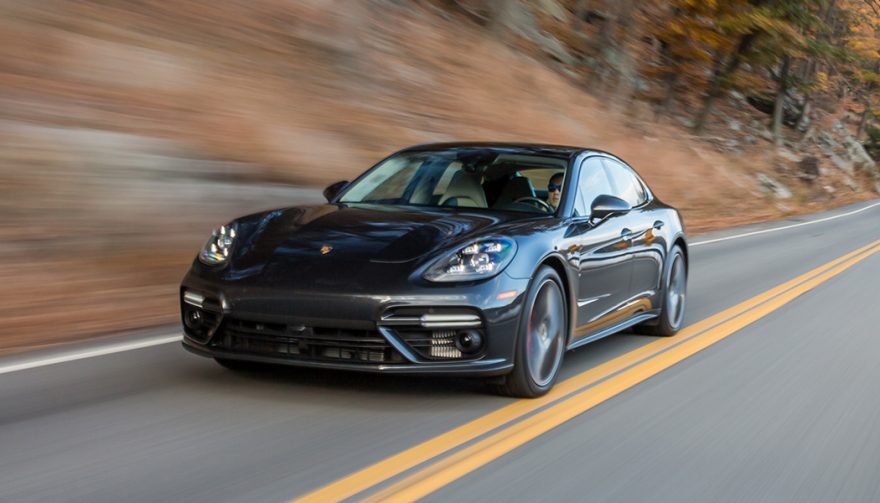 The Porsche Panamera proves four doors are just fine on a sports car
The Porsche Panamera Is Your Family-Friendly Luxury Sports Car
You may wonder why somebody would want a Porsche with room for the whole family. It seems like an oxymoron, like jumbo shrimp. But the Porsche Panamera, as well as the Macan and Cayenne, sell. And they sell well.
Some even argue that sales of the family-friendly Porsches are what allow the more exotic Porsche sports cars to exist at all.
And today, it's the all-new, second-generation version of the often-controversial Porsche Panamera that exists as the brand's freshest four-seater model.
Porsche Panamera Exterior
As with any Porsche, options for appearance customization are abundant. The tested 2018 Porsche Panamera 4S leaned toward discreet, with quiet grey paint, subtle wheels, and no extended graphics or add-ons.
It's big, stately, decidedly modern and upscale. It's more graceful and curvy than blocky or edgy. And it has that instantly recognizable look, just like its predecessor. This time around, the Porsche Panamera looks more swoopy and athletic, less bulbous and pregnant.
Porsche Panamera Interior
The new cabin in the Porsche Panamera is its greatest asset, for more reasons than we have room to cover, here.
Key among them are the deployment of top-line materials and interfaces, in all of the right places. Get in, and it's a world of gloss trim, curvaceous aluminum, fragrant leather, and high-resolution displays and touch-pads.
A comparable Benz or BMW tends to look fairly busy and full of intersecting elements and interfaces. The Panamera's cabin, by contrast, is gorgeously simple – organized, tidy and neat as a pin.
Build quality is off the charts, too, as good or better than I expect in a six-figure posh-rocket. Here's a cabin that more than pulls its weight toward the Panamera's big-ticket pricetag.
Elsewhere, the central command touch-screen is massive, packs vivid graphics, and displays a wide-screen tile-array of radio stations, current vehicle status information, an on-screen navigation map, and plenty more. Best of all, this latest version of the Porsche communication system responds instantly, never lags, and works consistently fast.
Center console controls are relegated to a gloss-black backlit touchpad with just a few actual hard buttons. The entire surface "clicks" like a mouse when operated. Turn the car off and all details disappear as the backlights fade away, leaving nothing but a square foot of shiny black behind.
Finally, the instrument cluster sees the traditional Porsche tachometer mounted smack in the middle. Two pair of high-resolution displays, angled toward the driver, flank the gauge
At times, you feel like you're driving a big classy iPad. And really, there's little about the cabin that won't surprise and delight everybody inside on every visit.
Performance
A new 440-horsepower, 2.9-liter V6, with twin turbochargers, propels the tested Porsche Panamera 4S. A new 8-speed PDK dual-clutch transmission with paddle shift channels the output.
End result? Drivers can expect a 0-60 time at 4.2 seconds. That's about the same as a Porsche 911 or Macan Turbo.
The engine is a flexible performer. On one hand, it's happy to use big reserves of low-RPM torque to ooze the machine along through traffic or down the highway without breaking 2,000 revs, or making so much as a peep. Opened up, forward thrust is pleasing and potent, not overwhelming.
Each of the nearly 7,000 revs pass beneath the tachometer needle with smoothness to spare, and the sound is a muted howl that grows in volume to a near-wail, as the tachometer needle closes in on redline. It's a tastefully restrained engine, where sounds are concerned.
Push it, and Panamera's bolted-down handling is more confidence-inspiring than playful, and it's steady and surefooted all the while. Even on the most twisty roads, you'll have trouble driving this machine hard enough to break its composure. More advanced drivers who choose to push the car though corners via the throttle will appreciate the intelligent AWD system's ability to precisely divvy engine torque between and across both axles, to help turn the car.
Further, brake feel is excellent. A slight numbing of the top of the brake pedal's action prevents the big clampers from feeling too hyperactive in traffic. However, the brakes become more precise the more vigorously they're worked. Here's a big comfortable cruiser that positively wakes up the harder you push it.
The next-generation 8-speed paddle-shift transmission lets the experience down a measure, though. In most gentle to moderate driving, it's so smooth and discreet, you'd hardly know the Porsche Panamera had a transmission at all. Drive it hard in paddle-shift mode though, and gearshifts come after a slight delay, meaning drivers have to think a few hundred RPM ahead of the transmission to avoid smacking into the rev limiter. Further, high-rev upshifts, or downshifts that get the tachometer heading toward the redline, can cause some harshness or a jolt through the driveline.
It's still an entertaining gearbox to use. However, drivers who owned the last-generation Panamera will find the new gearbox to be a step backward. At least where shift response time and smoothness are concerned.
Road Trip Ready
What a fantastic road trip machine. Four tall sport bucket seats are on offer, giving driver and three passengers plenty of bolstering. At a glance, each of the Panamera's seats wouldn't look out of place in a race car. They're comfier than they look, too.
The power tailgate opens up on a big cargo area with enough room to handle luggage for four people. A built-in cover keeps your things away from prying eyes and protected from the sun.
Both ride comfort and fuel mileage are well suited for a lengthy highway cruise. Set into its most comfortable drive mode and the tester rode with a nice balance between stiff and comfortable. Suspension feels durable and solid, and all but the roughest surfaces fail to cause a fuss from the suspension. If you're coming into the Panamera from a sport-package-equipped luxury sedan, you'll find the ride to be familiar.
The Porsche of Luxury Sedans
Ultimately, the new PDK transmission won't connect as readily with driving enthusiasts as former units. However the latest Porsche Panamera effectively blends core model attributes with the segment's most stunning cabin and numerous effective technologies.
The resulting package should be on your radar if you're lucky enough to be shopping in this pricing ballpark.