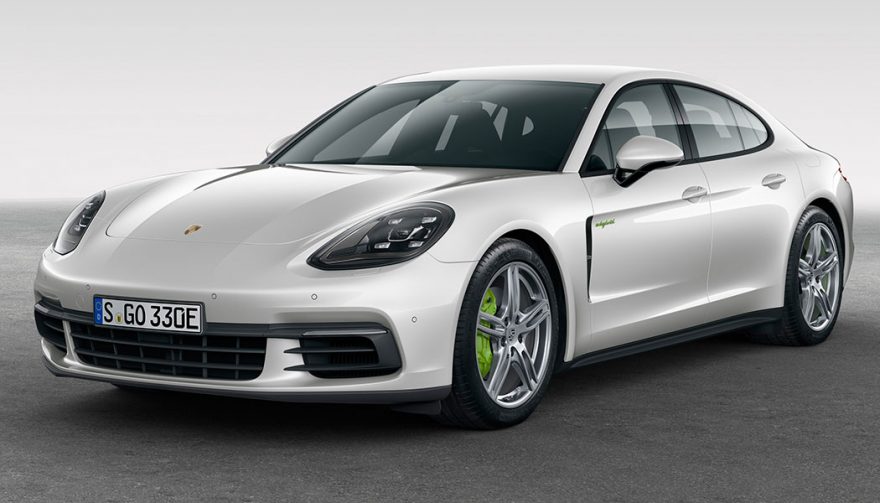 The Panamera 4 E-Hybrid has several power modes that make it suitable for dealing with the emissions regulation regimes spreading throughout Europe
Panamera 4 E-Hybrid Is 4-Door 918 Spyder For $100K
The new 2018 Porsche Panamera 4 E-Hybrid is proof that the German automaker does not reserve its best technology for its top-level products alone. This new gasoline-electric hybrid sedan has incorporated many elements of its hybrid hypercar cousin, the 918 Spyder.
Making its debut at September's Paris Auto Show, the Panamera 4 E-Hybrid features a total of 466 horsepower and 516 pound-feet of torque. All this power is delivered through an extremely quick-shifting 8-speed PDK transmission to all four wheels. Zero to sixty comes in just 4.4 seconds, while the standard three-chamber air suspension provides a balance between comfort and performance. To set it apart from its gasoline-only siblings, the 4 E-Hybrid sports "acid green" brake calipers and nameplates. Eco-cool!
Similarities with 918 Spyder
The already legendary 887-hp Porsche 918 Spyder is the fastest series-produced vehicle ever to lap the Nürburgring. Its record lap time of 6:57 is partly the result of the additional power provided by its two electric motors.
The Panamera 4 E-Hybrid's electric motor is also there as soon as the driver accelerates from a stop, just as in the 918 Spyder. The instant torque provided by the 136 hp electric motor makes for a very fast rate of acceleration from rest. The twin-turbo gasoline V6 engine then adds its 330 hp to the mix for a total horsepower rating of 466.
A Very Smart Hybrid System
The 14.1 kWh lithium-ion battery that powers the electric motor sits under the luggage compartment. It can be recharged in 12 hours using 120V wall current, or in under 3 hours using the optional 240V on-board fast charger.
The Panamera 4 E-Hybrid has several power modes that make it suitable for dealing with the emissions regulation regimes spreading throughout Europe. In the city centers, where conventionally-powered vehicles have to pay heavy "congestion charges" to enter during peak times, the Porsche can operate in "E-Power" pure electric mode for up to 31 miles.
When traveling between cities, the car can be set on "E-Hold" to conserve the battery's charge for use in the city. The Panamera 4 E-Hybrid's gasoline engine can also be used to recharge the battery by setting it to "E-Charge" mode.
Performance Settings, Too
For high performance driving when you don't need to be concerned with emissions, the Panamera 4 E-Hybrid lets you choose between "Sport" and "Sport Plus" modes. In "Sport," the V6 maintains sufficient charge in the battery for some extra E-boost when you need it. "Sport Plus" maxes out performance of both the V6 and the electric motor, making it possible for the Panamera 4 E-Hybrid to reach its top speed of 172 mph. This is a hybrid we can get behind!
Panamera 4 E-Hybrid Pricing
We will see the 2018 Panamera 4 E-Hybrid on these shores by next summer. Pricing is to be announced later, says Porsche Cars North America, but Porsche Canada states that, "Despite having an advantage of 22 hp and 111 lb-ft of torque, its starting price is expected to be below the Panamera 4S." US price of the current Panamera 4S is $98,300 plus delivery charges.