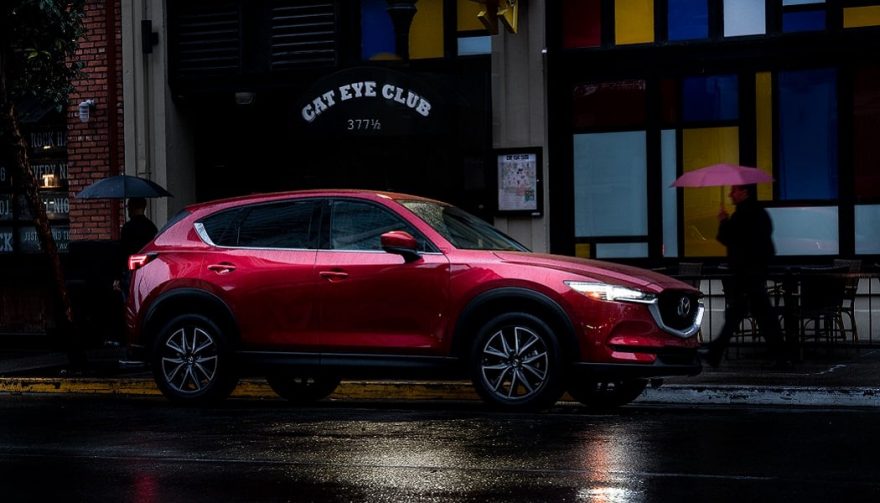 The all-new 2017 Mazda CX-5 got a great overhaul
The All-New 2017 Mazda CX-5: A Benchmark for Other Crossover SUVs
The all-new 2017 Mazda CX-5 doesn't really fit the Mazda "zoom, zoom" motto. Then again, that motto is getting a little old and tiresome.
What does it really mean in their lineup today? The only Mazda that's actually a sports-focused vehicle is the Mazda MX-5 Miata. All the rest are more centered on economy and function than performance.
And that's not a bad thing at all, especially when you have models like the all-new 2017 Mazda CX-5 rolling off the assembly line.
What's It All About?
Like the motto, the Mazda CX-5 was in dire need of a refresh. The interior had become dated and it was falling behind on technology.
Instead of just adding a feature here and there, and slapping a new option package on it, Mazda went back to the drawing board. It's the best thing they've ever done…aside from the Wankel engine, of course.
The 2017 Mazda CX-5 goes to a whole new level of awesome. The exterior is sleek and sexy, fitting for a premium or luxury brand like Lexus or Infiniti.
The interior is treated to a re-wrap with high-grade materials and a great new infotainment system. The powertrain isn't all-new, but it's a pretty good mix of Mazda's best stuff.
A Great Look for the Mazda CX-5
On the outside, the 2017 Mazda CX-5 makes you forget what the old CX-5 looked like. The chunky front end with its bland diamond-shaped grille is transformed. Now it's an elongated, low-profile hood with a slightly inset, chrome-trimmed grille akin to a Jaguar.
There are pinches in the front bumper that give it appeal you'd never expect in a Mazda and the headlights set it off perfectly for an aggressive road presence. The rest of the body is fairly similar to the last CX-5 crossover, or any other crossover SUV for that matter.
Another item of note: the wheels are gorgeous. From the entry-level Sport trim and the mid-level Touring to the upper-echelon Grand Touring, the wheels are totally befitting the new look of the CX-5.
Between the Doors
Here's where the 2016 and earlier Mazda CX-5s really fell flat. The old interior was fine but held absolutely nothing special. You could rip the badges off and mistake it for any other carmaker in the world.
That Mazda CX-5 is gone, replaced by an impressive interior design with very few flaws. Seating feels good – firm, comfortable and slightly bolstered seats don a sporty feel. The center stack is clean and well laid out. The clunky old-style infotainment screen is gone, replaced by the dashtop widescreen that's popular right now. It's controlled with a rotary knob by the shifter, which by the way, is not a push-button shifter. For driving enthusiasts, an actual shift knob is important.
The dash design is quite nice, focusing on the driver's line of sight. It's beautifully wrapped in leather-looking material with contrast stitching, elevating the interiors appearance. The three round gauges are clean and visible, but you won't be looking there.
The 2017 Mazda CX-5 has an available Active Driving Display, or in layman's terms, head-up display. It projects your speed, posted speed limit, and other pertinent details directly on the windshield in the driver's vision. A wonderful touch found on high-end vehicles, surprisingly present on the CX-5.
Only a few minor irritants inside. The HVAC controls aren't up to the same standard as the rest of the interior, looking rather cheap. It's like blue jeans at a black tie event. Also, the steering wheel buttons take some getting used to. They function quite well, but you'll be distracted trying to remember which button does what.
The 'Zoom Zoom' Part
Getting to the basics, it's the powertrain. The engine across all three trim levels is the same, a 2.5-liter SKYACTIV 4-cylinder with variable valve timing, dual overhead cams and direct injection. It makes 187 horsepower and 185 lb-ft. of torque.
It's sufficient, but just barely. It is an improvement over the base engine on the previous generation which was just 2.0 liters and 155 horsepower.
It's annoying that there isn't an engine option for more power, and it could seriously cause shoppers to go elsewhere. If Mazda head honchos are reading this, give us a Mazdaspeed version!
You have the option for front-wheel drive or AWD, with Mazda's clever I-ACTIV AWD system. It's a predictive system, using weather conditions, throttle input and braking patterns and pre-emptively modifies torque distribution.
With front-wheel-drive models, the EPA-rated fuel efficiency is quite good. It's rated at 31 miles per gallon on the highway and 24 mpg city. The AWD versions are close, achieving an EPA-rated 29 mpg highway and 23 mpg city.
On top of all that, a diesel version will be available later this year.
Technology and More Technology
All the power features you'd expect are in the 2017 Mazda CX-5, of course. There's a ton of additional features that are mainly optional on the higher trims – the aforementioned Active Driver Display system for example.
Other options include adaptive front lighting, high beam control, Lane Departure Warning System and Lane Keep Assist. There's also Rear Cross Traffic Alert and Blind Spot Monitoring.
That's just the start. You can also equip your 2017 Mazda CX-5 with Mazda Radar Cruise Control, Traffic Sign Recognition and a power liftgate.
Not an Enthusiast's Car, But Great for Everybody Else
Here's the thing: I love the 2017 Mazda CX-5. It looks awesome, handles well, and has all the bells and whistles I want in a car. It's a great SUV if you live in the city.
I wouldn't consider buying it, though, because I also love driving. The engine simply doesn't cut it for me. It doesn't have enough oomph.
But if you are someone who needs a great, reliable crossover SUV (at a fantastic price, mind you) and you don't necessarily desire a high-performance driving experience, you will absolutely adore the Mazda CX-5.
Again, if Mazda people are reading, give me more power and I'll sign the dotted line.