Top Truck: 2020 Ford Super Duty Gets Highest Towing, Payload
Deep down we probably all know that no matter how incredibly powerful and capable the latest round of pickup trucks is, the next automaker in the cycle will make that once strong metric on the scorecard look weak. GM just did it to Ram, beating that brand's max tow rating by 400 lbs just weeks after Ram announced it. Now it's Ford's turn, but instead of edging ahead, the 2020 Ford Super Duty is completely eclipsing the competition. With towing, payload, and torque.
37,000 lbs. That's the maximum weight that the 2020 Ford Super Duty can tow when properly equipped and with a gooseneck trailer. It's for the F-450, of course, but even the F-350 beats out the 3500 models from the other two truck builders. Though at 35,750, not by quite as much. Of course with trucks, towing and payload greatly depend on how you equip it, but these are impressive figures. Payload's up there too. A properly equipped F-350 can handle 7,850 lbs in the bed. That's more than the weight of another F-350.
Helping the 2020 Ford Super Duty carry all that stuff is three engines. One carryover, one that's been beefed up, and one that's all-new. The carryover is a 6.2L gas V8. In any other vehicle, with 385 hp and 430 lb-ft of torque, this would be top dog. In a full-size truck, it's just getting started. The all-new engine is a 7.3L big block V8. Designed specifically for use in heavy trucks. This one makes 430 hp and 475 lb-ft and has been designed to last while it's being worked hard.
Finally, the big one. The 6.7L Power Stroke diesel V8. It's been worked on for this year and now it makes 475 hp with 1,050 lb-ft of torque. That's 50 lb-ft more than the second-best Ram, but it gets more impressive. The Ram only makes that much torque as a 3500, and only if you tick the right option box. Otherwise, it makes just 850. The 2020 Ford Super Duty makes that 1,050 on every trim it's offered.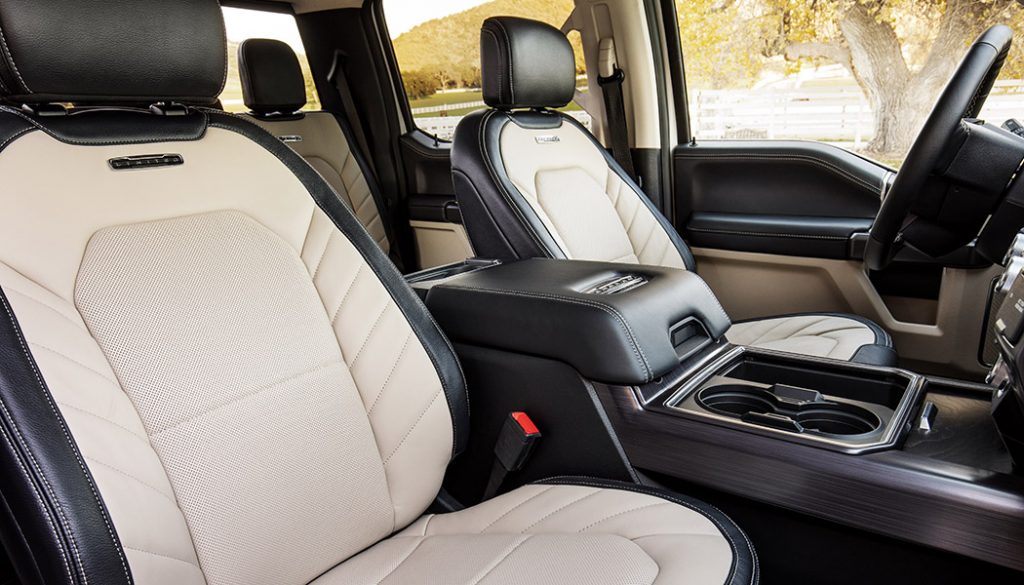 Off-Road Ready
This is also the first Super Duty to get an off-road package. That's the Tremor kit they announced a few months ago that comes with a lift and off-road tires, but still preserves much of its towing and payload capabilities. Some 6.2 F-250s get a six-speed automatic, but the rest get a 10-speed that should boost drivability and fuel economy.
To help tow these big trailers, the 2020 Ford Super Duty gets some new gadgets to help. Like Ford's Pro Trailer Backup Assist. It's a dial on the dash that helps you guide your trailer using a screen and interface it says is easier to use than the old way: the steering wheel. The truck's reverse guidance works with all trailer types. There's also lane-keeping on XLT and above trims with blind-spot monitoring that can watch beside your trailer in case you missed something. Pre-collision assist with emergency braking comes too.
Ford hasn't revealed all the interior details yet, but expect them soon. And the truck to arrive at dealers by end of year.