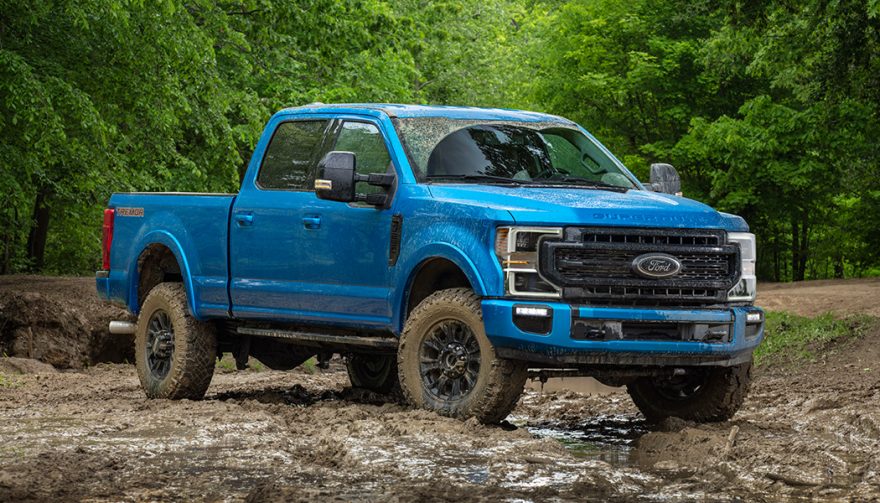 Need to tow a trailer or haul gear all week but want to hit the trails on the weekend? The Ford F-250 Tremor and F-350 Tremor are just the ticket
Ford F-250 Tremor and F-350 Tremor Are Off-Road Super Duties
Ford's latest Super Duty pickup will have you shaking. The Ford F-250 Tremor and F-350 Tremor are designed to let buyers who need to tow heavy all week crush boulders on the weekend or take their powersports equipment all the way to the cabin or lake, no matter how grueling the trail there.
The F-250 Tremor is an all-new off-road package that Ford has launched to help give buyers of their biggest trucks more of what they want. "A growing number of Super Duty customers use their trucks for more than work. They're fishing, camping and towing boats on weekends and they go off-road, so we designed this truck specifically for them – more ground clearance, bigger shocks, bigger tires and more off-road capability," said Todd Eckert, Ford truck group marketing manager. "Tremor balances what customers demand in terms of work with what they need in the great outdoors."
So what does that mean? It starts with a larger tire and wheel package. Goodyear Wrangler Duratrac tires that are designed for hard-core off-road use. They're 35-inches tall, which Ford says makes them the tallest tires available on any HD pickup. The wheels are 18-inch units with a special matte-black finish.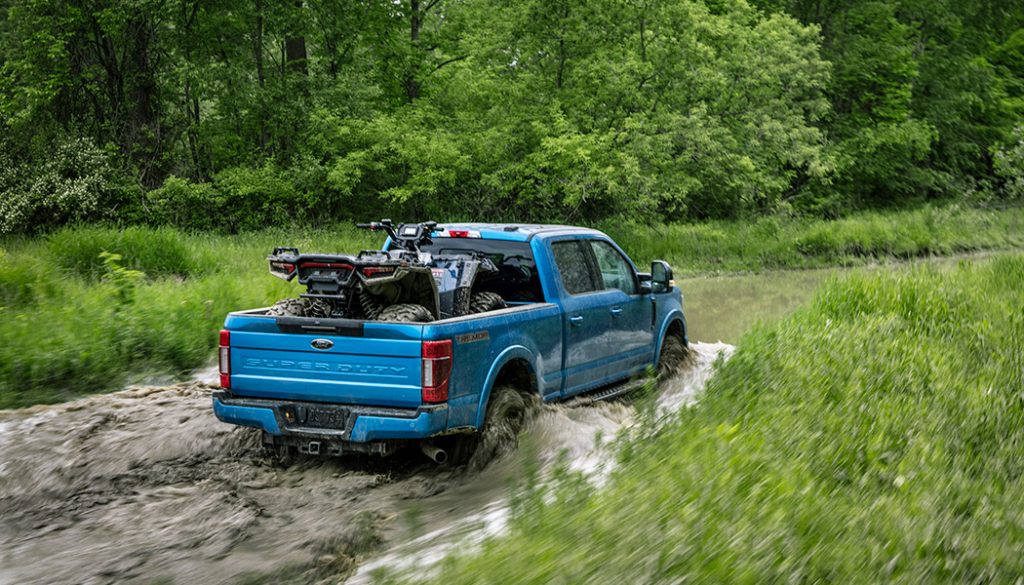 Big Suspension Changes
Combine that with a 2.0-inch front-end lift and you get a truck with class-leading off-road chops. 10.8-inches of ground clearance for a start. Then 33 inches of water fording ability along with 31.7 and 24.5-degree approach and departure angles helping you take this big truck over obstacles you'd never expect.
There's more than just a lift and wheels, though. Ford has added new progressive-rate springs. They're designed to balance tow capacity with off-road capability, controlling the body on rutted and rocky trails. Ford says there's a new rear stabilizer bar that's tuned to stop your head from being tossed back and forth over obstacles.
Of course, this rig needs new shocks and they've fitted some big ones to the F-250 Tremor. 1.7-inch diameter piston twin-tube dampers with more oil to make sure they don't overheat. They're tuned to be soft at low speeds but still control large impacts. There's internal hydraulic rebound to help soften the worst impacts.
Ford hasn't given tow and payload specs, but says they'll be close to non Ford F-250 Tremor and F-350 Tremor models.
Keeping those tires gripping the dirt are new differentials. It starts with a locking rear diff that has electronic shift-on-the-fly engagement. That keeps both rear tires turning at the same rate all the time. Keeping the front wheels spinning while helping you steer too is a new Dana limited-slip front diff. In certain drive modes it can sense lost traction and use the brakes to compensate.
Of course the Ford F-250 Tremor and F-350 Tremor get some electronic driver aids. Like drive modes for all conditions. And trail control, and off-road cruise control-like feature. Finally, off-road running boards act like rock rails and there are skid plates from the FX4 model. The Ford F-250 Tremor and F-350 Tremor will launch with the 2020 Super Duty later this year, and the pack is available on gas and diesel engines.