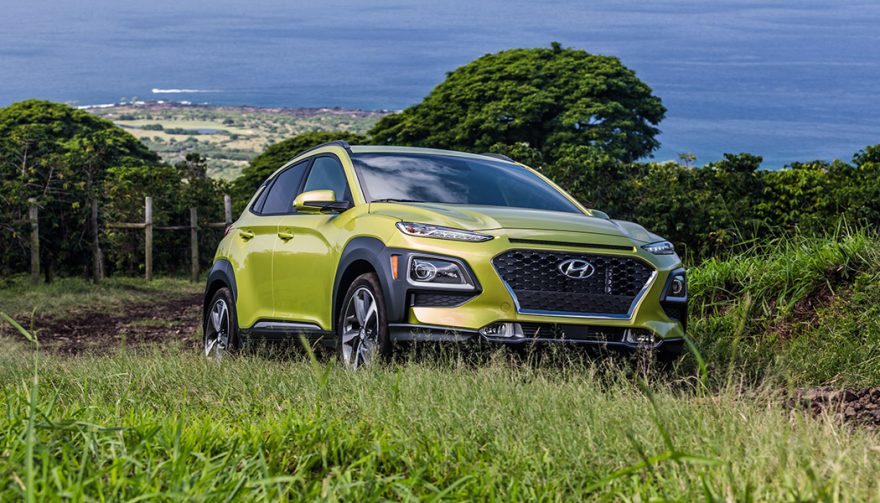 So is the Hyundai Kona all cool breezes and Spam? Or is it one you're going to want to avoid like a hot lava flow? Let's take a look.
Driven: 2019 Hyundai Kona Review- Small but Stylish
Hyundai is known for its love of naming crossovers after towns in the western U.S. But this time, for their smallest and latest crossover, Hyundai has crossed an ocean. Well, half an ocean, at least. The Hyundai Kona is named for the district of the Island of Hawai'i. So is this new small crossover all cool breezes and Spam? Or is it one you're going to want to avoid like a hot lava flow? Let's take a look.
Despite the Hawaiian name, Hyundai calls the Kona a crossover built for the city. That's because it's a subcompact model. Fitting in a size down from the Tucson in what is one of the fastest-growing segments in the auto industry. Quickly replacing the subcompact car, the subcompact crossover needs to be loaded with a surprising amount of tech, lots of creature comforts, and, based on most of the market, an above average amount of funky style.
Style First
That last one is the first thing you're likely to notice when you look at the Hyundai Kona. It starts with those ultra-narrow LED headlights. Except they aren't actually the headlights. Those are just the running lights. With the turn signals mounted beside them.
The actual headlights are in those lower-bumper pods. Both the low-beams and the highs. Where you might expect to find fog lights, normally. The fog lights, if equipped, go even further down the bumper, right at the bottom of the nose.
The lights aren't the only funky bit of styling, though. Take a look at the thin grille mustache, the chunky fenders with big blocks of cladding, and the floating roof line in the D-Pillar. That's before you even look at the color palette. It includes bold blues, oranges, and the searing green Lime Twist option.
On the inside, there's a bit less funk, though it's still stylish. Lower trims get a houndstooth seat fabric insert and while most of the Limited and Ultimate trim cars wear black leather, gray is available. There's even a contrast lime green stitch and trim available on the lime paint models that really adds some flair. Hyundai is even launching an Iron Man special coming early next year with red trim and a special head-up display to promote the Marvel hero.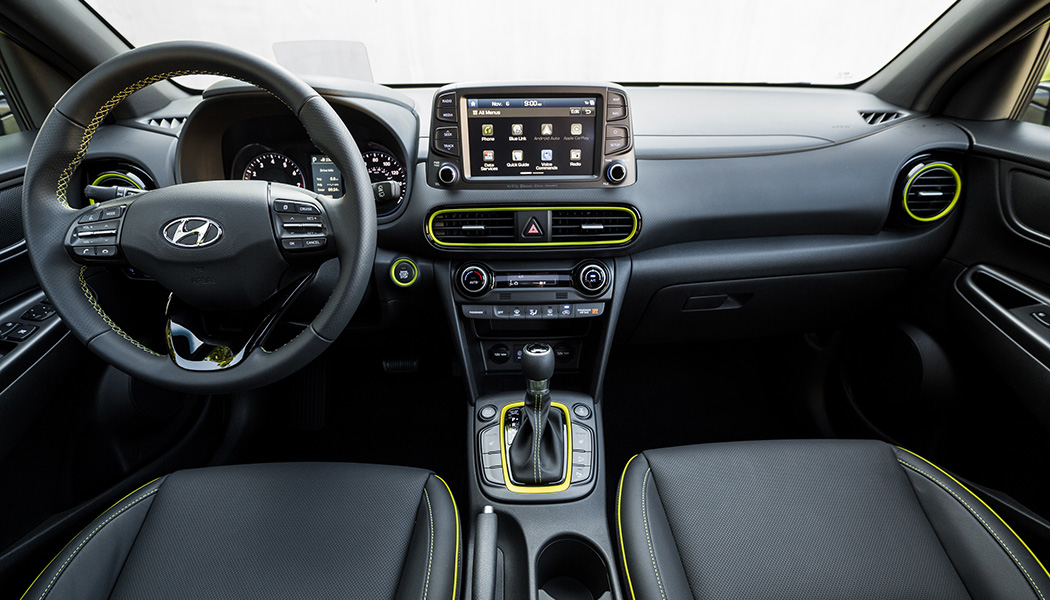 The Value Proposition
Hyundai has always been big on value. Appropriately, this car has lots of standard equipment. Even the base Hyundai Kona gets a 7.0-inch touchscreen with Android Auto and Apple CarPlay. Ultimate models bump that up to an 8.0-inch system with navigation. All but the base model get heated front seats too. Power windows and AC are a given these days, even in this segment, so of course the Kona has them.
On top of that larger screen, audiophiles get an Infinity-branded audio system with eight-speakers including a subwoofer. That system comes on Limited as well and is optional on SEL. Ultimate buyers also get a head-up display. But that display isn't height adjustable, so tall and short drivers may have trouble seeing it. I didn't realize my test car had one until I leaned down to get something from the center console.
This is a big cabin for this class, with plenty of room for driver and front passenger. Even the rear seats will offer up enough space for most back-seat passengers to be comfortable. As is the usual in this class, though, NBA players and NFL linemen need not apply for the back seat. At the very back, the Kona is a little tight on cargo space. It's bigger than the CX-3, but then again, just about every small crossover is. Compare it with something like Honda's HR-V and the Kona's trunk feels much, much smaller.
Everything feels well put together in the Hyundai Kona, and despite the low price there's no penalty-box feel to the materials either. Gone are the days of compact pricetags meaning sub-par trimmings. The infotainment system is easy to operate, even if it's a bit slow to respond at times.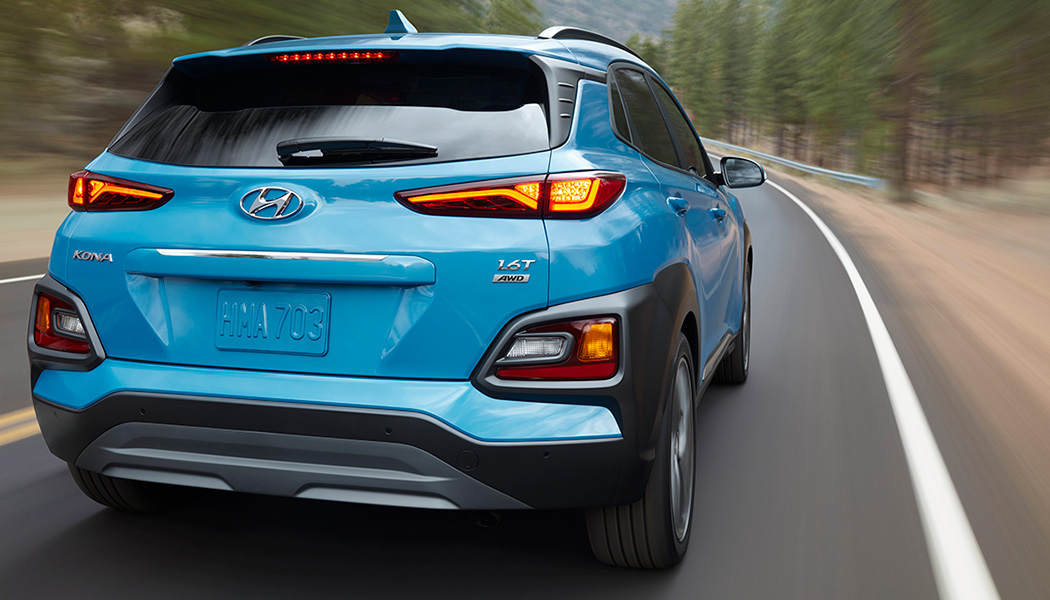 Loads of Powertrain Choices
It comes loaded with active safety features like lane-keeping assist, forward-collision avoidance, and a driver attention warning. Blind spot warnings, lane-change assist, and rear cross-traffic alerts are all standard on SEL and above. Ultimate even gets parking sensors and pedestrian detection.
The Hyundai Kona is available with a pair of engines. The SE and SEL models get a 2.0L inline-four. It offers up 147 hp and 132 lb-ft of torque. Not massive figures, but again, good for the class. It sends power to the front or all four wheels through a six-speed automatic.
The Limited and Ultimate trims, like my test car, get something a little punchier. A 1.6L turbo four that huffs out 175 hp and 195 lb-ft of torque. AWD is again optional here, but the gearbox is a seven-speed dual clutch.
The engine feels adequately powerful, though not quite as quick as the numbers would suggest. It's also noisy, and the Kona lets in more interior noise than I was expecting. Enough that I double checked to make sure it wasn't on snow tires since winter rubber will turn all but the most vault-like vehicles into noisy cars in the winter.
The twin-clutch gearbox is quick to shift, but it was a bit jerky in city driving. Something common to the DCT. The smoothness of a good torque-converter auto has yet to be replicated by the robot-operated clutch.
Conclusion
The Hyundai Kona is definitely stylish, but with a choice of powertrains and driven wheels, it's also versatile. Offering the top trim with front-drive is a rarity, one that's probably a big perk for anyone who realizes they don't really need all-wheel drive. Look out for an electric Hyundai Kona coming soon also.
It's not the quietest vehicle in the segment, it's not the biggest either, but it does offer up a combination that's likely to be popular. What more could you ask for in a subcompact crossover?