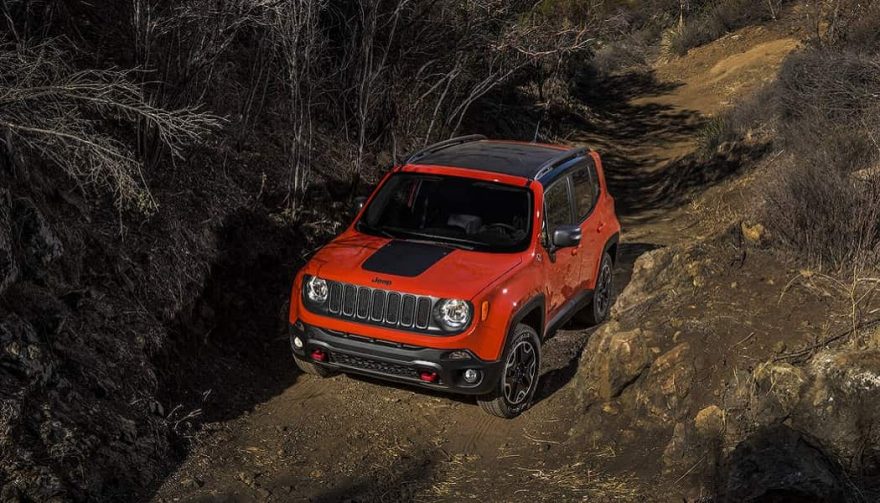 The Jeep Renegade Trailhawk is as serious an off-roader as you'll find in the segment.
Jeep Renegade Trailhawk: Off-Road Prowess and Delightful Design Touches
Call it a cute ute if you like. But with Trail-Rated capability enabled by a transfer case with low-range, a substantial 20-to-1 crawl ratio, tow hooks, a lifted suspension, skid plates, enhanced articulation, and unique fascias designed for climbing over stuff, the Jeep Renegade Trailhawk is as serious an off-roader as you'll find in the segment.
Here's a machine designed for extra confidence when tackling the sort of terrain that'd leave a comparable HR-V, Juke or Trax on a speed-date with a smashed-in oil-pan. If you're after the most off-road-ready version of one of the most instantly recognizable small utility models on the road, the Jeep Renegade Trailhawk is what you're after.
Exterior
It looks a bit like a Tonka Truck. Distinctively blocky and accented with stand-out visuals, the Renegade's boxy shape lays a unique styling foundation. You've got Jeep's signature seven-slot grilled up front. And the aggressive tires, generous ground clearance, and exposed painted tow-hooks communicate ruggedness.
What's more, Renegade has a small footprint, which helps set it apart visually. And more importantly, it is less likely to get high-centered when climbing a steep obstacle.
Don't miss hidden styling Easter Eggs outside, including the tiny Sasquatch decal in the rear window, or the little spider with a "Ciao Baby" speech-bubble inside the fuel door. The latter is a discreet "hello" from the Fiat factory in Italy where the Renegade is built.
Inside

Easter Eggs carry on inside, with the Jeep grille and headlight logo repeated in the speaker covers, rearview mirror trim and else where. There are other quirky details throughout.
Elsewhere, look for a selection of chunky accents, modern controls and interfaces, and good build quality and materials selection. Bright red trim panels in a matte, anodized-like finish added a splash of character, and the central command touch-screen interface is arguably the best in the segment. It's fast to boot, quick to respond and logical to navigate.
I noted no issues with entry and exit. Boarding or leaving the Renegade requires a mere lateral butt-slide, no climbing up or plunking down required. The tall, alert and upright driving position is easy to appreciate. A commanding forward view contributes to decent visibility.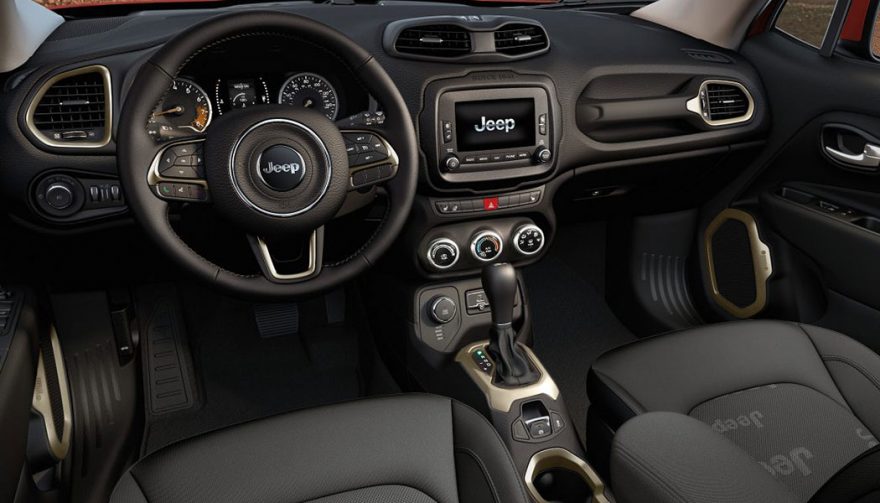 Headroom is abundant at any seat thanks in part to the tall, square shape.
Rear seating is flexible, folding and flipping with ease as needed. Behind these, the cargo area isn't massive, though a square-to-the-edges shape and tall overall height contribute to easy loading of stackable cargo. Careful when letting the family dog jump in and out of the back though, as the rubber weather seals seem particularly vulnerable to sharp claws.
Smaller-item storage within reach of the driver is above average, with an assortment of bins and compartments, as well as a set of cupholders, helping to keep things organized.
The decked-out tester included a Beats stereo system, navigation, Bluetooth, remote start, a fully customizable driver computer, heated cloth seats, and automatic dual-zone climate control.
One of Renegade's best tricks is the SelecTerrain mode dial. It's located center stage on the console, just ahead of the gear shifter. Twist the chrome dial for quick access to various off-mode drive modes. The dial encircles a few buttons that activate supplemental assistance, like Downhill Assist Control and 4×4 Lock. It's an electronic toolkit that allows drivers to quickly and easily set the Jeep Renegade Trailhawk up for the sort of driving at hand, and will prove easy to appreciate for novice and expert off-roaders alike.
Under the Hood
FCA's 2.4 litre MultiAir Tigeshark engine provided 180 horsepower. Performance is adequate and little more for highway passing and merging exercises. The engine's smoothness and relatively generous low-end grunt are easy to appreciate when driving around town.
Most of all, the engine stays quiet and refined when pushed, rather than the norm in this segment. Renegade's powerplant impresses for its quiet and discreet operation during gentle driving, more so than its performance.
Engineers specified a nine-speed automatic to enhance fuel economy and performance. Despite so many gears, I noted virtually no issues with excessive hunting or clumsiness. Further, the unit usually changes gears so discreetly smoothly that you'd hardly notice it changing gears as many as eight times to reach highway speeds.
On the Road
On rougher roads, the Jeep Renegade Trailhawk feels solid and dense. You get minimal unwanted noises or sensations from the suspension. The ride can become busy and choppy over severe surfaces, thanks to taut springs and the short wheelbase with generous suspension travel.
Still, a good, solid feel of durability helps compensate. It rarely sounds or feels like the Renegade's suspension is taking a beating or being kicked around.
However on the most severe backroads, ride quality degrades rapidly. As a result, you get a harsher feel, unless speeds are kept well in check. On surfaces like these, a Jeep Wrangler feels considerably more durable, thanks to it's tougher ladder-frame construction.
Though Renegade's ride quality usually hits the mark, brake feel and steering precision disappointed. At highway speeds especially, both systems feel vague and syrupy, like they're made of mayonnaise, not steel.
Is This the One for You?
The Trailhawk-grade tester had a starting price over $33,000, with some $5,500 in optional equipment, for an as-tested price landing at the better part of $39,000.
That gets you a compelling and comprehensive blend of tech, capability and design touches. However at this price point the Jeep Renegade Trailhawk comes off as a niche product which offers maximum return on investment for the owner actually planning to use it in an off-road setting.
Any number of small utility vehicles are available for far less. And any number of larger or more powerful utes are available in a similar pricing ballpark. Note that lower-priced Renegade models, without the off-road Trailhawk package, will prove more than capable enough for many.
Numerous high-capability Jeep Wrangler models overlap the tested Renegade Trailhawk's pricing, too. Renegade will be cheaper to run, more comfortable and easier to use as a daily driver.
So if you're after off-road capability from a unique, funky, high-tech package that's easy to live with and promises good fuel mileage and a fairly car-like drive, Renegade Trailhawk might just be what you're after. For shoppers after a more rugged off-roader that's more rugged, a Wrangler or other off-road vehicle may be the better pick.