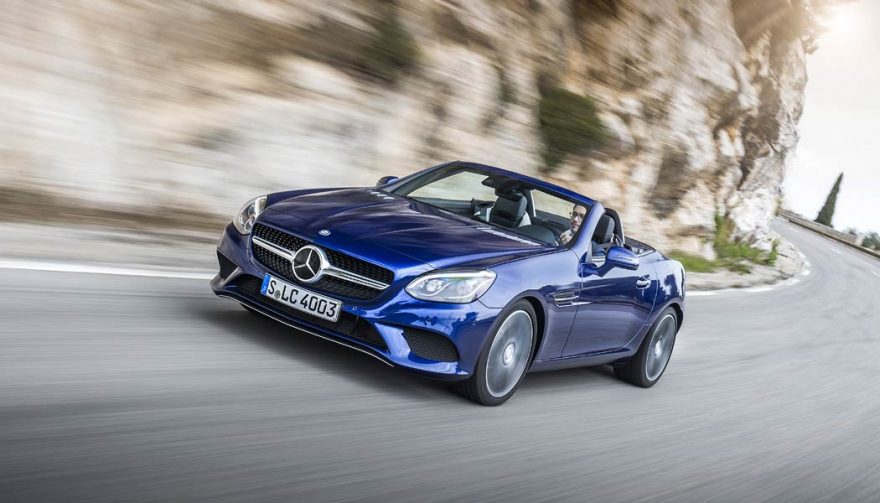 You can dim the sunroof on the The Mercedes-Benz SLC300 Roadster's hard top. WHAT?
It's Top-Down Time: These Are the Best Convertibles for Under $50K
The warm weather is here and you're looking for the best convertible cars. We know. Everybody starts thinking about taking the top down when the sun is shining.
However, when you're dropping the top, you might not want to drop the amount of money that could buy a new house. These are the best convertible cars for under $50,000.
Mercedes-Benz SLC300 Roadster
Style, luxury and performance all combine in the Mercedes-Benz SLC300 Roadster. A 2.0-liter turbocharged four-cylinder pushes the nine-speed SLC's 241 horsepower from 0 to 60 in just 5.8 seconds. All that while the open sky is above, turning elongated foreheads a bright shade of red.
It's the classic two-seater convertible design, but with one really nifty feature (can I still say nifty?). The retractable hardtop has a dimmable sunroof as well. It comes in under $50,000, but just barely.
Mazda MX-5 Miata
It's been a Car and Driver 10 Best for 16 years, and that alone says something. The Mazda Miata has been a driver's car from the get-go, even though it's far from the most powerful. The 2.0-liter SKYACTIV 4-cylinder has just 155 horsepower, but the car weights 1,000 lbs less than most of the competition.
Because of its pared-down nature, the MX-5 Miata focuses on the thrill of the drive. Nearly perfect 50/50 weight distribution sets the tone for precise handling, making the Mazda MX-5 Miata one of the most fun convertibles to drive. It's one of the least expensive too – entry-level pricing is just around $25,000. Definitely one of the best convertible cars.
View on One Page