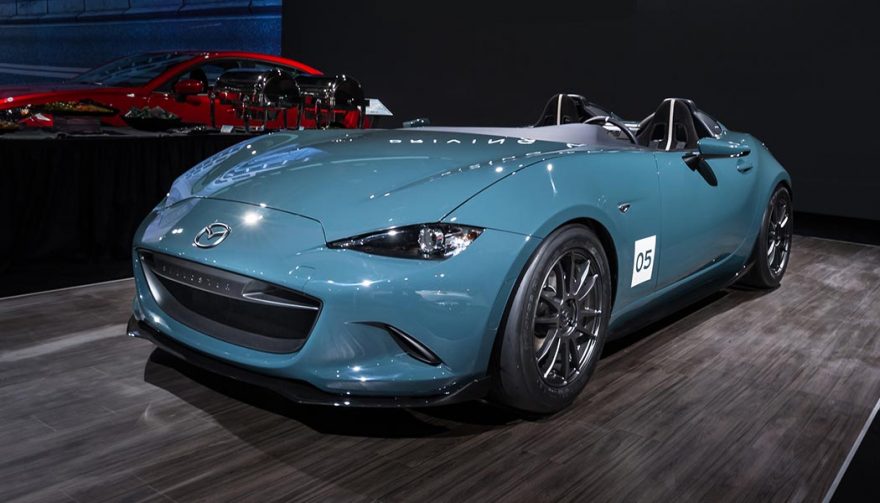 The Hagerty Hot List is a compilation of vehicles that Hagerty predicts will become collector cars in the next 25 years.
Mazda MX-5 Miata Tops Hagerty Hot List
Every year, the collector car experts at Hagerty release a list of vehicles that they predict will become collector cars in the next 25 years. The list is dominated by performance and exotic sports cars, though the list is topped with the least expensive model – the Mazda MX-5 Miata.
The Mazda roadster received more than a face-lift and has been completely redesigned. It is aggressively featured with a bold, piercing presence and more attitude than ever when it comes to performance and handling. Under the hood is a 2.0-liter engine with 155 horsepower mated to a 6-speed manual or a 6-speed automatic transmission. What may seem underwhelming and under powered is deceiving as the lightweight two-seater pushes 0-60 miles per hour in just 6.4 seconds.
It really is only a mild surprise that the MX-5 Miata made it to the top of the Hagerty Hot List. Mazda's sportiest car has stayed true to itself since its introduction in 1989 and has only improved since that time. It is still a rear-wheel drive, nimble, and athletic driving machine that remains as enjoyable and thrilling on the open road as ever.
Hagerty's Hot List also contains the Ford Focus RS in second place which is highly anticipated and the Chevrolet Camaro SS rounds out the top three. They are the only other models under $40,000 on the list.
Here is the rest of the Hagerty Hot List:
BMW M2
Ford Mustang GT350R
Alfa Romeo 4C Spider
Porsche Cayman GT4
Dodge Viper SRT Coupe
Cadillac ATS-V
and Lotus Evora 400
Every vehicle listed in fourth through tenth position are at least $50,000 ranging up to $89,900 for the Lotus Evora 400. The Hagerty Hot List contains only 2016 models with an MSRP under $100,000.
Hagerty is an automotive insurance giant and is the industry leader for insuring classic cars and other automobiles. They host the largest network of collector car owners. They provide insurance coverage for all kinds of vehicles and equipment including automotive memorabilia known as "automobilia". Hagerty also provides valuation tools for classic cars along with collector car price guides.