Family Crossover Showdown: Mazda CX-9 vs. Chevrolet Traverse
Here's a look at the Mazda CX-9 vs Chevrolet Traverse mid-size crossover comparison. One has been made big enough to hold everyone you know. The other is designed for drivers who need seating for seven but still want to feel driving enjoyment.
Chevrolet Traverse
Chevrolet completely redesigned the Traverse for 2018. It's two inches longer in the wheelbase, but while it has grown in size it has shrunk on the scales. It's dropped a massive 351 lbs, putting it in the same weight class as smaller competitors like the Honda Pilot. Though at 4,362 lbs, it's still 300 lbs more than the Mazda CX-9.
The cabin received a complete redesign. It has seating for eight with the base model, but step up to any of the other trims and the middle row bench is replaced with captain's chairs. The passenger side has a trick fold-forward feature that makes it easy to climb in the back, even if there is a child seat in the middle row.
If you're using the Traverse to haul connected kids, or adults, the built-in 4G LTE WiFi hotspot is handy for using tablets. Likewise, the seven USB ports available mean that no passengers will be scrambling for power.
The only engine choice is a 3.6-liter V6 that makes 310 horsepower. And for an SUV engine, this V6 sings. The power peak and redline both happen at 6,800 rpm, which would normally be a problem in something this size.
The nine-speed automatic is programmed to let the V6 rev though, and it will hold a gear until north of 7,000 rpm even without using full throttle. In contrast to the old model, this engine sounds happy, staying smooth and quiet even at full throttle.
The transmission shifts smoothly and quickly up and down the range, and the powertrain is one of the best parts of this SUV.
Mazda CX-9
The Mazda CX-9 is branded as the SUV you pick when you want something fun to drive. It's not as new as the Traverse, but it got a full redesign for 2016.
The new CX-9 ups the exterior style quotient for the segment. The curves and upright nose make it one of the best looking in the class. The upright Traverse is far from ugly, but it lacks the eye-catching ability of the CX-9.
You May Also Enjoy:
Big Zoom: The Mazda CX-9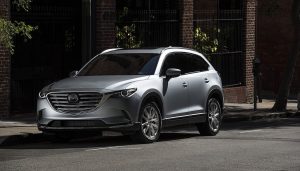 Related Search Topics (Ads)
Mazda has taken a risk under the hood of the CX-9. The only choice is a 2.5-liter turbocharged four-cylinder engine linked to a six-speed automatic. Mazda's auto-box is one of the best in the business for smoothness and the ability to always pick the right gear the first time, but a 2.5-liter in a vehicle this size is a bold move.
The engine makes 227 horsepower with a big 310 lb-ft of torque, which is about 50 more than the Chevy Traverse.
However, the Mazda CX-9 is slower than the Traverse. It's nearly a second off from 0 to 60 mph, but it feels powerful enough on the road. It's quick to kick down and go. Plus if you roll the window down, you can hear those wonderful turbo noises.
The CX-9 gets big cabin upgrades over the last model. Mazda has long been known for vehicles that trade some sound deadening for weight loss. They're more nimble but noisy. That's gone here, and it's a very quiet ride inside.
Mazda also upgraded cabin materials, and this cabin feels very premium for the class, especially in Signature trim.
But this is a smaller SUV than the Traverse. So that means if you want to take seven people with you, at least three of them had better be small. It lacks legroom and headroom in the third row. If space is the deciding priority, the Traverse wins hands down.
Mazda CX-9 vs Chevrolet Traverse: Infotainment Systems
Both of these use excellent infotainment systems. The CX-9 gets Mazda's intuitive system that uses a 7.0-inch (on base models) or 8.0-inch screen. It's fast and straightforward to use and takes full advantage of the rotary controller mounted in the center console.
The Traverse also uses a 7.0- or 8.0-inch screen, depending on trim. Unlike Mazda's, which protrudes from the dash, Chevy's screen is in the center stack and can actually open up to add an extra storage space (complete with USB). It uses the last-generation version of Chevrolet's MyLink software, but it is still easy to use. The Traverse comes with Apple CarPlay and Android Auto standard, while Mazda doesn't offer these features any more.
How's the Drive?
On the road, the Chevrolet Traverse rides comfortably and handles easy curves well. If the roads get twisty though, the Traverse's size shows through and it rolls heavily. It's not going to be fun on a back road. Hit a large dip or bump on the highway and it will still make an exaggerated up and down motion every time.
In contrast, the Mazda CX-9 feels more buttoned-down than some large sedans. The same big dips are absorbed by the suspension, and you won't find yourself waiting for it to settle. Same goes on back roads, where the CX-9 isn't quite a sports car, but still feels very capable and perfectly happy to be tossed around.
When it comes to active safety, the CX-9 gives more features on lower trims. The base CX-9 has blind-spot monitoring, rear cross-traffic alerts and low-speed emergency-braking assist. Touring adds lane keeping and lane-departure warnings, with Grand Touring and Signature offering radar cruise control.
On the Traverse, blind-spot alerts and cross-traffic warnings are only an option starting with LT. They aren't available on L or LS. Forward-collision alert and lane-keeping assist are only on Premier and above. Collision-avoidance braking is only on High Country trims. The Traverse does offer a rear camera mirror system on LT leather and above that uses a high-definition camera with a screen in the rear view mirror that lets you see much more of what's behind you.
Mazda CX-9 vs Chevrolet Traverse: The Verdict
Mazda set out to make a midsize crossover that was fun to drive, and they've accomplished that. They've also given it great looks, a premium interior and loads of modern safety features even on lower trims.
Chevrolet's target with the Traverse was keeping passengers comfortable and connected. They've hit that target as well.
If you want to drive, then you'll want the CX-9. However, if maximum passenger and cargo space, along with the most USB ports, are priorities, then the Chevrolet Traverse is your winner here.