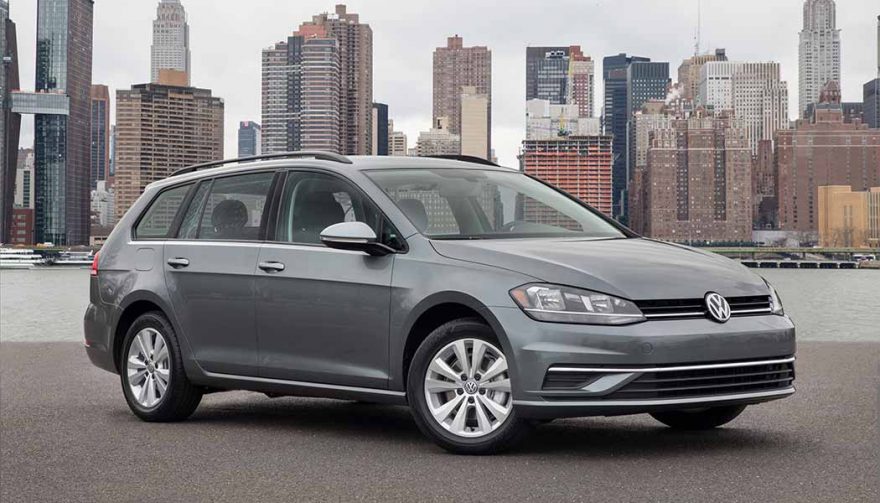 The VW Golf SportWagen gets a little residual GTI performance
When SUVs and Minivans Won't Do, You Need the Best Family Cars
When it comes to family trucksters, SUVs are the go-to choice. New SUVs of various sizes are stealing sales from cars and minivans. And sure they offer lots of space for people and cargo, as well as lots of new amenities. But no matter how "car-like" they get, they still aren't cars. They're heavier, less efficient and less fun to drive. If you want something with better fuel economy, that's easier to park and fun to drive, you want a car. So here are nine of the best family cars around.
Volkswagen Golf SportWagen/Alltrack
The Volkswagen Golf SportWagen and Alltrack have up to 66.5 cubic feet of cargo area. And the 60/40 split folding rear seat means you can still take one or two rear passengers with some longer cargo.
The Golf is available in two- or all-wheel drive. The Alltrack is also lifted up to make it easier to get to the cottage or beach. What's better, you get some residual GTI performance. Just because you need more family room doesn't mean that you want a bland drive.
Honda Fit
The Honda Fit, along with its fold-flat rear Magic Seats, offers a shocking amount of room with a surprisingly small footprint. And if you're talking about the best family cars, you've got to have room. You get 16.6 cubic feet of cargo space behind the rear seat. That's more than many mid-size sedans can manage to cram back there. Fold the seat down and the Fit offers 52.7 cubic feet.
It's a small car that's not small on the inside. And while the Fit seems tiny compared with modern trucks and SUVs, it sips fuel and costs a fraction of the cost.
Hyundai Sonata
The Hyundai Sonata offers lots of space, power and safety features, including blind spot detection, a rear camera and braking assist. Automatic braking and lane keep assist are optional.
But for back seat safety, the Sonata is the most affordable new car to offer sunshades to keep the sun out of the eyes of back seat passengers. Those are optional on the Limited trim (and come with a heated steering wheel for you). Get the fuel-sipping Hybrid Limited and the rear sunshades come standard.
Volvo V60
Since day one, Volvo has been known for safety. And that hasn't changed. They still have one of the best reputations for safety around. And now they have some of the best exterior styling and interior designs to match.
The V60 wagon offers lots of space and lots of safety. But it has a few more family convenience items you won't find elsewhere. The V60 is one of the lowest-cost cars to offer a rear-seat TV screen entertainment system. And one of the only vehicles to offer built-in booster seats. That option has two levels of boost, and are designed for children from 37-55 inches tall and 33-80 lbs. They fold back down so that adults can sit comfortably. Volvo also offers a booster seat for children 3 to 10 years old.
Volvo offers a spill-protecting rear seat cover and a kick guard with storage pockets and protection for the back of the front seats. Finally, Volvo makes a harness for Fido that will keep your family dog firmly secured in the rear seat.
Get the Polestar edition and know you're shuttling to soccer practice in the official world's safest safety car used in the World Touring Car Championship.
Subaru Impreza
The Subaru Impreza offers comfortable performance that is as at home on a logging road as it is on the pavement. All-wheel drive comes standard, and there is a wagon and a sedan available if you need more space.
It's also one of just two models to offer the top rating for child seat anchors and seat installation by the Insurance Institute for Highway Safety. The Impreza scored a G+.
Subaru's EyeSight active safety system also offers up a large number of crash-avoidance or reduction technology.
Dodge Charger
That's right, it's not a typo. The Dodge Charger is one of the best family cars, because it offers a lot of family-friendly features. There's the Uconnect infotainment system with an 8.4-inch display, and heated front and rear seats with a heated steering wheel. For safety there's rear park assist, as well as blind spot and cross traffic warnings. You also get 16.3 cubic feet of cargo space.
There is also another reason it is on this list. The Charger is one of just a few cars that can hold three child seats in the back seat. That can help keep you out of a three-row SUV or a minivan for just a little while longer.
If you want, you can get the Dodge Charger SRT Hellcat. It offers a 6.2-liter supercharged V8 that delivers 707 horsepower. That will go along way to making you the parent who is always on time. Who says a family long weekend can't be to the drag strip?
Of course you can go with the more timid V6 Charger SXT, but it doesn't offer that V8. How better to inspire the future car enthusiast?
Chevrolet Bolt
The Chevy Bolt EV has a combination of long range and affordability that is hard to find anywhere else in the EV market. It might not be the longest electric range in the world, but 238 miles will probably beat a kid's bladder. A 20-minute charge break every four to five hours might be just the ticket for road trips with kids.
Plus the near-silent EV is great for back seat napping. And for an EV, the Bolt is surprisingly fun to drive.
Mitsubishi Mirage G4
When you have a family car, you need to accept that eventually, one day, the kids are going to ask for the keys. And what do you want to give them? The Mitsubishi Mirage G4 has a 1.2-liter three-cylinder engine that provides just 78 horsepower. Just try getting into trouble in that! However while it's down on power, it's big on connectivity. It has Apple CarPlay and Android Auto standard. Its great safety features and low cost also mean that you can save on insurance premiums too.
While you're waiting for them to drive, the Mirage G4 has a shocking amount of room in the back seat. There's head and legroom for passengers well over six-feet tall.
Mercedes-Benz E400 Wagon
This might not be the most affordable car on the list, but it's definitely one of the best family cars. And it offers something that is nearly impossible to find in a modern car: a rear-facing third row of seats.
That's right, as long as two people don't mind facing the wrong way, this car can seat seven. And it can do it with more comfort than most three-row SUVs offer.
It's got some nice treats for the front seat passengers too. If you get the "Warmth & Comfort Package," not only do you get heated seats and steering wheel, but the front armrest and door panels are warmed. It's like a winter cocoon.
Related Video:
You May Also Enjoy:
Volkswagen Golf Review: Always a Reliable Hot Hatch