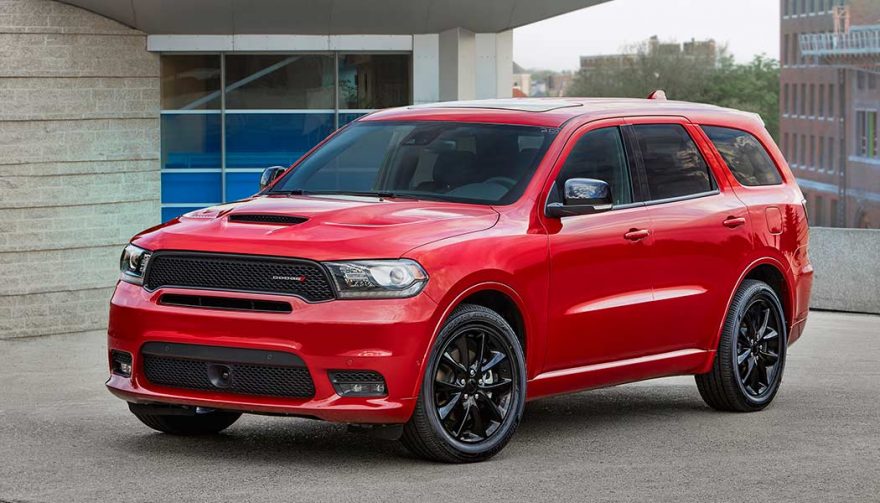 The Dodge Durango has ample room to seat 7 and can tow 8,700 pounds
These 10 Best Family SUVs Have More Than Just 3 Rows
If you have a big or growing family, chances are you're looking at a mid or full-size crossover or SUV. These are the big ones. SUVs with three rows that actually have room for people in every row. Plus room for cargo behind those people. After all, what's the point of having room for everybody if they are miserable while they are in the vehicle. These are 10 of the best family SUVs for space, utility, comfort and for still being enjoyable to drive.
Dodge Durango
The Dodge Durango offers seating for seven, and it can tow up to 8,700 lbs. That's room for the family, their stuff, and the power to pull a small boat. Or maybe a trailer for more stuff. In terms of versatility, it's one of the best family SUVs.
The Durango has a recently revised interior with excellent infotainment options. This crossover is still rear-wheel drive at heart and comes with a choice of V6 and V8 engines. It has tough, macho styling in an era where the competition trends toward a softer look. And if you really want to get to soccer practice in a hurry, the Durango offers a massive 6.4L V8 that muscles out 475 horsepower. It's one of the quickest three-row SUVs around.
GMC Yukon XL
The GMC Yukon XL, along with its sibling the Chevrolet Suburban, is the only choice if you need to haul seven adults and a week's luggage while you tow a small house. These are the biggest SUVs in the segment, based on truck frames and offering truck engines and chassis.
And while they don't offer the car-like ride and handling of a crossover, they still handle better than their pickup counterparts. And modern pickups have comfortable rides these days anyway.
Ford Flex
The Ford Flex is an often overlooked gem in this segment. The boxy shape offers a unique style, but it also makes for a massive cargo area. And while the Flex has been around for a few years now, it's gotten updates inside and out to help keep it fresh.
[sp,it]
Plus you can option up the 3.5L twin-turbo EcoBoost V6 with 365 horsepower. The Flex already has a more car-like ride than much of the competition, and the big turbo engine makes it a great vehicle to drive. To keep the passengers happy, a second-row fridge is available.
Chevrolet Traverse
The Chevrolet Traverse offers enough space in the rear that you can have a six-foot-plus driver, passenger and third-row passenger all in a line. That means real adults can fit in all three rows.
Plus the Traverse offers seven USB ports. Everybody can have a charge. There's also a 4G LTE hotspot so everybody can use data. It also has a smooth-revving V6 that makes enough power to move the Traverse briskly. Even with a full load of people.
Honda Pilot
The Honda Pilot offers an upscale interior, a smooth V6 engine and one of the quietest interiors in the class. For all the stuff the family brings along, the Pilot is full of cargo nooks, crannies and cubbies.
It also has a handy power sliding middle row that makes access to the third row easy. There is also an excellent rear-seat entertainment system available on EX-L and Touring trims to keep rear-seat passengers busy. Honda's Lane Watch system is also available, which uses a camera to let you see your blind spot instead of just lighting up to tell you there is someone there.
Hyundai Santa Fe
With the third generation of the crossover, Hyundai split the Santa Fe in two. There's the two-row Santa Fe Sport, and the one we're talking about here, which is now just called the Hyundai Santa Fe.
It offers handsome styling and a 290-horsepower V6 engine. It's on the smaller side of the segment, but still offers a competitive rear cargo area of 144 cubic feet. That comes at the expense of rear passenger room, which is a little tight.
Lexus LX
There are few options for a three-row off-roading SUV better than the Lexus LX. The luxury version of the Toyota Land Cruiser is famous for being able to go just about anywhere. It's also one of the most luxurious SUVs around, so it's definitely one of the best family SUVs.
It's loaded with safety features, but also offers an electro-hydraulic suspension that is adjustable for ride height and different driving conditions. It has low-speed crawl control and hill start assist, but it also offers a variable ratio steering rack for less sawing at the wheel off-road. And if you can't quite turn sharply enough, it can brake the inside rear wheel, tightening the cornering circle even more.
Mazda CX-9
The Mazda CX-9 is the three-row crossover if you put driving ahead of everything else. It's got the space, but it is tight in the third row and the load floor is high. But it has excellent steering, that is better weighted than anything else in the class.
The suspension is very compliant over bumps but is stiff enough that the CX-9 doesn't float like most big SUVs. You won't expect a crossover this big to be this agile. The 2.5L turbocharged four-cylinder doesn't offer the biggest power figures, but it is reasonably quick and is fuel efficient, and one of the best family SUVs.
Toyota Highlander
Toyota's Highlander, one of the best family SUVs, is the choice when fuel-efficiency is key. It offers the only hybrid powertrain in the segment. The hybrid system offers an excellent 29 mpg combined fuel economy rating, but the hybrid powertrain offers more than just economy.
The system uses only the electric motor to power the rear wheels. That lets Toyota send power to each rear wheel as needed to help improve handling. The hybrid also offers more power and torque than the gas-only model. Toyota also offers its Safety Sense P package, featuring lane guidance and radar cruise control among other key safety features, as standard on even the base model.
Volkswagen Atlas
The Volkswagen Atlas was designed with the American family in mind. That's after the Euro-focused Touareg failed to live up to sales expectations. This one has a third row – a first for VW – and it can hold two full-size adults.
The base model is a front-drive version with a 235-horsepower turbocharged four, but all-wheel drive models get a 276-horsepower V6. It's very large and very square – which means lots of interior space and legroom for rear passengers – but it doesn't look overly square. It has a very stiff chassis that gives it an excellent ride and handling balance.
Related Video:
You May Also Enjoy:
2020 Volkswagen Atlas – The Ideal Big Family Mover