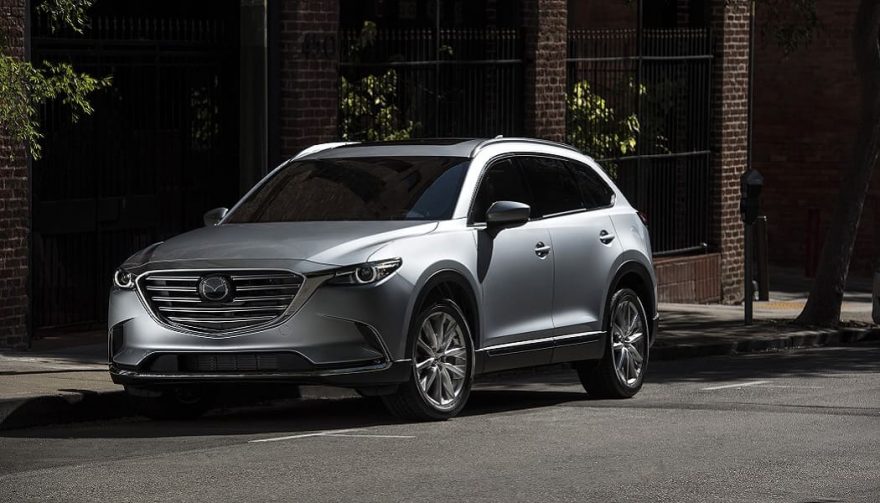 The redesigned Mazda CX-9 has a lot more curb appeal than previous models.
Big Zoom: The Mazda CX-9
The Mazda CX-9 aims to change how everybody views the company. I'll admit it: when I think of Mazda, small, tight-handling, fun-to-drive cars come to mind first. Oh, and I think of rotary power, even though the company no longer makes a rotary engine. I certainly don't think of big SUVs with three rows and plenty of luxuries.
The first-gen CX-9 had a few positive virtues, but it wasn't anything to get all hot and bothered about. Has Mazda learned from its mistakes and finally produced a family hauler that won't put drivers into a waking coma?
First Impressions
When you first see the new CX-9, there's definitely a wow factor. It looks way better than the previous version, thanks to a revolutionary exterior design. The sheet metal is curved in muscular ways, gaps are surprisingly minimal for a non-luxury vehicle, and details like headlights and the grille seem to flow into the body panels. LED lights and available 20-inch wheels certainly help, too.
This is a vehicle you want to get in and drive, just to see what it's like. Fortunately, my local Mazda dealer was more than willing to let me take it for a spin.
The Setup
The new CX-9 not only looks different, it has some pretty impressive specs to back that up. Unlike the previous generation, this one was built from the ground up using Skyactiv engineering. One of the cornerstones of Mazda's current approach is serious weight reduction. Even with plenty of new technologies and luxuries, the three-row SUV dropped about 250 pounds. It tips the scales at just over 4,000 pounds.
The majority of that weight savings comes from ditching the big 3.7-liter V-6 from the first generation. In its place is a 2.5-liter turbocharged four-banger. Just a few years ago, people laughed at the idea of using such a small engine for a big SUV. Thanks to Volvo and others, it's becoming more common. But is that a good thing?
Peak performance seems to be a mixed bag. On the one hand, you get a pretty impressive 310 lb.-ft. of torque. On the other, the engine pushes out a tepid 250 horsepower. That would be a fine number on a compact sedan.
You also get a 6-speed automatic transmission. Other recent Mazda transmissions have proven to be responsive. But the fact that most competitors have 8- or 9-speed transmissions is troubling. Front-wheel drive is standard, and an i-Activ AWD  system is available. Four-wheel disc brakes with electronic brakeforce distribution and brake assist are also part of the mix.
On the Road
Even with some nice specs, I've driven enough cars to know they're more than just the sum of their parts. There are vehicles which look great on paper, but drive like garbage, plus some that don't sound that impressive and actually have blown me away.
The CX-9 was a mixture. There were some things about driving it that truly impressed me. There were others things I flat out didn't like. And there was a fair amount of mediocrity.
Even though it's light for an SUV, the CX-9 feels surprisingly nimble on its feet. I was able to carve through turns with incredible precision, thanks in part to the all-wheel drive. That couples with explosive off-the-line acceleration to make it a vehicle you'll love driving in the city.
Thanks to the admittedly low horsepower output, I found it less exciting for freeway jaunts. When you need to pass at higher speeds, the engine struggles and feels more unhinged, in a bad way. So the refinement you feel in the city is pretty much nonexistent on the open road.
To its credit, the 6-speed automatic transmission is silky smooth. Even though I'm always in tune with automatics and what they're doing, I barely noticed some of the gear transitions. Stopping power was decent but not great. It was one area where the true weight of the SUV could be felt.
Don't expect the CX-9 to drive like a sports sedan. It won't. Just expect it to drive better than a minivan, then you won't be disappointed. As far as the competition, it will be on par or better than most. If performance is your top priority, definitely keep the CX-9 on your short list for test drives.
Interior Perks
When you climb into the CX-9, the first thing you'll either consciously or subconsciously notice is how organized the space is. Everything flows together, showing an incredible level of forethought put into each detail.
You can get some nice upgrades, like aluminum trim and Japanese rosewood accents. The bad thing is they sometimes look out of place next to cheaper materials. Don't expect an overall luxury vehicle presentation.
You should know that the new Mazda CX-9 is shorter than the previous one. While that means better handling, it comes at the sacrifice of third-row space. I'm pretty critical of third rows, because I'm tall and so are my kids. But let me tell you, this one is especially cramped. That fact alone would keep me from buying the SUV. I need a mixture of practicality and fun, not just one or the other.
Another big minus is the infotainment system. Admittedly, it's another of my pet peeves. I grew up using computers, so when the computer in my car is crap, it really annoys me. This one can take a while to process commands. The interface isn't all that intuitive. There are worse systems out there, though, sadly.
Lower Trims Priced Right
The base CX-9 starts off at $31,520, making it fairly cheap. Just know the top-of-the-line Signature trim with all-wheel drive starts at $44,015. That's pushing luxury vehicle territory.
For the price, the lower trims of the Mazda CX-9 aren't half bad. The upper trims are nice, but other vehicles for about the same price serve up greater luxury. The SUV isn't an off-road monster, nor is it a lifted sports sedan. While the third row is cramped, if you only need it on occasion, this is a good option for clean family fun.