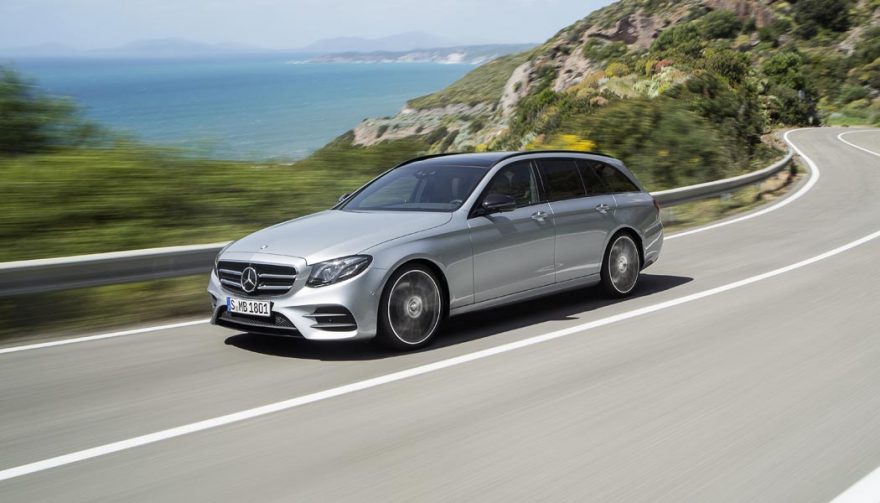 The Mercedes-Benz E-class wagon has a rear-facing third row
The Best Hatchbacks of 2017 Are Ready for the Weekend
Your opinion of station wagons could be tainted by thoughts of woodgrain. It's understandable – that defined a classic era of family vacations, trips to the beach, or holidays on the way to Grandma's house in a cream-colored Ford Country Squire. But a rear-facing seat is no longer the norm and wagons are a different breed.
Like station wagons, what you think of hatchbacks could be flawed. You may think it's a poor man's car, for someone who can't afford the whole thing. Or you might get flashbacks of your high school days, driving a Pinto.
The hatchbacks and wagons in today's market are something else altogether. It's an impressive grouping of utilitarian and funky vehicles, designed to make driving enjoyable and functional. And according to J.D. Power, these are the best five hatchbacks of 2017 in terms of reliability, in no particular order.
Mercedes-Benz E-Class Wagon
Up front, it's all business. The familiar front grille with sleek, sloped hood are just like the E-Class sedan. Around back, the E-Class Wagon shows its true colors. The E-Class makes station wagons sexy, if that's possible. The long cabin looks all-natural, unlike other cars that seem to have an extra appendage grafted on.
Powered by its 329-hp biturbo V6 and a nine-speed transmission, Mercedes-Benz E-Class Wagon is as fun to drive as it is attractive. And 4MATIC AWD is standard equipment, keeping you and all your passengers safe.
With seating for seven – wait, what? It's true, the E-Class Wagon stows two extra passengers in a third row. And in typical station wagon fashion, it's rear-facing. That's a throwback to an era most millennials won't remember.
Kia Soul
The Kia Soul is a bargain with an entry price of just over $16,000. But what's neat about this hatchback is that it's not…boring? In every sense, the Kia Soul takes your attention away from its utilitarian purpose. Instead, your focus is on its squarish, boxy shape that feels like a teeny tiny SUV. This Kia has soul.
The Kia Soul runs the gamut of options too. You can choose to keep it simple with the 130-horsepower, manual-transmission base package. You can wave jazz hands from the Soul with either the 161-hp or 201-hp engine also, with your choice of seven-speed dual-clutch auto, six speed auto, or 6-speed manual gearbox.
View on One Page