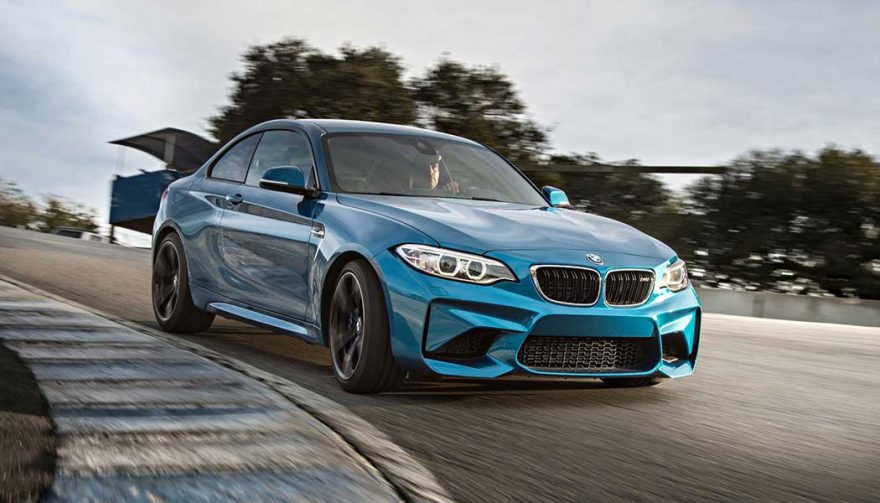 The 2017 BMW M2 gets 365 horsepower from a turbo 3.0-liter inline-six.
A massive estate, a gorgeous Sea Ray yacht, a Bora Bora vacation home – they're all things that are a vision of wealth and luxury, and so are the best luxury cars.
But luxury cars aren't just for those with maidservants and a butler at their beck and call. True, there are some uber-expensive pipe dream cars on the market, and you might even see a few of them right here. But luxury doesn't have to always break the bank.
Some carmakers have the right combination of luxury and affordability while others go for the gusto with each and every model. And whichever end of the spectrum you prefer, you'll find it in these 13 best luxury cars in America.
BMW M2
Getting back to the roots of what makes the M coupe special is the 2017 BMW M2. The performance you can expect in the compact luxury car is unreal with 365 horsepower from a turbo 3.0-liter inline-six. With a dual-clutch gearbox, the M2 can sprint to 60 mph in just 4.0 seconds. But the BMW M2 is more than that.
The interior is dressed in Dakota Black Leather, Polar Blue contrast stitching and elegant Black Panel technology for dramatic flair. With flashes of carbon fiber and an incredibly tight fit and finish, along with the some truly impressive driver-assistance technologies, the BMW M2 is highly regarded as one of the 10 best luxury cars.
Audi S8
Like you'd expect from a luxury car starting at $116,000, the 2018 Audi S8 is as much a work of art as it is an overtly functional vehicle. It makes a statement with a sexy, slender and athletic shape despite its full-size status. The S8 is an iconic masterpiece with the Audi Singleframe grille and carbon-fiber accents all around. The interior is even more stunning with diamond-patterned leather upholstery, a wrap-around dash design and a unique T-style shifter.
But the 2018 Audi S8 is more than just a pretty face and fancy dress-up. It's a performance luxury car through and through. The turbocharged 4.0-liter TFSI engine makes a monstrous 605 horsepower and 517 lb-ft of torque, propelling the S8 down the straightaway from 0 to 60 in just 3.7 seconds. It rides like a dream on adaptive air suspension for a serene experience, and the Quattro All Wheel Drive system is standard equipment for the ultimate in control.
Mercedes AMG GT S
Some might find the shape phallic. Some might think it looks like Mercedes models of yesteryear. The Mercedes-AMG GT sets itself apart, no matter what you think of its shape. You'll find the 2017 AMG GT in both a coupe and Roadster design, and the roadster easily gets the most attention based on looks alone. The interior looks like a cockpit with switches and dials lining both sides of the center console. The infotainment screen is a necessary evil for luxury purposes, but the interior would look much better without it. The seats are luxurious, even containing an AIRSCARF to warm your neck and shoulders. That's posh.
But this Mercedes-AMG GT has a sole mission, and that's to go fast. The handcrafted 4.0-liter AMG engine is turbocharged, making 469 horses and getting from a standstill to 60 mph in 3.9 seconds. For the raw experience of driving, the Mercedes-AMG GT Roadster would be one of the best luxury cars there is, and it's just $124,400 and up.
Porsche 911 Carrera
It's best known as a high performance sports car, but the 2017 Porsche 911 holds its own in luxury as well. Honestly, for the $91,100 starting price tag, it should. In the driver's seat, it's like a cockpit. Firm seating is wrapped in high-grade leather, as is the steering wheel, and most of the interior. Its German engineering can feel quirky, but you'll soon appreciate that it's a different type of luxury car – one that's about enjoying the drive more than being pampered.
And even for the entry-level Porsche 911 Carrera, you'll be smiling all day long. Its 370-horsepower boxer engine screams to 60 mph in 4.4 seconds. It's much faster if you choose one of the higher 911 configurations. And wherever you go, the recognizable Porsche shape and exhaust note will turn heads.
Bentley Flying Spur
When your heritage is all about luxury, your name is probably Bentley. The 2017 Bentley Flying Spur is a traditional, timeless yet modern take on a premium luxury sedan. The squared fenders and slightly arching body lines drop off at the trunk. Known for their unique configurations, the Bentley Flying Spur carries the torch. Monstrous 20-inch wheels are standard equipment, decadent diamond-stitched seats and door panels are available in 17 different hide colors, and deeply-stained woodgrain accents shine bright in lacquer.
And then there's the drive. A twin-turbocharged 6.0-liter W12 sprints the Flying Spur to 60 mph in 4.3 seconds, using 616 horsepower. The heavy sedan's top speed is 199 miles per hour. AWD is standard equipment, and the rear-biased weight distribution makes for better control of the behemoth.
Rolls Royce Dawn
Ultra-luxurious open-top driving starts and ends right here. The 2017 Rolls-Royce Dawn is the culmination of engineering and exemplifies living the high life. That little figurine on the hood tells you what it is – that is, if you didn't recognize the compact vertical chrome grille. The leather seating has nearly invisible hand stitching and it's the highest-grade leather available. The Rolls-Royce Dawn, unlike every other convertible, actually makes space for rear-seat passengers who experience the same luxury as front-seat occupants. Choose the "standard" Drophead Coupe, the Black Badge Dawn, or make yours bespoke.
Whichever you choose, the hand-built engine will be the same 6.6-liter V12 twin-turbo. And although it's powerful and exhilarating to drive, the $400,000 beauty is more about making a statement than winning any races.
Audi S7
If the Audi S8 is a little over the top, check out its little brother, the Audi S7. Made of much the same material, the S7 has a slightly different look and a modest cut in performance. That said, there is no shame in the 2018 Audi S7 at all. It holds its own with the best of them.
The S7 has Audi's modern styling with the massive Singleframe grille. The body lines are more coupe-like with a high roof line that carries right back to the trunk lid. Audi's attention to detail is evident in the use of LED lighting, a flat-bottom steering wheel, available Carbon Atlas inlays, and that wraparound dashboard. Be unique with either the Black Optic package, or choose the Arras Red design with contrasting upholstery and red trim accents.
Audi's performance team came through for the 2018 S7. It starts out with a twin-turbo 4.0-liter V8 TFSI engine with 450 horsepower and 406 lb-ft of torque. Zooming to 60 mph is an endeavor of just 4.5 seconds. A 7-speed S tronic dual-clutch transmission and Audi's Quattro AWD round out the powertrain. And like the S8, the Audi S7 has adaptive air suspension for a smooth, quiet ride, and Audi drive select to configure your own performance. It's not too shabby, starting at $81,200.
Lexus LC
Love it or hate it, the 2018 Lexus LC will catch your attention when you see it. The piercing headlights pinch the hourglass grille inward, and the deep cuts in the lower fascia and behind the doors tell you it's a sports coupe, albeit a luxury sports coupe. It's built with hand-stitched features throughout, and the intentional interior design is mind-blowing. It's evident in the fit and finish, as well as the tech features like Remote Touch, 10.3-inch split-screen display, and even its driver-assist features like All-Speed Dynamic Radar Cruise Control.
Lexus fittingly calls the LC "visceral." Active Rear Steering, a speed-activated rear wing and Adaptive Variable Suspension contribute to its incredible performance, but it truly hinges on the powertrain. It's one of the few naturally aspirated engines available – a 5.0-liter V8 with 471 horsepower and a 0-to-60 time of 4.4 seconds. And it's for well under the $100k mark. Definitely worthy of being considered one of the best luxury cars.
Mercedes-Maybach S550
When you want to draw attention, get a very long car. The 2017 Mercedes-Maybach S550 is just such a luxury car, and the interior feels cavernous because of it. It's an executive-class kind of luxury where you expect the hotshot owner to get out of the backseat, not drive the car.
There's a brilliance about the Mercedes-Maybach S550, a complexity that adds to its appeal. The softened Mercedes appearance has awesome flashes, from massive chrome dish wheels to its cushy leather interior with dream-like flow. The diamond-stitched inset dash upholstery is visually stunning with matching rear-seat throw pillows. Of course, the latest technologies are found inside, including a widescreen in-dash monitor and dual rear-seat monitors. Privacy screens and the like are equipped in the Mercedes-Maybach line too.
Here's where a tough decision comes into play. The Mercedes-Maybach S550 has 449 horsepower from a biturbo 4.7-liter V8 and races from 0 to 60 in 5.0 seconds flat thanks to an assist from 4MATIC AWD. With performance numbers like that, do you hire a driver to enjoy being chauffeured around, or do you take the car to town yourself?
Cadillac CTS-V
You can't have a list of the best luxury cars without a Cadillac. The 2017 Cadillac CTS-V sedan is more powerful than ever, but it does so without neglecting the refinements Cadillac is best known for. Inside the CTS-V you'll find piano-black accents, a beautifully sculpted center console, divine Recaro leather-wrapped seats, and even a Performance Data Recorder.
On the topic of performance, the 2017 Cadillac CTS-V is no slouch. The supercharged 6.2-liter V8 makes a filthy 640 horsepower and 630 lb-ft of torque, launching the CTS-V to 60 mph in 3.7 seconds. No wonder it needs a Performance Data Recorder.
Tesla Model S
You've seen the 17-inch touchscreen, and you know about the electric car's silence. The 2017 Tesla Model S is much more luxurious than you may have initially thought, however. It features a clean, athletic sedan shape with LED Adaptive Lighting, bolstered front seats wrapped in supple leather, and a full-length glass panoramic roof that opens widely.
But what's most intriguing about the Model S is the performance. Very, very few cars go zero to 60 mph in under 3 seconds, and the Model S is one of them. Properly equipped it can be as low as 2.5 seconds, which is hypercar territory. That's due to its available dual electric motors in the Model S Performance package. And while it has yet to be seen how the Model 3 will impact the Model S's future, it's a car that has redefined the industry.
Aston Martin DB11
Calling all James Bond wannabes. The 2018 Aston Martin DB11 is the next generation of awesomeness. Its shape is completely futuristic. The rear end sits much higher than the redesigned grille, giving the appearance of a monster sitting on its haunches. Black roofline accents create space between the clamshell roof and the stout body. And on the interior, the DB11 is a perfectly bound canvas.
As one of the best luxury cars to arrive on the scene as of late, the DB11 masters leather craftsmanship. Two-tone materials, elegant seat insert designs, and a svelte center console are just the start. Push button shifting, push button start, and the latest innovations in audio and climate control technology all find their way inside.
You have two engine choices: a 4-liter V8 biturbo or a 5.2-liter V12 biturbo. Both achieve sub-4-second sprints to 60 mph. It's just that one is a 600-horsepower monster that has the V12 sound that you don't want to miss.
Alfa Romeo Giulia QF
Bursting onto the scene is a sedan that everyone wants as their own, the 2017 Alfa Romeo Giulia Quadrifoglio. Let's call it the Giulia QF to prevent spelling mistakes. Few cars look as muscular as the Giulia QF without compromising the elegance in its appearance. With the deep V center grille, it's irrefutably Alfa Romeo. Gorgeous wheel designs and a deep groove along the sides give an edge to the luxury sedans.
On the interior, the Giulia QF centers on the driver. The dash panel rises up in front of the pilot, surrounding them with prominent gauges, chunks of carbon fiber, and wrapping everything in leather and Alcantara. Most notably, you'll find the steering wheel adorned with an Alfa Romeo push button start.
And when it starts, look out. As one of the best luxury cars, the Giulia QF has 505 horsepower, a top speed of 191 mph, 0-to-60 acceleration time of 3.8 seconds, and a Nurburgring lap time of 7:32. So if Alfa Romeo can catch on as a mainstream car company, this car could make some serious waves in the industry at just $72,000.