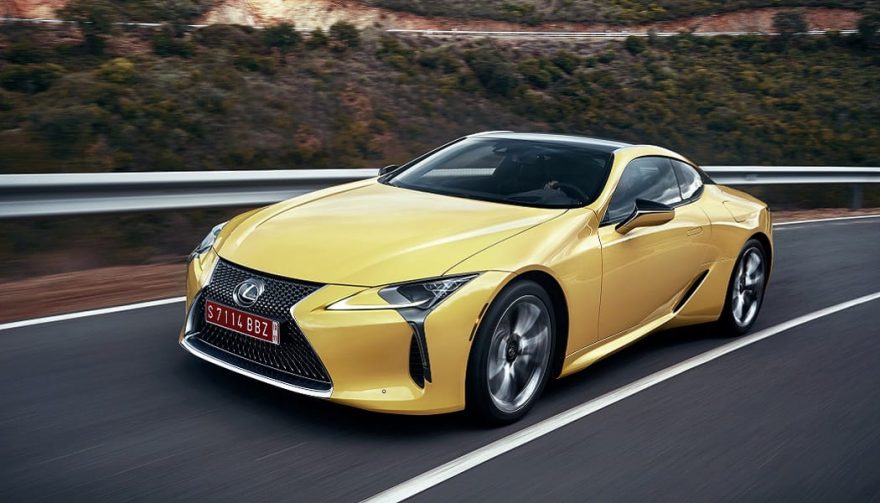 For luxury performance coupe buyers the Lexus LC hits the nail on the head.
2018 Lexus LC Nails Luxury and Performance
The all-new 2018 Lexus LC will make you reconsider how you were going to spend that $100K. You could've gone with the balls-out Nissan GT-R, a BMW 650i Gran Coupe, a Mercedes-Benz AMG C-Class, or maybe a Porsche 911 Carrera 4.
There might be a few others, but you won't care much after looking at the Lexus LC.
It's like the Lexus engineers got together and said, "Can we do the Nissan GT-R better?" Because, if we're being honest, there are three things that are important at this price point: obscene performance, individualistic design and an exceptional level of luxury. So, the result is that Lexus made the LC count in all three categories.
Think Bespoke in the Lexus LC
On the outside
Lexus has built a special car, and the LFA supercar influences a lot of the design. It's built with every curve looking sexy and an overall appearance that goes fast sitting still.
From the front, the massive hourglass grille greets you for your experience in the driver's seat. The headlights are enticing, a triple-projector compact LED design that drops into the front fascia and rakes back aside the hood.
The Lexus LC rests on 21-inch wheels with the Sport and Performance Packages, with a nifty little step between the spokes. That draws your eye down toward the sills, where a sharp line sweeps back, back, back… to the absolutely intoxicating widebody rear quarters. A Porsche-like vent between the doors and the quarter panel heightens the sports car attitude.
In the back, LED taillight assemblies look much like the contoured headlights. A trapezoidal inset around the license plate plays into more of the trademark Lexus hourglass design, and the exhaust finishers are precisely mounted to fit.
The stunning interior
Open the door and you'll need a moment before you get in. It's like a work of art, a bespoke showcar created just for you. The alcantara-wrapped door panels have tidy indents, the bezel-less interior door handles look hotrod, and the curves are nothing short of gorgeous.
You May Also Enjoy:
When You Need to Look Good for a Day: Luxury Car Rental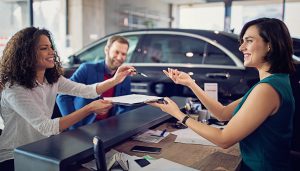 Related Search Topics (Ads)
Craftsmanship has received countless hours of attention in the 2018 Lexus LC, without question. A massive center console rises between the driver and passenger in this two-seater, mimicking a fighter jet cockpit complete with a left and right OS handle for the passenger.
Despite attention to detail on the interior, Lexus has kept it clean and focused. The Lexus LC is a driver's car, from the LFA-inspired instrument cluster to the aluminum pedals and all the controls mounted to suit the driver's reach.
Obscene Performance
A caveat: the 2018 Lexus LC isn't the fastest car among its direct competition. At best, its acceleration is 4.4 seconds from 0 to 60 mph, while others dip to the 4-second or sub-4-second zone. When you're looking for a well-rounded car, a few tenths of a second don't make or break the deal. If you're spending this kind of coin, you're not taking it to the drag strip.
The Lexus LC is completely enjoyable to drive in any configuration. The "standard-equipment" LC employs a naturally aspirated 5.0-liter V8 with 471 horsepower.
The optional powertrain is found in the LC500h, which is a 354-horsepower V6 hybrid. Even giving up significant horsepower, the hybrid LC manages 4.7 seconds from 0 to 60 mph, and that's no slouch.
Both engines use a 10-speed direct-shift automatic transmission that intelligently adapts to the driver's needs and wants. With shifts taking 0.12 seconds, there's no lag before your head snaps back against the headrest on hard acceleration. It chooses the best gear for curves, acceleration or whatever you might be doing.
An added option is the Performance Package, which includes Active Rear Steering, a speed-activated rear wing, and speed-sensitive variable steering. This is for serious folks, though, who will put their Lexus LC through its paces – the run-of-the-mill luxury car driver won't notice much difference.
If you love naturally aspirated V8s, this car is for you. The exhaust note is superb. It's throaty and deep with significant throttle input, yet mellow when you're taking it easy.
Exceptional Level of Luxury
There's no way to hit every detail, because the 2018 Lexus LC comes so intricately put together with technological and elegant options. Here are a handful of standout features:
Next-Generation Remote Touch
Lexus grasps that everyone uses a smartphone nowadays. The next-gen Remote Touch system mimics your phone's touch control to operate most of your car's interior features.
10.3-inch Split Screen Display
The screen is huge, but it's like two screens in one. The climate controls can be on one half while the audio system can be operated on the other side. Or, your navigation map can take up the whole screen if you'd prefer.
Color Heads-Up Display
Luxury is about excess. That's what the heads-up display is: an extravagance that's not necessary, but you'll be glad you have it. The optional Heads-Up Display is in color and projects your speed and critical details into your line of sight on the windshield.
Available Mark Levinson Reference Surround Sound Audio System
If the standard 12-speaker Lexus Premium Sound System isn't good enough for you, for sure the Mark Levinson Reference Surround Sound system will be. The cockpit will reverberate with 915 watts of sound from 13 speakers.
Carbon Fiber Roof
A glass roof, panoramic-style, is standard equipment. On Sport and Performance packages, you get a carbon fiber roof panel. It reduces weight and gives a racy look to your luxury performance coupe.
Alcantara-Wrapped Bolstered Bucket Seats
More alcantara, but never too much. Well-bolstered seats keep you firmly rooted in your Lexus LC on hard turns, but you'll always be comfortable. Heated and ventilated seats can be controlled through the Climate Concierge system.
The 2018 Lexus LC isn't for everyone. You might not like the looks, or you may not love the interior feel. Or you might be one of the few who wants to shave a few extra tenths of a second off acceleration.
For most luxury performance coupe buyers, however, this model hits the nail on the head. It's an exceptional blend of everything you want for your money.