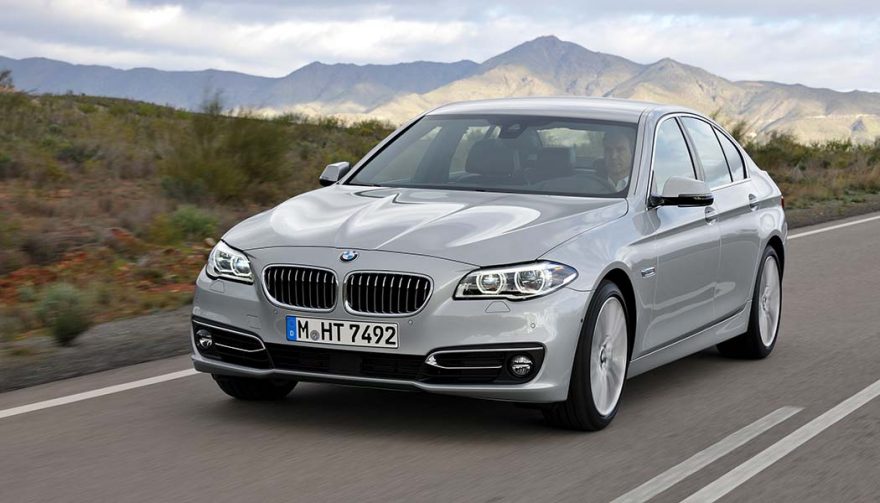 A 2014 BMW 5 Series has lost about 48 percent of its value
Top 5 Luxury Cars with the Highest Depreciation Rates
How fast can a luxury car depreciate? After all, it's a luxury car, from a luxury brand, with all that cool stuff in it. How can a ride like that depreciate faster than say a Toyota Corolla or a Chevrolet Impala? Well pull your Beemer cap down low and zip your Benz jacket all the way up because we are about to learn the truth about the most depreciating cars.
Why do some cars lose their value faster than other comparable cars? There are multiple factors, none of which has anything to do with the performance or value of the car. For example, cars that are popular with people who lease tend to flood the market when those leased vehicles are returned. Of course, the car could have been over-priced to start with and now faces severe competition in the used car market.
You'll see the biggest depreciation in car value the moment you drive it off the lot. The industry average is an 11 percent drop. If you took out a loan on your high-priced luxury car, chances are you are upside down on your financing at this moment, and maybe for the next few years.
After that, the depreciation rate mellows out a little bit. On average, a new car loses around 2o percent of its value after the first year of ownership. And this rate steadily decreases on a curve each year as the car ages. But new cars, especially expensive new cars, face the greatest brunt of this depreciation early on.
So looking at new luxury rides from 2014, here's a list of five of the most depreciating cars. If you're looking for a used luxury car, you might be able to get a really good deal on one of these models.
2014 BMW 5 Series: 48 percent decrease
A victim of leasing popularity, the BMW 5 Series luxury sedan has lost 48.0 percent of its original sales price since 2014.
The law of supply and demand does not respect reputation. If there are more BMW 5 Series units in the market than buyers want, the price goes down. Currently this upscale BMW has an average sales price of $33,474.
2014 Mercedes-Benz C-Class: 48.3 percent decrease
If you were buying a 2014 C-Class new, you probably were aware that the model was going to get a redesign in 2015. In fact, maybe that's why you got a deal on the 2014.
Unfortunately, that redesign did nothing for your 2014's value three years later. We are not talking about the C63 AMG model with its hand-built V8 engine. We're talking the compact Mercedes Benz that has too many engine options, some of them bad.
The C-Class is also a very popular lease vehicle. The net result is you can buy one today on average for $23,213, or about 48.3 percent off its original price.
2014 Mercedes-Benz E-Class: 48.4 percent decrease
Are you seeing a trend here? There's a lot to like about the Mercedes-Benz E-Class, and it went through a refresh in 2014.
Then again, it went through a full redesign in 2017, so that 2014 redesign now has a bit of a dated look. Even so the 2014 Mercedes-Benz E-Class has a good selection of powerful V8s, a superb ride, and of course a wide array of safety devices and systems.
However, today's pre-owned market has not been kind to this Benz. The 2014 E-Class has lost 48.4 percent of its original MSRP and can be had on average for $33,727.
2014 Cadillac ATS: 50.4 percent decrease
The ATS is Cadillac's attempt to break the strangle hold on entry-level luxury sport sedans held by the Germans. Although cars from Genesis, Hyundai's luxury brand, are making impressive inroads in this segment.
Among its engine options, it has a fun-to-drive turbo turbocharged four-cylinder with an available  manual transmission. The ATS has great handling and a superior interior design. On the downside, the CUE infotainment system is exceptionally slow, that amusing turbo is noisy, and the ATS has a small backseat and trunk.
The 2014 Caddy ATS is one of the best bargains in the used car market. You can get one for half off the original price. The ATS dropped 50.4 percent of its original price and is available today on average for $21,173.
2014 Cadillac CTS: 51.4 percent decrease
Motor Trend gave the 2014 Cadillac CTS a five-star rating when it was new. It still thinks highly of it, giving the 2014 an "Excellent" Value Rating.
One thing is for sure, you can have this mid-size luxury sedan loaded to the gills for about $27,537 according to iSeeCars.com. The 2014 CTS has shed 51.4 percent of its original value. That's the most for any car after three years.
It's a great car, particularly when equipped with the twin-turbo V6 that rates 407 horsepower.
So what's the flip side of this story? What luxury cars universally retain their value? The answer is short and sweet, Porsche and Tesla. Both of these brands have something that most don't. They have avid fan bases. The lowly, by Porsche standards, Boxster, is the least likely vehicle to be put up for sale in less than 10 years of ownership in the country.
Tesla fans are part of a movement. Even though Tesla has production issues, owning a Tesla is like owning a piece of space exploration, and saving the planet from global warming.