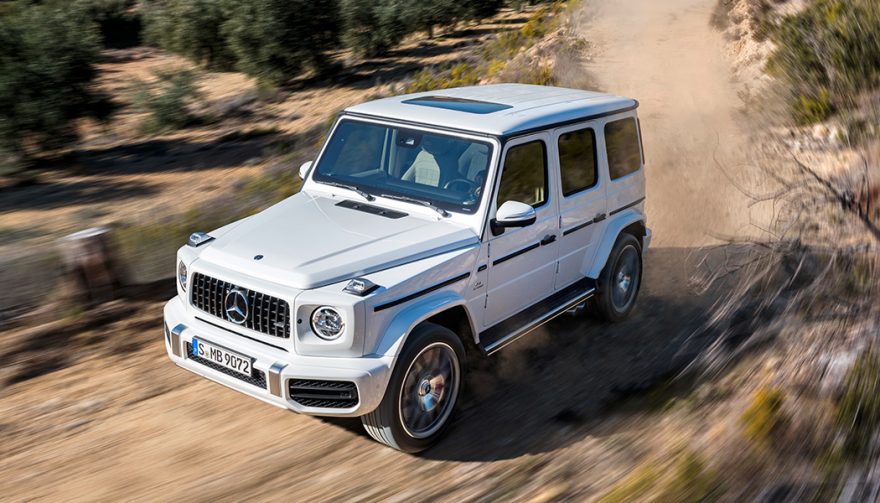 If you want to hit the trail in unbridled style, the Mercedes-Benz G-Wagen won't let you down
Take Some Affluence on the Trail with the Best Luxury Off-Roaders
When most people think of off-roaders, finding the best luxury off road SUV doesn't come to mind. Some will think you're insane to suggest doing such a thing with something worth north of $80,000, but they really are some of the best off road SUVs.
And the Mercedes-Benz G-Wagen, Land Rover Range Rover and Lexus LX are the best of the best when it comes to picking a best luxury off road SUV. Each can pull you through some pretty tough areas, plus they give the Jeep folks something to be jealous of.
Allow me to emphasize some light modifications such as a winch, auxiliary lights, and excellent mud terrain tires, which should be on your shopping list. Plus, these are some cars with the best wading depth. Also, always make sure to take along the proper tools, such as a shovel, traction mats, sockets, and zip ties.
2018 Mercedes-Benz G-Wagen: The Teutonic Legend
Also called the G-Class, Mercedes-Benz developed this hardcore off-roader originally as a military vehicle. When that didn't pan out, it was launched as a recreation vehicle in 1979 for civilians. Germans and others quickly witnessed the amazing capabilities of this machine.
Still popular as both an off-roader and overland vehicle across the globe, its image in the United States differs greatly. Here, the G-Wagen comes encrusted with enough chrome to put the Escalade to shame. The story of how that happened is a topic for another time.
Handcrafted with Love
You get a truly handcrafted vehicle. Mercedes-Benz doesn't use machines to weld the ladder frame and galvanized steel body panels, instead opting for a human touch. Pretty much everything else is built by hand, including looming the wiring harnesses and stitching the seats.
Not many people can say their vehicle took 40 hours of human labor to build. Perhaps knowing this will make you a little more forgiving of that steep price. Base MSRP is $123,600.
Trail Chops
Let's be honest: you don't need the AMG G63 or AMG G65 for trail duty. Both are so overpowered they're more likely to put you in danger when negotiating a switchback with a sheer 500-foot drop-off on one side.
As for trail-oriented equipment, you do get three sequentially lockable differentials for great traction in slippery conditions. Both axles are solid, and the suspension allows for over 8 inches of wheel travel.
If you're still not convinced the G-Wagen is the real deal, consider the following. Ground clearance comes in at 9.25 inches. Approach angle is impressive at 30 degrees, which matches the departure angle. Breakover is good at 24 degrees.
Mercedes-Benz says it can climb up an 80 percent grade, plus negotiate a 54 percent lateral slope without tipping. The SUV can ford up to 23.6 inches of water safely.
And you still get 38.6 cubic feet of cargo space behind the rear seats, which should be enough to fit your gear for overnight excursions.
2018 Land Rover Range Rover: British Bragging Rights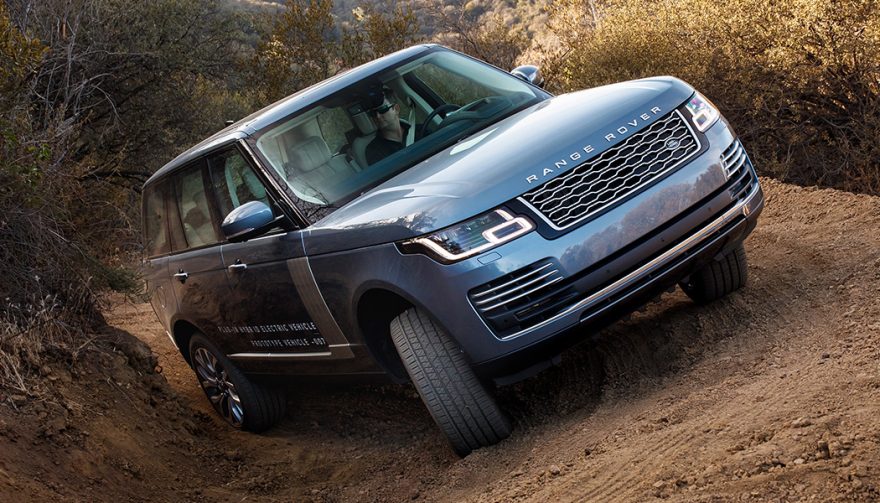 For most, having a Range Rover is more of a sign that you've "made it" in life. After all, with such a stellar reputation for reliability, you must have cash to burn. I'm kidding, kind of, because from what I keep hearing from people way smarter than me, newer Land Rovers are far more reliable.
Trail-Oriented Features
Despite boasting a completely posh interior that would put most people's living rooms to shame, the Range Rover comes with some equipment made for off-roading.
Land Rover claims the four-corner air suspension helps with rugged terrain. The system just changes the suspension height as sensors detect it's necessary. Of course, as a driver you can manually boost or lower the ride height. The Terrain Response 2 system also adjusts things automatically. It can alter engine output, transmission shift points, and even lock up the center differential. You must decide if these electronics get in the way of fun, or enhance it.
Dirty Performance
Believe it or not, these things love to get dirty, even if the owners don't. Hit sand, mud, snow or rocky terrain and you'll be surprised at how the Range Rover eats it all up.
If you want to cross water, the 35.4 wading depth is impressive. A ground clearance of 11.63 inches helps with climbing over trail obstacles, along with a 34.7-degree approach, 28.3-degree breakover, and 29.5-degree departure angle.
This Land Rover supplies 32.1 cubic feet of cargo area behind the rear seats.
2018 Lexus LX: Japanese Heavyweight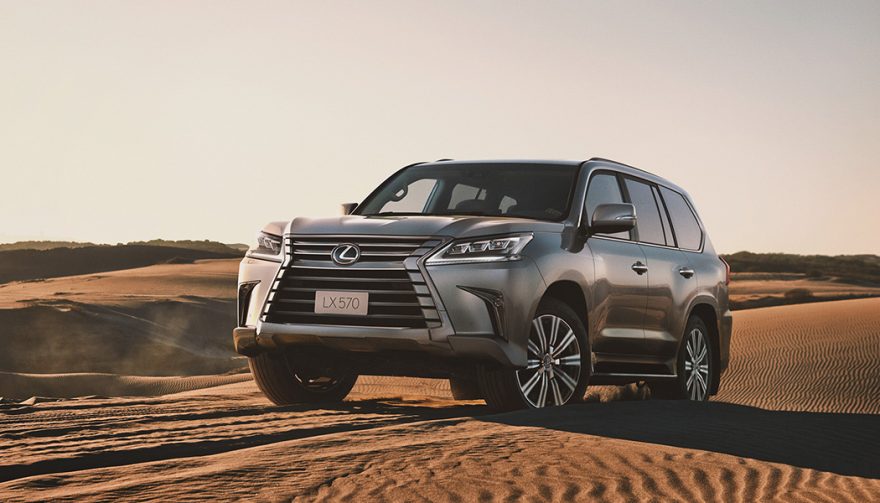 Before anyone laughs, realize the Lexus LX isn't just another garish face. This shares a platform with the Toyota Land Cruiser. If you head out with this and don't make it back, it's your own fault.
Generously Equipped
Lexus puts in your hands all the right tools for fun far away from the pavement. This SUV comes with a lockable center differential, plus a two-speed transfer case, as well as adaptive steering control. The suspension automatically adjusts vehicle height up to 3 inches. With the press of a button, Multi-Terrain Select changes performance to deal with different surfaces.
One of the coolest technologies is crawl control. Other SUVs come with this "off-road cruise control" that helps you maintain a slow, steady speed. What makes this different is the included Turn Assist. When you need to make a tight switchback or negotiate around a rock on a skinny trail, this feature brakes the rear inside wheel, so you turn more sharply. It can make the difference between disaster and reaching your destination happy.
Trail Machine
Just like every SUV, the Lexus LX has limits. Knowing what this machine can handle on trails will help you avoid getting in a bad situation.
According to Lexus, the LX boasts a decent 8.9 inches of ground clearance. The approach angle is also good at a maximum 27 degrees, while breakover and departure come in at 27 and 23 degrees, respectively. Thanks to front fascia, running boards and rear cladding, you don't get quite the same capability as the Land Cruiser. In other words, if you want off-road performance, go for the Toyota.
You get a third row in the LX, which is a nice plus. With those seats up, cargo come in at a measly 9.1 cubic feet. If you fold down the third row, it expands to a more livable 24.8 cubic feet.
The Verdict
Only one luxury off-roader can win, and it's the Range Rover. While the G-Wagen probably serves up more trail capability than most would ever use, the aging design is no match for the impressive performance you get from Land Rover.
As for the Lexus, it's great for people who want to do fairly light off-roading.