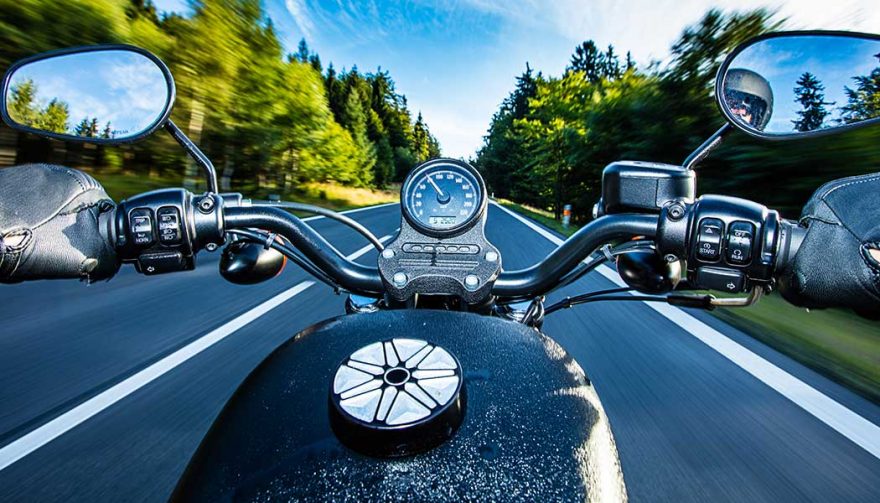 Beat the winter blues with a motorcycle vacation through the warm U.S. Gulf states.
Best Motorcycle Vacation Routes: Gulf States
Every motorcycle owner has a fantasy about hitting the road on the hog for a week or two, enjoying the twisting roads, leaning into curves, feeling the wind in their hair and that sense of freedom an extended trip can provide. And then they open their eyes, swing onto their bikes and fight the congested traffic the daily commute provides. But at some point that fantasy works on a biker's brain until there is a rationalization that leads to a plan that leads to the trip. It happens to all bikers at least once. Where are the best motorcycle vacation routes?
There are 300 million square miles in the USA. If the motorcycle vacation bug has just bit you now, then we would suggest a winter run along the Gulf states, where you can enjoy the freedom of the road and party like it's 1999.
Cruise In the Sun or Freeze Your Butt Off: Your Choice
The Gulf States are a winter paradise for bikers. What they lack in mountain vistas they make up in twisty roads, amazing road house food, swamp trails (seriously you have to try it once), pristine beaches, the biggest biker parties and rallies and of course the best weather East of Hawaii. The winter months are the "Season" along the Gulf and there are tons of tourists. However, they mostly stick to interstates and major state roads and that's not where you and your bike will be travelling.
If you plan on touring the Gulf States this year you'll want to start planning it now. Campgrounds, motels and hotels book up early and if you don't want to have to ride 15 – 20 miles off your route you'll want to be making reservations now.
With that said, let's start in Louisiana and head east to party central Florida.
Louisiana: Moss-Draped Cypress Trees, Tight Turns & Po-Boys
If you have Cajun music on your playlist for this motorcycle vacation, you'll want it playing loud to set the mood into another time and another way of living. There are great routes all over Louisiana, but since it's a winter trip, let's focus on a couple of rides in the south where the weather is a bit friendlier.
State Route 22 begins south of Baton Rouge at the town of Donaldsonville and heads NE until it peters out (literally) near the Lake Pontchartrain community of Mandeville. With three interstates serving the area, Route 22 is a rarely used road running through Bayou Country. The 35-mile stretch between Sorrento and Ponchatoula is wickedly twisted and will challenge your riding skills. The state advises you do the speed limit or less, so they don't have to send someone to fish you out of the swamp.
If you are looking for something with more bumps than swamp land, try The Longleaf Scenic Byway. This two-lane State Forest Road in Western Louisiana crosses over buttes and mesas of the Kisatchie Hills and represents some of the most challenging riding in the State.
Did we mention the food and motorcycle friendly population? You are never far from a road house, pub or stand that sells the best in Creole cuisine.
You May Also Enjoy:
Here Come the British! Top Models from Triumph Motorcycles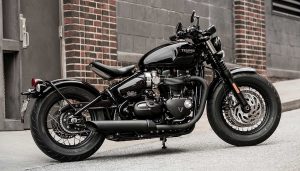 Motorcycling in Mississippi Means the Natchez Trace
The 444-mile National Park Service Natchez Trace Parkway, which runs all the way from Natchez to Memphis, appears to have been created especially for a motorcycle vacation. Here are a few reasons why:
Commercial traffic is prohibited. That means no semis, dump trucks, gravel trucks or buses. Most of the traffic on the Trace consists of cars, pickups, RVs and of course motorcycles. There is some commuter traffic around Tupelo and Jackson, but only during commuting hours.
Asphalt all the way. With no heavy commercial traffic to tear it up, the asphalt roads are in great shape, making for a smooth ride.
No lights or stop signs. Entry and exit is all done via ramps.
The scenery is awesome and unspoiled. The Trace is a long narrow park that runs through forests and state parks. There are no utility poles. There is no advertising. There's nothing to block your view.
There are plenty of points of interest along the Trace ranging from waterfalls to Civil War battlegrounds. What are not along the Trace in abundance are motels. There are, however, a large number of motorcycle friendly B&Bs, cottages, cabins and campgrounds.
The Trace is a real pleasure trip. If you have a bag of quarters that you just have to get rid of you can drop down to the coast and take any of the east-west roads and wind up in Biloxi. The run along the Mississippi coast will be crowded but lively. You'll find plenty of lodging, outstanding fresh seafood and, of course, those casinos in Biloxi.
Motorcycle Vacation In Florida – Party Down!
OK, in season this state is jam packed with tourists and snowbirds. Sharing a road with them can be hazardous. Both coasts have amazing beaches that attracts hordes of tourists and those tourists have to get around, so traffic in the Sunshine State can rival that of New York City at rush hour.
On top of the crowds, the roads in Florida are mostly flat and straight. So why would anyone choose the Sunshine State as a destination for a motorcycle vacation? Two reasons:
One: For the dedicated rider, there are a few remote trails in central Florida that are twisty and challenging. The "Tail of the Gecko" route that runs from Florida State Road 62 to County Road 672 is full of tight twisty turns. Loose sand that is hard to discern from the pavement adds another level of challenge for the rider. This road follows the land instead of a straight line and takes you through forests and citrus farms.
Two: The other reason bikers flock to Florida is to party! Sunshine, beaches, bikinis and a generally tolerant reception by local government have turned Florida into a mecca for motorcycle enthusiasts and clubs who want to party and show off their bikes. There are numerous events throughout the year and here are the largest three:
Biketoberfest – Daytona Beach:  March. This is an award winning festival that draws thousands of bikes every year. Events and activities include rallies that showcase new, vintage and custom bikes; demonstration rides on the newest machines from top manufacturers; and on-track motorcycle action at the world-famous Daytona International Speedway. Needless to say, there is abundant food, drink and music available.
Thunder Beach Motorcycle Rally – Panama City Beach:  October. Across the state from Daytona Beach in the capitol of the Redneck Riviera (Panama City), thousands will attend the most Biker Friendly Free Rally in the U.S.A! Activities include a Bike Parade, Beauty Pageants, Poker Runs, Motorcycle Stunt Shows, Tattoo Contests, and more. It's all free. There is no admission cost for any of the Thunder Beach Rally venues and parking is free
Daytona Bike Week – Daytona Beach:  March. This is the granddaddy of bike events with over 500,000 bikers arriving in the area for the weeklong festival. You name it, it's happening at Bike Week. Old school biker parties, motorcycle races, concerts, bike games and more are all part of the action. This is one bike rally you really don't want to miss on your motorcycle vacation.
So has the road trip bug bitten yet? If it has, you need to start taking action now. This might be your trip of a lifetime –  but even if it isn't, it will be a motorcycle vacation you'll be talking about for years.