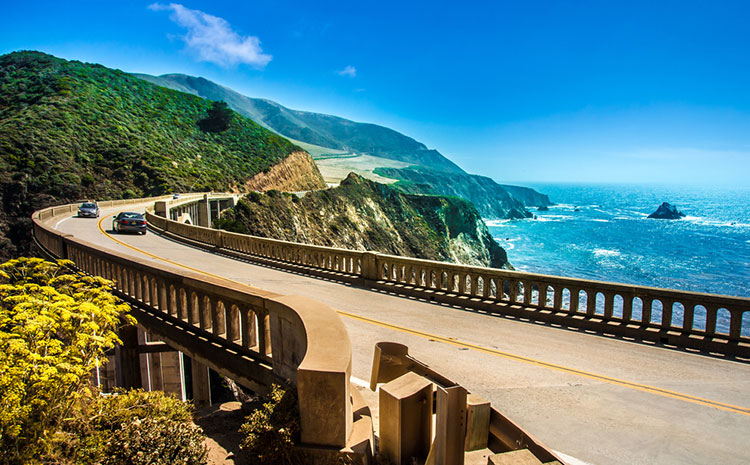 Bixby Bridge is one of the most snapped shots on California Highway 1.
Best Motorcycle Vacation Routes: California Highway 1
Looking for that once-in-a-lifetime motorcycle vacation road trip? This is a big country. There are a lot of choices. But if you are looking for spectacular cliff-side ocean vistas, winding pavement, dramatic drop-offs and drop-dead gorgeous canyons, then you want to take a spin up California Highway 1.
Actually there is a version of Highway 1, or the Pacific Coast Highway, that runs from San Diego to the furthest northwest corner of the United States. That's not a ride, that's a 1,700-mile journey. We'll just focus on the stretch in California between Malibu and Monterey to the north. It's only about 300 miles between the two cities, so this is a motorcycle vacation that can easily be accomplished in a day. However, when you're doing Highway 1 there is no way you can cruise straight through without stopping to take in the sights. Plan accordingly.
The Road and the Ride
For a nation that is accustomed to driving on flat, multi-lane interstates and freeways, it may be difficult to appreciate the civil engineering challenges that building the coastal highway presented. For much of the route, Highway 1 is not so much a "coastal road" as it is a "mountain road."
California's mountains are hard against the coast, and a roadbed had to be carved out of the side of the rock mile after mile. Thousands of tons of explosives and an army of steam shovels (yes, steam shovels not Caterpillar earth movers, this was the 1920s) reshaped the mountain side. Deep gorges required bridges and some of the finest examples of single-span concrete bridges in the world can be found.
Highway 1 can be a challenge to navigate since there simply isn't enough room (particularly in the southbound lane) to be very forgiving. It's a ride that's going to blow away even the most jaded motorcycle enthusiast.
We've picked the Malibu-to-Monterey segment to review because of the unique experience and the lack of traffic that can clog the road south of Malibu and north of Monterey.
What You'll See Along the Way
This stretch of the coastal highway almost feels from another time. The crush of modern life dissolves when you have cattle grazing next to the ocean outside San Simeon, where an opulent castle sprouts of a hilltop and the majestic vistas of Big Sur surrounds you. This is a ride you will be talking about for years.
Hearst Castle
In 1949 William Randolph Hearst (yes, Patty's grandpa) moved into this humble 164-room castle and lived the life of excess with everything over the top. Gold and silver are everywhere. An indoor pool resembling a Roman bath is kept at optimal temperature with an oil heater. Artistic masterpieces are as common as magnet calendars on a refrigerator door.
If you want to see how a real billionaire lived, you can book a guided tour online. Yes there's an app for that.
Big Sur
The twisting 90-mile stretch from Hearst Castle to Carmel-by-the-Sea, an area known as Big Sur, defines the magic that is the coastal highway. For a motorcyclist Big Sur is almost a mystical experience. On the one hand there is the incredible beauty of the bluffs, redwood forests and rocky beach, and on the other is a highway that offers  enough twists and turns to challenge most riders.
The road follows the contour of the coastal edge which guarantees an interesting ride. Going north you can cuddle up to the rocky bluff on your right. However, heading south on the return trip you will be on the outside lane with nothing between you and an 80-foot drop into an angry sea but a nearly nonexistent shoulder. By the time you hit Big Sur you will have already discovered that guardrails have only been placed along the route pretty much as an afterthought.
There is a kind of special aura about Big Sur that has attracted hippies, intellectuals and free spirits of all kinds. "Laid back" doesn't begin to describe how the locals look at life, and visitors are quick to pick up the vibe.
You May Also Enjoy:
Four of the Best New Motorcycles for 2020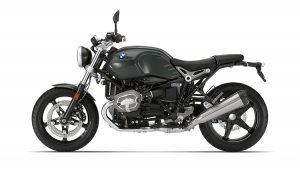 The place abounds in campgrounds and cabins for those on a budget who don't care if their bathroom fixtures are not by Kohler. For the well-heeled there are upscale escapes complete with gourmet restaurants like Ventana and the cliff-hugging Post Ranch Inn.
Bixby Bridge
Thirteen miles south of Carmel you'll ride across Bixby Bridge, the most photographed bridge on the west coast.
Carmel
First settled in the 1700s by Spanish missionaries, Carmel is a small village and home to an exceptionally creative population. In 1910 the San Francesco Call reported 60 percent of Carmel's houses were built by citizens who were "devoting their lives to work connected to the aesthetic arts."
That tradition continues, and Carmel remains one of the towns with the highest concentration of art galleries in the state. If eyeballing art makes you thirsty, you can always stop in at Clint Eastwood's (former Carmel mayor) Hog's Breath Inn for a beer.
If for some odd reason you are in the company of a motorcycling companion who is wearing high heels, know that high heels are only allowed by permit within city limits. This law was initiated to reduce the number of trip and fall lawsuits due to broken sidewalks.
If you're not from California, you might think that's weird.
Monterey
Former capital of California under both Spanish and US rule, Monterey and the Monterey Peninsula offer a combination of historic buildings, excellent seafood, the spectacular coastline of 17-Mile Drive, Pebble Beach and a world class aquarium. John Steinbeck's Cannery Row is now crammed with hotels, shops, entertainment and restaurants making Monterey an excellent end point for an exciting motorcycle tour.
So here's the deal. If you're looking for a challenging ride through magnificent country with the added feature of seals, otters and migrating whales, not to mention castles and art galleries, then you need to plan a run up and down Highway 1. If you think it's too far from home to ride your bike, you can rent one when you get here. Don't miss this world class motorcycle tour.