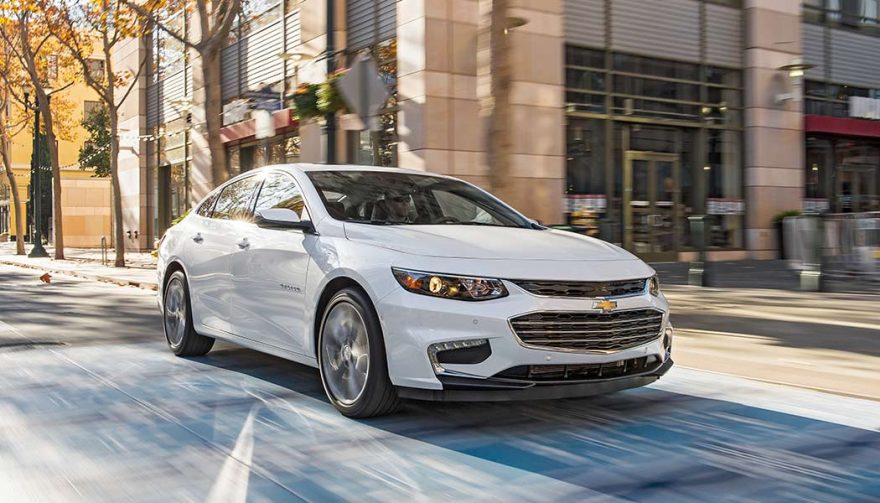 Chevrolet Malibu sales were down 18.4 percent compared with 2016
What Were the Best Selling Cars for 2017 in the United States?
Total vehicle sales in 2017 were strong, but not strong enough to surpass the record-setting sales in 2016. That ends a seven-year run of annual sales records. What's a little more concerning is what's happening in the passenger car market. Of the top 10 best selling cars of 2017, only three increased their sales numbers. Seven were either stagnant or fell sharply.
You've already heard that SUVs and trucks are dominating vehicle sales right now. And yes, it's reducing the number of cars sold in the U.S. Nonetheless, these top 10 best selling cars of 2017 aren't going away anytime soon.
10. Chevrolet Malibu: 185,857 units sold
The Chevrolet Malibu was revamped just a couple years ago in the 2016 model year. It's Chevrolet's midsize sedan offering, and it's pretty snazzy for a domestic car. Its interior can be rather upscale and it has new driver-assistive features in this generation.
Perhaps the change in the engine lineup hurt the Malibu's sales. It has a turbocharged 1.5-liter, a turbocharged 2.0-liter, and a 1.8-liter hybrid powertrain as the only options. That's unfamiliar to domestic car buyers, and could be the reason the Malibu slumped 18.4 percent compared with 2016, dropping to just 185,857 cars sold compared with the previous year's 227,881.
9. Subaru Outback: 188,886
It seems people love the Subaru lineup, particularly the functionality of the Subaru Outback. It's had steadily increasing sales in recent years despite being a vehicle that doesn't look that special. It's solely a wagon, which is also an unusual segment. Still, here it is on the best selling cars list.
The Outback has extremely reliable engines, offered in either a 173-horsepower 2.5-liter or a 256-horsepower 3.6-liter BOXER engine. Most notably, every Outback comes standard with Symmetrical AWD. For 2017, the Outback is up in sales by 3.3 percent, from 182,898 in 2016 to 188,886 in 2017.
View on One Page
You May Also Enjoy:
Nissan Altima Redesign Leaves You Saying "Altima Who?"