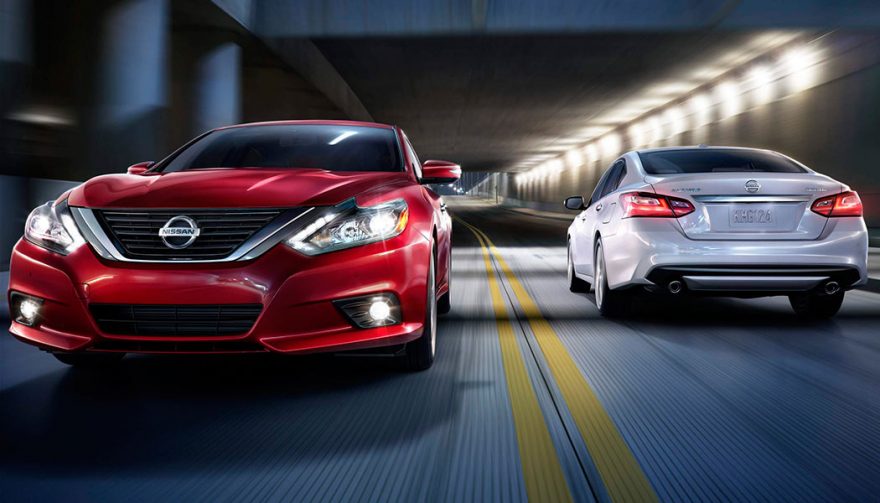 The 2016 Nissan Altima is spruced up, like a fresh-faced teenager headed to the prom.
Nissan Altima Redesign Leaves You Saying "Altima Who?"
In every class, there's a student who goes through school virtually unnoticed. He attends all his classes but never raises his hand. He isn't on the Varsity football team – he sits quietly in the bleachers and watches. He gets average marks and ends up working in a cubicle downtown where no one knows his name. That's the Nissan Altima.
In the midsize category, it hasn't really shone bright or been assertive enough to pull the numbers from the Camry or Accord, but it is still a top selling midsize sedan. Nissan redesigned the 2016 Altima to give it a little more appeal, hoping to help it stand out in the crowd. They've done a few good things with the car, but it simply isn't enough to break free of the mold. In the end, midsize car buyers will still be asking, "Altima who?"
Is That a Little Nissan Sex Appeal?
For nearly a decade, the basic look of the Altima was the same. It was purely a functional car with plain lines and little glamor. The 2016 Nissan Altima is spruced up, like a fresh-faced teenager headed to the prom. The body curves sweetly to draw your eye from front to back. It's sweeping headlights class it up, and you might just find you're attracted to its looks, now that it's grown up a little from the bland previous generation. Even though the flashy 18-inch wheels dress up the car like bits of jewelry, it's not exactly a stunner.
Comfy Interior, But Not a Driver's Car
Climbing into the driver's seat of the 2016 Altima is not going to wow you. The interior is so easy-going and comfortable that it sets you right at ease. Seats are plush yet firm and feel just a little sporty. Controls are all self-explanatory and at your fingertips, but you immediately get the feeling you're in a rental car. It doesn't have the atmosphere of being a driver's car. All that's missing is the "No Smoking" tag on the keychain.
You are not locked into the charcoal interior color anymore, either. The light beige may not be everyone's first choice, but it definitely brightens the space. Speaking of which, there is tons of space. The Altima has more front and rear legroom than either the Accord and Camry, so even tall people can stretch their legs whether they are a driver, a front passenger, or a rear seat passenger.
0-60? Yes, It Can
Some like to take it slow, while others are always in a hurry. With the 2016 Nissan Altima, don't expect to break any land speed records. The 2.5-liter four-cylinder does nothing to inspire an avid driver with just 182 horsepower, especially when it is mated to the spongy CVT transmission. The 3.5-liter V6 option on the SR and SL has 270 horsepower, a class-leading number, but you're still driving an Altima. It's definitely more spirited than the four-cylinder option, but it's somewhat like lipstick on a pig.
The CVT transmission used to be a bit of a bother, with its constant droning noise when you're cruising. For 2016, Nissan has used additional software to control that drone, resulting in the quietest Altima ever. CVT technology has been implemented in the six-cylinder model too, simply because it produces better fuel economy. Neither the engine nor the transmission choices will create a rush to sign sales contracts.
Class Exclusive PFCW
PFCW? What's that? It's Predictive Forward Collision Warning. And the 2016 Nissan Altima is the only one in its class that has it. It uses radar sensors to detect potential obstacles in front of you and alerts you to the danger. PFCW is just another level of safety that Nissan includes in the Altima.
The Altima has other potentially life-saving features too, including Bluetooth hands-free calling as well as hands-free text message assistant. Every Altima comes with RearView Monitor as well, so you are less likely to be reversing over anyone's bike or toys anytime soon.
But will PFCW or the other safety features make car enthusiasts reach for their wallets? Not likely. "Baby on Board" sign users? Maybe.
Tire Fill Alert? That's Cool!
Checking your tire pressures is usually a hassle. Use the tire gauge, add some air. Check again, add more air. Check once more, oops, too much, let some air out. Add more air.
Not only is Altima equipped with direct tire pressure monitoring that indicates exactly which tire needs air, but the 2016 Nissan Altima has another class-exclusive feature – Easy-Fill Tire Alert. Now when you're adding air to the tire (you know the right one to add air to, remember?) your Altima will sound the horn with a short honk when the tire pressure is exactly right. No more overfilling or constant pressure checks while topping up your tire pressures. Unfortunately, there aren't very many other cool features like this that will actually draw in buyers.
So maybe the Altima isn't the sportiest car in the midsize market. It definitely isn't a full-blown luxury car, yet some of the features will make you feel a little more pampered than before. But the Altima is definitely a decent family car. It's comfortable, roomy, and you won't cry too much when Junior spills his juice on the backseat. If that's what you're looking for in a second vehicle or a commuter car, the 2016 Altima may fit the bill. But a large number of Altimas will still start out in rental fleets and not in suburban garages.
The midsize market is extremely competitive, and the 2016 Nissan Altima sits squarely in the grey middle. The gap between its 3rd position and first place is a slim margin, yet the Nissan Altima poses no immediate danger to Honda and Toyota's best sellers. Are the two top dogs going to find Nissan nibbling on their market share with their updated take on a midsize sedan? Probably not.