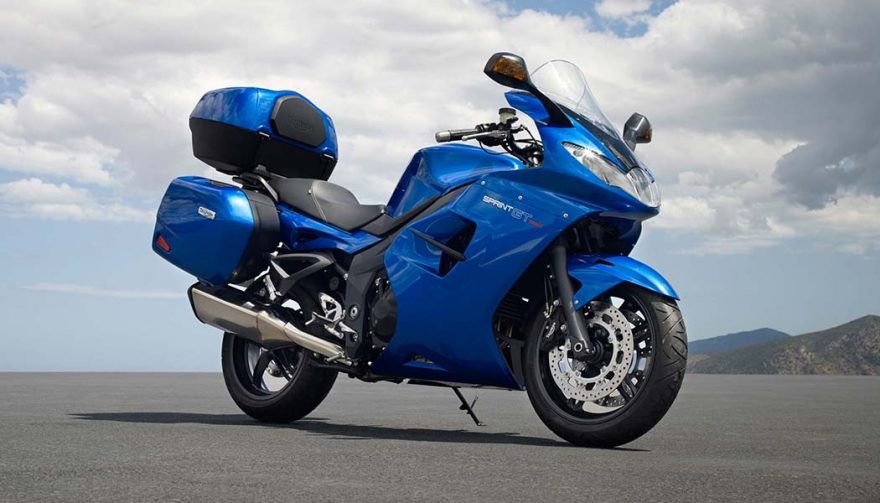 9 of the Best Sport Touring Motorcycles on the Road
There aren't many people who want a bike just for the track, and there aren't many people who only enjoy driving a La-Z-Boy down the highway. If you're like most people who have a motorcycle permit, you want a bike that can do a bit of everything. And that's what the best sport touring motorcycles can do.
The definition is a little loose for these types of motorcycles, but sport touring motorcycles can be a combination of crotch rocket and cruiser motorcycles, a mix of classic and sport, or virtually any other combination.
But what we do know is there are some bikes that do it better than others. And on that note, here are nine of the best sport touring motorcycles out this year.
Triumph Sprint GT
It looks like it would fit right in as a new design about 20 years ago, but that's no reason to discount the 2017 Triumph Sprint GT. It is obviously built as a touring bike with the three-box pannier system and heated handgrips. Its gel seat is comfortable for the long haul or in city traffic.
But the Triumph Sprint GT has heart too. Its 1050cc three-cylinder with 128 horsepower is punchy and extremely fun to ride, even if the seating position is a little more upright than you'd want on the sport side of things.
Honda VFR800
The seventh generation of the Honda VFR800 (also known as the Interceptor) swings toward sport more heavily than touring. The 782cc engine makes 104 horsepower, which is plenty for someone who isn't trying to beat the fastest motorcycle 0 to 60 times. You sit more forward than upright, although not so much that you're cramping up all the time.
Let's not forget the touring side also. The Honda VFR800f uses VTEC technology and gets real-life fuel economy of about 42 mpg. And for true touring enthusiasts, the available hard-sided saddlebags are a must.
Suzuki GSX-S1000F
Because it's a blend of sport and touring, some sport touring motorcycles are heavily weighted toward sport. That's the case for the Suzuki GSX-S1000F. Based on the 2005 to 2008 GSX-R1000, it's meant to go fast. Really fast. That's what you get when you put 145 horsepower in a bike that only weighs 472 pounds dry. It's nimble and responsive, and a thrill to put through its paces.
Suzuki knows that most people don't push the limits…too often. So they've made the GSX-S1000F more street-friendly than its mentor. The steering rake is a little taller to get you a little more upright. KYB suspension dampens the road feel, and ABS gives you even better riding response. You don't get the saddlebags this time, though.
Kawasaki Z1000
Different strokes for different folks, and this time it includes what Kawasaki calls an "urban streetfighter" look. It's a stripped-down motorcycle without fairings. It insinuates a dual-purpose biking experience. Its Showa SFF-BP suspension gives better damping for a smooth ride, and the compact frame length means the rider sits more vertical than other sport touring motorcycles.
You'll have a ton of fun on this motorcycle still. Its 1043cc 4-cylinder engine pushes 128 horsepower and screams to 60 mph in just 2.5 seconds.
Suzuki Hayabusa
Doesn't it feel slightly ridiculous to have the Suzuki Hayabusa on a sport touring motorcycle list? It seems like it diminishes its abilities. But the fact is that the Hayabusa fits the build quite well. With 197 horsepower coming from its 1340cc engine, it's one of the fastest street legal motorcycles. And it looks like you need a long reach to ride it comfortably.
But it's a great touring bike too. That long reach isn't awkward at all, and is more comfortable than a GSX-R by far. The longer wheelbase means better suspension damping too. And if you ride responsibly, you could tickle the 40 mpg-mark with ease.
Kawasaki Concours 14
Ever thought about crossing the country in a day…on a motorcycle? If there's a sport touring motorcycle that could do it, it's the Kawasaki Concours 14. It's a behemoth of a bike with a 1352cc engine that makes 158 horsepower for a top speed of 155 mph. And with nearly 700 pounds of dry weight, it feels like a sturdy touring bike.
The saddlebags are standard equipment for the Kawasaki Concours 14, and its riding position feels much more natural than other bikes in the same classification.
BMW R1200R
Much like the Kawasaki Z1000, the 2017 BMW R1200R has the feel of a dual-purpose motorcycle. It's a segment that BMW is very comfortable in, but this time there's more sport mixed in. The BMW R1200R has an incredibly comfortable position for the rider and it's further enhanced by a well-tuned suspension.
With 125 horsepower, the BMW R1200R is no slouch. Toss in the standard ABS and available traction control, and it's one of the best sport touring motorcycles with some upper-end tools to keep you safe too.
KTM 1290 Super Duke GT
You might not know a whole bunch about the KTM lineup, but you should get familiar with them. The KTM 1290 Super Duke GT is one of the best sport touring motorcycles with some stellar tools. Semi-active suspension has three settings for handling. A steering damper makes controlling the KTM 1200 Super Duke GT flawless. And as for comfort, you'll find no qualms at all on this bike. The seating position is so natural, you'll prefer it to your couch.
Tucked into the brightly-colored frame is a 1301cc 2-cylinder that spins up 170 horsepower. With Brembo brakes and ABS, it's a bike you'll easily rack up the miles on.
Ducati Multistrada 1200
Looking at the best sport touring motorcycles, it's hard to compete when there's a ringer in the crowd. It's the Ducati Multistrada 1200. Its name literally means "many roads," so of course it's designed for sport touring. Its windscreen is taller than most other bikes in the segment, and the seat is somehow the most comfortable you'll ever experience…aside from the gel seat on the Triumph Sprint GT. Hands down, it's the best sport touring motorcycle out there. It's one of the best motorcycles for tall riders as well.
But what about the sport aspect? Well, the Ducati Multistrada 1200 does that extremely well too. Its 1198.4cc engine makes 152 horsepower, and its fully adjustable suspension will feel just right for you. With ABS and available traction control, the Ducati Multistrada 1200 is decent value, even for a more exotic brand.
You May Also Enjoy:
Four of the Best New Motorcycles for 2020