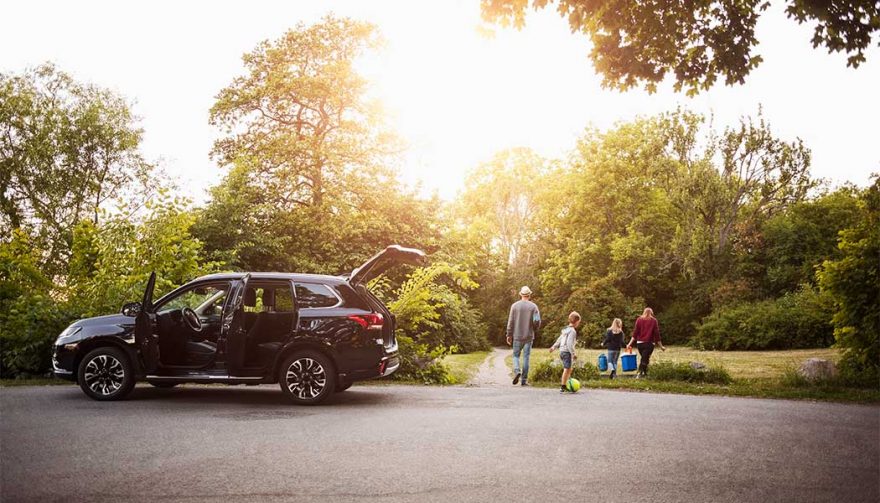 Top 4 Rides for Summer Road Trips
Best Vehicles for Road Trips
The pandemic is on the run, and vaccines free up thousands of cooped up people who are itching to go…well, go anywhere. It's road trip season in America. If you are one of the former cave dwellers who opt for the open road rather than planes or trains, you will want a vehicle that not only gets you to your destination but makes the "trip" part of the road trip an enjoyable experience. Of course, you want the best road trip ride available, but you might be surprised that it could mean a 6,396-pound 2021 RAM 1500 TRX or a 2,341-pound 2021 Mazda MX5. Let's take a look at the best vehicles for road trips.
It All Depends on You
The perfect road trip car is going to mean different things to different people. Families will be concerned about seating capacity, safety, cost of operation, and niceties, like onboard entertainment options. More adventurous families may want towing capability, cargo space for all their gear (like a truck bed), or even off-road capabilities.
So, the "perfect road trip" car depends on who is driving it. With that said, we are talking about hours behind the wheel, and certain features can make the long-distance trip more pleasurable:
Torque. Not horsepower but that magical umph that gives you the push when you want it. There is nothing more tiring than struggling to pass, or merge, or climb a hill. A vehicle with adequate torque for its size is a plus for long-haul driving.
Great driving dynamics. The engineering that goes into steering and suspension determines how hard you will have to drive the ride. Good road trip vehicles will track effortlessly with minimum driver corrections, which means superior design and engineering are a must. Don't underestimate the value of well-engineered electronic power steering and computerized stability control systems.
Seating. Supportive seats for both the driver and passengers are essential on road trips. Back support, leg support, and bolstering to keep you in place on curves, along with power-adjustable seats that let you change your driving position on the fly without risking your life, are essential in your road trip ride.
Creature comforts. The suitable ride for a long-distance trip will have dual-zone climate control, a top-notch sound system, and cup holders.
Ready? Here's our short list of road trip rides.
Best Road Trip Rides for 2021
1. 2021 Volvo V90
It is classified as an SUV, but it looks like the traditional family road trip ride. This Volvo V90 in no way resembles Clark Griswald's Family Truckster, but it is the perfect cross-country vehicle for a family of five or less.
It's a Volvo. It is beautiful and luxurious. It has a spacious cabin packed with fantastic safety features and a panoramic sunroof. It gets 30 miles per gallon on the road and it has four-zone climate control. It is an SUV, but its all-wheel-drive handles like a sports car with plenty of umph thanks to a 2.1-liter, four-cylinder that is both supercharged and turbocharged, generating 316 horsepower and 295 pounds of torque. Fun to drive, comfortable to ride in; it is a perfect road trip ride.
2. 2021 Jeep Grand Cherokee L
For the more adventurous family of up to seven, the new Grand Cherokee L model offers a surprisingly upscale off-road option. It has crisp styling and a factory lift that gives an extra foot of clearance. It has a 5.7-liter 357 horsepower V8 with either rear-wheel or all-wheel drive (as well as your choice of four-wheel systems). It also has some very un-Jeep like amenities in the upper trims, like leather-wrapped massaging driver's seat, ambient lighting, and three-zone climate control. The ride is solid, and the steering and braking are responsive. If you plan to tow a toy, the Grand Cherokee L can handle up to 7,300 pounds. Don't be surprised if you see a lot of these in national parks this summer or winter.
3. 2021 Kia Telluride Nightfall Edition
If you can find one, this would be the perfect ride (Kia Telluride SUVs only sit on a dealer's lot for an average of seven days).
The new three-row Nightfall Edition promises excellent long-distance experiences for up to seven passengers. While exterior styling does not lend much to road trip qualities, it is nice to know you drive one hot-looking SUV. Sharp lines, blacked-out grille, wheels, and trim, plus other styling niceties, make the Telluride Nightfall Edition an absolute stunner.
Inside is surprisingly luxurious for a Kia. It boasts faux dark wood trim inserts, well-bolstered leather seats, Harman Kardon sound system, silver dash trim, dual sunroof ventilated, and heated seats. These are just the start of extra features that come with the Nightfall Edition. Kia's proven 3.8-liter Lambda II GDi V6 generates 291 horsepower and gets an EPA rating of 19/24 (about average for the segment). Steering and braking are robust, responsive, and precise. Despite the big 20-inch wheels, the Telluride smooths out uneven pavement and delivers a smooth ride. All in all, this SUV makes an excellent family road trip vehicle.
4. 2021 Mazda MX5 Miata
Okay, the Miata is not for everyone as a road trip car, but for true driving enthusiasts, those that enjoy the thrill of driving, you cannot find a better long-distance experience. Weighing in at a little over a ton, this two-seater is powered by a naturally aspirated four-cylinder engine generating 189 horsepower and 151 pounds of torque mated to a six-speed manual transmission that is so precise you can shift with a flick of your fingertips.
Because the engine's weight is located behind the front axle, bringing the center of gravity closer to the middle of the car, the Miata is a nearly perfectly balanced ride front to rear and side to side. And that is what gives it its excellent handling characteristics.
This car is for a fun driving experience. Being a convertible, the driver and passenger become more engaged with the land they are traveling through. That makes for an optimal road trip experience. Don't believe it? This writer's retired parents packed two tennis rackets, an equipment bag, and a soft duffle in the impossibly small trunk of their 1992 Miata. They put the top down, left Chicago, went over the Rockies, stopped in Vegas, put the top up and cruised across the Mojave to Los Angeles. They played tennis and visited laundromats at every stop before driving home via Monterey and Denver. This little ride is a proper road trip car.