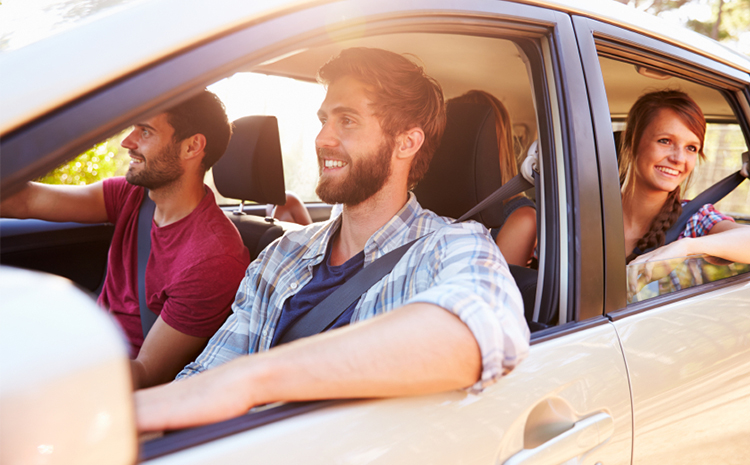 Take the time to plan a road trip before you head out.
What You Need to Know Before Taking Your Next Road Trip
So you get to plan a road trip. Good for you. There's nothing more exhilarating than sitting behind the wheel with the open road before you.
Are you heading to the beach? Maybe you're driving to a great hiking destination. Or maybe, you're one of the lucky ones planning a cross-country road trip. You'll be feeling a lot of excitement before you disembark, but try to concentrate. You've got a few things you need to do.
You've Got Work to Do Before Hitting the Road
Not quite sure how to plan a road trip? There are a few things you should do before you set off to ensure that you and your passengers arrive safe and sound at your destination, while having the best time on the road.
Have Your Car Inspected and Take Care of Maintenance Items
You've got a lot on your plate as you plan a road trip, but you can't afford to skip any of these steps. There are a few car repairs you can do yourself. But it's vital that you take your car in to be checked, and that you have a trusted mechanic inspect your vehicle before you hit the road.
Here are some things you need to do:
Have your oil changed.
Check and replace your air filter if necessary.
Make sure your wiper blades are in good condition.
Check for tire wear, you may need a new set.
Check the car alignment.
Make sure the charging and starting system are in good shape(a free check should include the battery, alternator and starter, and takes less than five minutes).
Check your brakes, you may need new pads.
Make sure the power steering system has been inspected for leaks and wear.
See that your engine belts and hoses don't have cracks, bulges and deterioration.
Have your lights checked and replace any blown bulbs.
The most important thing to do is to ensure that you're getting a full inspection from a mechanic you trust. Follow their advice concerning any repairs or replacements you car needs.
Remember that you're putting your safety and well-being on the line with this road trip. Also, nothing ruins a road trip quicker than a broken down car.
Pack Emergency Supplies
Yes, you'll be loaded to the gills with luggage and toys, pool floats and snorkels, suitcases and bags. You still need to pack a roadside emergency kit. These will help ensure that if something does go wrong, you're able to handle the situation.
Make sure you're packing:
An empty gas can (in case you run out and have to get more).
At least one quart of engine oil.
A spare key (never leave home with only a single car key).
A couple of basic tools, including screwdrivers, sockets, ratchets, etc.
Check your spare tire's inflation.
Make sure you have a jack and lug wrench.
First aid kit.
Jumper cables.
Map (even if you'll be using a GPS unit).
Power inverter/strip for charging your devices on the road.
Plan Your Travel Routes
Sure, you'll probably use your GPS, but have a couple of ideas to get off the beaten path. There's not much point in taking a road trip if all you're ever able to see is the interstate.
With that being said, some back roads and state highways aren't worth the trouble. Do a little research and find out what route or combination of routes will give you decent speed, but also the ability to see the sights.
As a note, you should also be aware that the scenic route is usually the slow route. For example, if you're driving south on Florida's east coast, you might be tempted to take A1A. It's a wonderful way to see everything, but you'll make very poor time, turning what could be a daylong trip into something that will take at least two full days. So, know your alternatives.
One of the most famous road trips is along Route 66. Here are some interesting facts about Route 66 in case you're looking for road trip suggestions.
Don't Over Plan
Sure, you should have a general plan for your trip, which should include when you're leaving, where you'll be staying, and when you're returning. However, don't be afraid to go off plan every now and then.
Be flexible. If your trip is scheduled down to the last possible minute of each day, chances are good that somebody will be miserable. When you're planning a road trip, leave room for downtime. Be open to suggestion.
On the flip side, don't let your schedule be too loose, either. Have at least a few ideas of what you'll want to see and do when you reach your destination. While over-scheduling can be a pain, under scheduling can lead to boredom.
Carry a Little Bit of Cash
When you plan a road trip, don't forget to make a note to grab some cash. Most of us have come to rely on plastic to get us through our days, but you can't beat having a supply of a little cash on hand for your road trip. This comes in handy for everything from paying tolls to buying a souvenir in a gift shop that doesn't accept credit cards (yes, those still exist).
Don't carry a significant amount of cash, though. It's too easy for it to be lost or stolen. Have just enough that you're not stuck if you end up somewhere your cards aren't accepted, and that you don't hold up the line at the tollbooth.
Take Time to Clean Your Car
When you plan a road trip, don't forget to get your car cleaned. Here are some good tips to clean your car.
Don't wait until you get to your destination to clean out your car. Make sure you toss out those fast food wrappers, empty cups and gum wrappers as you go. Cleaning out the car each day will ensure that you have more room inside, and that everyone is much more comfortable (and it'll cut down on those weird smells as the sun bakes the interior of your car).
Double Check Your Papers
Make sure you have all the paperwork that you'll need on the trip. This goes for everything from a printout of your hotel reservations to your auto insurance card. You may also want to carry copies of your health insurance information (and your cards if needed), as well as your roadside assistance membership card and other documents.
With these simple tips, you should be prepared for an amazing road trip no matter where you might be heading.