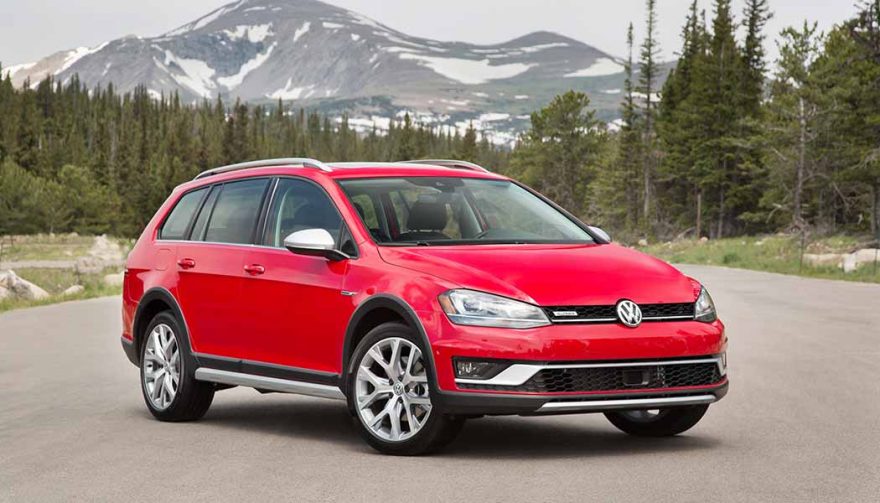 The Volkswagen Golf Alltrack has VW's 4Motion all-wheel drive
The Best Cars for Winter Aren't All About Safety, There's Savings and Fun
We're not talking about massive trucks or versatile SUVs right now. Sometimes those vehicles are out of drivers' budgets. But with winter right around the corner, some drivers are looking for the best winter cars that are also affordable. And maybe fun.
Winter comes with lots of challenges, like driving in the snow. But if you've got the right car, it doesn't have to be such a nightmare. So here are some of the cheapest best winter cars out there right now.
Of course, if money really is an issue, putting a set of quality winter tires on the car you already have would probably be the cheapest route.
Volkswagen Golf Alltrack
The Alltrack is a lifted Golf wagon. It has a 1.8-liter turbo four that makes 170 horsepower. It's an inch higher for more snow-ready ground clearance. It has VW's 4Motion all-wheel drive. And it's full of cool off-road modes that tell you how high you are, what the steering wheel angle is, and there are a few terrain options too.
It even has hill descent to help you get down an icy driveway. And when you want to have some fun, the all-wheel-drive system is happy to send lots of power to the rear.
Toyota Yaris
The 2018 Toyota Yaris and Yaris iA are great choices for winter. They're small and light. Tiny 15-inch wheels and 175 wide tires (185s in 16-inch for the iA) mean that winter tires are cheap. Plus that narrow width means that the tires dig down through the snow, giving you better traction.
Plus the light weight of the cars means that if you do end up in a snow bank, it'll be easier to push out. Go for the Yaris for extra cargo space – maybe keep an emergency kit back there – or the iA for better handling. After all, the iA is a Mazda 2 in disguise.
Ford Fiesta
It's still small, but not quite as small as the Yaris. It's a little longer, and a little heavier. More powerful too. But the Ford Fiesta offers still-small 185/60R15 tires.
And with the cold weather pack on an SE trim car, it's the cheapest new car to offer heated seats. Your butt will thank you on every cold winter morning. Your wallet won't mind either.
Subaru Impreza
You knew there was going to be a Subaru on the list. After all, what's winter without all-wheel drive fun? And the Impreza is one of the cheapest new cars to offer all-wheel drive.
What's more, the new Impreza still feels like a rally car. That means you'll be blasting down winter roads in long-travel suspension comfort. Pretend you're Colin McRae on a special stage, and you'll be on the right track. It's definitely one of the best winter cars.
Fiat 124
That's right. The Fiat 124. Fiat's own Mazda MX-5. Because you need to have fun in the snow too, right? The lightning sharp 124 offers 160 horsepower, which is more than enough for this tiny roadster. It also has a limited slip differential even on the base trim. So it will send power to both wheels when it's slippery out, keeping you from getting stuck.
And the nice small cabin takes less time to warm up, which means that you should get comfy more quickly. And if it's nice out, you can still drop that top for some extra sun to fight the March blues. Step up to the Lusso trim and get heated seats to go with your limited slip.
Nissan Leaf
Yes, the range of an EV is reduced when it's cold out. Batteries don't like cold weather. But neither do gas engines. Even gas cars take a mileage hit when the mercury drops. Even more of a hit if you're using a remote starter or letting the car idle to warm up.
Electric cars have a winter trick though. They can warm up while they are still plugged in. The Leaf can run the heater and the heated seats while it's still plugged into the house. You come out to a warm car but still have a fully charged battery. Take that, winter.
BMW 230i xDrive
Ok, maybe the BMW 230i isn't cheap, but the lease deals that BMW offers can make it surprisingly affordable. And the xDrive means BMW's excellent all-wheel-drive system.
The 2 is what the 3 series used to be. It's the one for drivers. It has BMW's twin-turbo four that makes 248 horsepower and 258 lb-ft. Perfect for dashing through the snow.
Dodge Charger
OK,  we get it. The Dodge Charger probably isn't the most sensible car for winter driving. Well, at least not for safe winter driving. The Dodge Charger is one of the cheapest ways to get a V8, if you want some old-fashioned sideways snowy fun.
Of course, you can also get a V6 and all-wheel drive. That makes for better driving in the snow. Plus the 3.7-liter V6 still offers 292 horsepower and an eight-speed automatic. Call this one a full-size sleigh. One with room for lots of people and lots of stuff in the trunk.
Related Video:
You May Also Enjoy:
Volkswagen Golf Review: Always a Reliable Hot Hatch