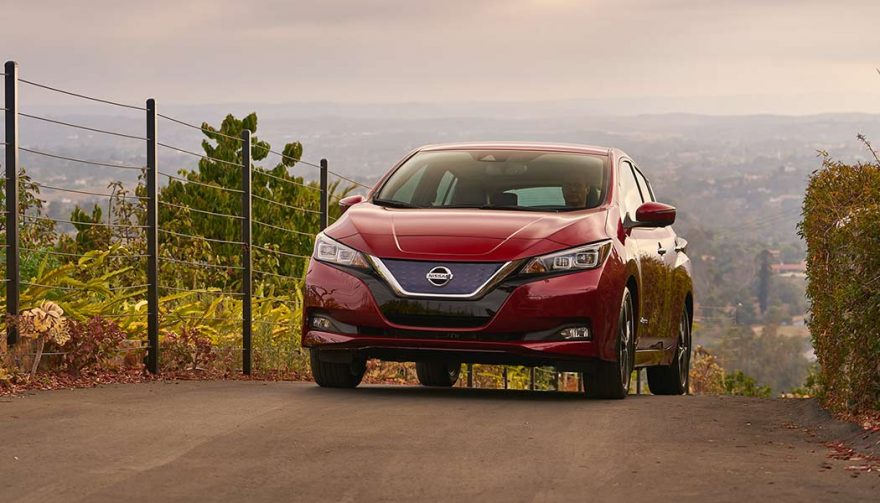 The 2018 Nissan LEAF gets a longer range, but not as long as other models
2018 Nissan LEAF Is On Its Way: What's New, and Is It Still Ugly?
Somehow, the Nissan LEAF has been the best selling electric car in North America since its introduction in 2010. That's a surprise because of its atrocious looks. I mean, you have to tint the windows limo-dark just so you won't be seen inside it.
But the all-new 2018 Nissan LEAF has been announced now. It has updated technology and range. But the true question is this: do the updated tweaks to its exterior do anything for its appearance?
The 2018 Nissan LEAF Looks 1000x Better
Electric car buyers, rejoice! The 2018 Nissan LEAF will no longer be an embarrassment to drive. The gaudy, bulgy form from the first-gen LEAF is gone. It's been replaced by a handsome, sleek five-door hatchback that elicits more affection that apprehension.
Nissan's V-Motion grille design is prevalent up front, as are the boomerang lamps. For some reason, every electric car has that blacked out, solid upper grille design, but on the 2018 LEAF it actually looks like it fits.
The worst parts about the current model will be gone. Those ridiculously long, high-mounted, bizarre headlights are sent into the abyss, as is the repulsive bubble-shaped liftgate. The tacky futuristic body lines are replaced with elegant, subtle accents here and there. And of course, because it's an electric car it must have the two-tone blacked-out roof panel with a white paint job, right?
Here's a problem, though. The 2018 Nissan LEAF looks like a copy of the Chevrolet Bolt on the outside. It has an established customer base who will likely return for it, but new customers will be drawn to the first-on-the-market Bolt EV, which coincidentally, also has a much longer range. The LEAF redesign should have been unveiled six months ago.
Is the Longer Range Enough?
The 2017 and previous Nissan LEAF has a paltry range of just 107 miles on a full charge, and that's in ideal conditions. That means you can't go any further than 50 miles from home – much less if you live in a cold climate – and still return home without a lengthy recharge. It's been improved to a healthy 150 miles with a 40kWh battery, which is more than what 95 percent of Americans will use in a day.
Unfortunately, that range is nowhere near top of the class. The Chevrolet Bolt EV has a rated range of 238 miles and the Tesla Model 3 offers a 220-mile or 310-mile range option. And because car shopping is always a comparison game, the 2018 Nissan LEAF falls short in the electric range category.
Improved Power
One area that is definitely improved is the 2018 Nissan LEAF's performance. The outgoing model has an 80-kW electric motor, the equivalent of 107 horsepower. To be blunt, that sucks. It gets you where you need to go, but it's not enjoyable. You can't have any fun behind the wheel.
The 2018 LEAF has a 110-kW electric motor, equivalent to 147 horsepower and 236 lb-ft of torque. Now we're talking about a little more fun behind the wheel. Lay into the accelerator (it's not called a gas pedal) and there's an immediate response that will curl up the edges of your mouth into a smile.
Driver Assistive Technology Now Included
You've heard about regenerative braking, but the first time you try it, it's still a weird feeling. The 2018 Nissan LEAF uses it in a technology called e-Pedal, but it's more than just regenerative braking.
Just by varying the pressure on the pedal, you can start, accelerate, decelerate and stop the car. I can imagine that will take some getting used to.
ProPILOT Assist is new for Nissan and will be part of the 2018 LEAF platform, it's a hybrid (pardon the term) system that's almost like autonomous driving but with driver input. It's a "Hands-On" system that assists the driver in single-lane highway driving, helping to steer, brake and accelerate. It's much like adaptive cruise control with added steering input.
We'll have to see how it works out, though. The driver must maintain pressure on the steering wheel for it to function. That could be more of an annoyance than assistance.
A Classier Interior
It doesn't take much to improve on the outgoing LEAF's interior. It felt like the low-quality plastic that it was. The all-new 2018 Nissan LEAF gets new treatments that include piano black trim on the radio bezel and console, a full-color instrument display, and 7-inch infotainment touchscreen along with actual buttons (gasp!) and that palm-style shifter control that electric cars love to use.
It will be available in three trims: S, SV and SL. The base LEAF S trim has cloth seating, automatic temperature control and your standard power features. SV trims add 17-inch alloy wheels, Intelligent Cruise Control, a Quick Charge Port, Nissan Navigation System, and Apple CarPlay and Android Auto. The Nissan LEAF SL adds leather seats, Bose premium audio, Intelligent Around View Monitor, LED headlights, and a few other bits and pieces.
Is the 2018 Nissan LEAF Worth It?
It has its shortcomings. The range could definitely be improved to match other models in the market, and that's probably the biggest detractor for the LEAF. Although the outgoing design was brutal at best, the new design isn't unique enough to pull new buyers in.
However, the price point is nothing short of amazing for what you get. The 2018 Nissan LEAF S starts at $23,000 after federal tax credits, and the top-end LEAF SL is reasonable at $28,700 after those same credits.
For the technology, the improved range, the enhanced performance and the sharp looks, the Nissan LEAF will probably maintain its top spot in electric car sales.