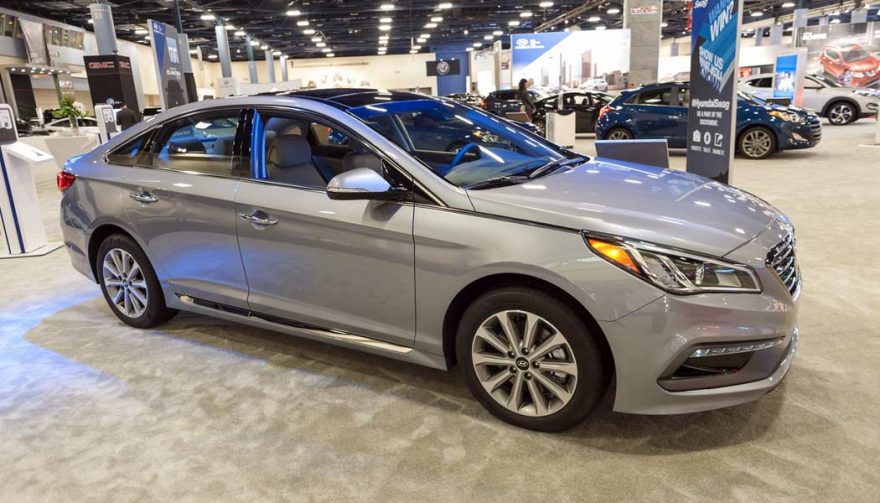 For 2016, the Hyundai Sonata retailed some 199,416 units.
10 Bestselling Cars of 2016
The bestselling cars of 2016 may not be as surprising as other things related to last year. 2016 wasn't the year for passenger cars. A widespread decline in sales numbers is noted due to the increased popularity of SUVs and trucks, mainly because of low fuel prices.
Yet, the market remains saturated with excellent choices for cars. These were the bestselling cars of 2016 in the United States.
10. Hyundai Sonata
Beating out the Chevy Cruze, Ford Focus, and Kia Soul for the final spot on our top-ten bestsellers of 2016 list is the Hyundai Sonata. This classy midsize sedan is a sleeper in its segment and, truth be told, I'm stumped why it doesn't sell better. Even the base Sonata GL has heated seats, Bluetooth, rearview camera, 185 horsepower, and a great allotment of technology. You can also step up to a 245-horsepower turbocharged four-cylinder if you like it a little sportier.
For 2016, the Hyundai Sonata retailed some 199,416 units. It's 6.5 percent fewer than 2015, but overall still much stronger than 11th place.
9. Hyundai Elantra
Hyundai has two cars rounding out the top ten list. The Elantra, an economy car often thought to be a disposable vehicle in the past, is now one of the highest ranked in quality. An about-face in the company's vision has set them on course to win awards of all kinds, from IIHS Top Safety Pick + to J.D. Power Highest in Initial Quality.
208,319 Hyundai Elantras were sold in 2016, but the number dropped alarmingly since last year. Sales were down 13.8 percent.
View on One Page
You May Also Enjoy:
2017 Hyundai Sonata: Not Best-In-Class, but It Comes Close