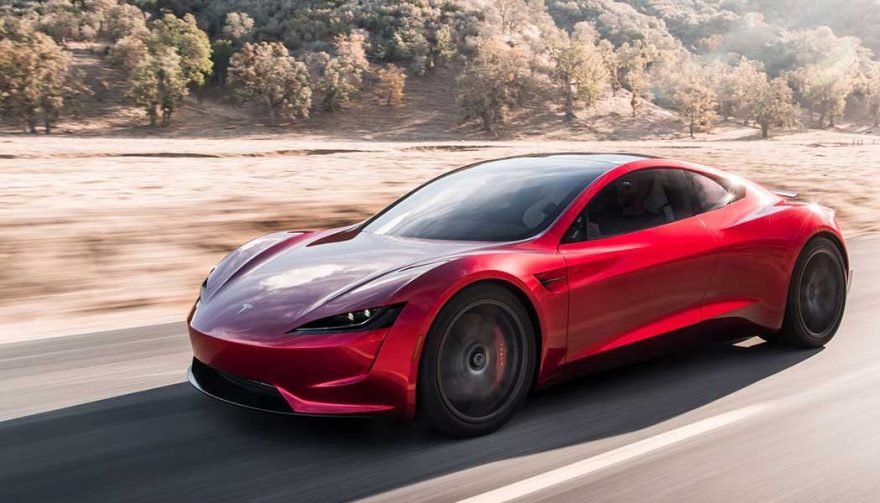 The Tesla Roadster has a 0-to-60 time of 1.9 seconds
Tesla Roadster: The Quickest Car Ever, and It May Fly
It was the unveiling of the new Tesla semi-truck. All was as expected – an innovative electric-powered hauling monster with four independent electric motors and a range of either 300 or 500 miles. Mid announcement, Tesla's CEO Elon Musk changes the game. Amid dramatic dry ice, piercing headlights silently roll from the back of the semi. It's the new Tesla Roadster.
Since its initial announcement in 2008, the Tesla Roadster has been one of the most anticipated electric vehicles ever. Yet, until now, no one knew if it would ever become a reality. According to Musk, the all-new Tesla Roadster will be coming in 2020, and it's going to be nuts.
It looks a little like the Acura NSX, has bits of McLaren in the cockpit, and gives an Aston Martin DB10-like look from the backside. All in all, the Tesla Roadster has eyeball.
Oh, and CEO Musk said later on Twitter that a "special option upgrade" may or may not allow the Tesla Roadster to "fly short hops."
The Tesla Roadster's Roots
What makes the Tesla Roadster what it is? It's more than just a vision, a dream from an entrepreneur-slash-mogul with deep pockets and a severe case of ADHD. It's a new benchmark in vehicle development. At least, it will be if it ever gets built.
The Tesla Roadster is a three-motor vehicle with one at the front and two at the rear. Combined, it gives the Roadster all-wheel-drive capability. And combined, it was announced that it will have 7,376 lb-ft of torque to the wheels combined.
But that's not the most mind-blowing detail yet. No, that's reserved for its acceleration. The 2020 Tesla Roadster, according to Musk's claims, will have a 0-to-60 mph time of just 1.9 seconds. That's faster than the Porsche 918 Spyder's 2.2 seconds, the Ferrari LaFerrari's 2.4 seconds and the Bugatti Chiron's 2.5 seconds. It will be the quickest production car in the world, and on all-electric power.
You May Also Enjoy:
Tesla Model 3 Takes the Lead in Best-Selling Premium Car Sales Race
The 2020 Tesla Roadster will sprint to 100 miles per hour faster than most cars make it to 60, in just 4.2 seconds. It will tear up the quarter-mile in just 8.8 seconds. The Tesla website makes an understated claim of its top speed: simply saying "over 250 mph."
The Non-Traditional Roadster
The term "roadster" conjures up thoughts of a two-seater sports car with a deep, guttural rumble and a screaming V6, V8 or small-displacement V12. But that's not what the namesake Tesla car will be. It's all-electric, and that means the Tesla Roadster is silent as a church mouse. Aside from the light whine of an electric motor and a tiny bit of high-performance tire noise on pavement, it sounds like a high school library: hushed.
It's also been designed as a four-seater, but it's more accurately a two-plus-two. That's a detail no one is really hung up on at all, seeing as the electric motors take up minimal space and there's room for more people or cargo.
The Tesla Roadster Breaks Distance Barriers
Perhaps the most notable perk of the Roadster is its non-stop battery capacity. The 200-kWh battery – yes, you read that right – is insanely large, and means a much longer range. Both Musk's announcement and the website state that the 2020 Roadster has an operating range of 620 miles, or 1,000 kilometers.
It's further than any production electric car has gone yet. Moreover, it sets a new benchmark for other carmakers to attain.
How Much?
You'll have to dig deep to own the 2020 Tesla Roadster. The "base model" is $200,000 and requires a $50,000 cash deposit up front. That's hefty, but if the performance is in line with what Elon Musk claims, it's well worth it. Yet, the base model isn't going to be the first off the assembly line, so you'll be waiting even longer to get your car.
If you want your 2020 Tesla Roadster as soon as it comes out, cough up $250,000. Right. Now. Only 1,000 Roadster reservations are available in the "Founders Series," but you must pay for your car in full up front. Comparatively, it's a small price to pay for an all-wheel-drive, ridiculously fast, all-electric supercar.
The Roadster announcement assumes that Tesla can get their manufacturing up to speed to build and release these cars in 2020. That could be a challenge – case in point, the current debacle of Model 3 production.
Oh, And It Will Be Able to Fly?!
Even before the dust settled on Tesla's announcement of the new Roadster, Musk took to Twitter Sunday and said a new special upgrade package may or may not allow the Tesla Roadster to "fly short hops."
Experts, however, are having a tough time wrapping their heads around that claim. Did Musk actually mean the car would be able to fly? Given Musk is a space-technology entrepreneur, the claim has a little merit. But then, he may have just been engaging in hyperbole, considering the car's soaring speed numbers.
Or, what's more, it may have been intended as an even further distraction from the company's aforementioned Model 3 troubles.