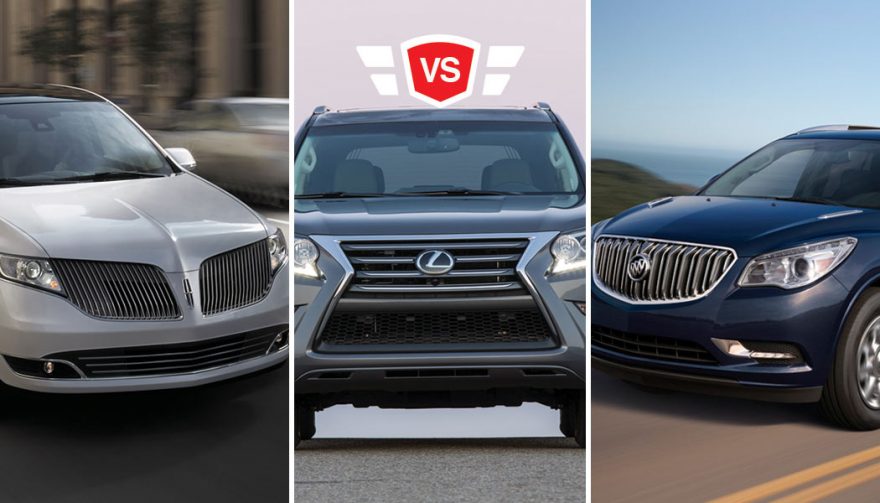 These three SUVs are vastly different vehicles with a wide range of price points.
Luxury SUV Rundown: Buick Enclave vs Lincoln MKT vs Lexus GX 460
Yes, we're going to look at a Buick Enclave vs Lincoln MKT vs Lexus GX 460 premium SUV rundown.
They are vastly different vehicles with a wide range of price points. They're nothing alike in their capabilities, aside from being large SUVs with copious amounts of space for cargo and passengers in various configurations.
It's different strokes for different folks. A premium or luxury SUV may be on your radar for the near future, and one or more of these units could be an option. Find out if the Buick Enclave, Lincoln MKT or Lexus GX 460 is right for you.
2017 Buick Enclave
There's a 2018 Buick Enclave coming this fall, but that's not our concern at the moment. The 2017 Enclave is readily available, and it's an SUV you might want to consider in its current format. For a closer comparison with the Lincoln and Lexus, we're going to use the top-of-the-line Enclave Premium.
Performance and Handling
There's just one choice under the hood of the Enclave, and that's the 3.6-liter V6 with 288 horsepower. Buick's all-wheel-drive system is optional, or you can choose the front-wheel drive alone. The transmission is a 6-speed automatic, simply a rudimentary gearbox for a run-of-the-mill SUV. This is precisely the type of powertrain you might find in the Chevrolet Uplander of years-gone-by, except with two less gears.
If you're looking for a cushy ride, the Enclave is a great vehicle. Its four-wheel independent suspension and unibody frame give it a car-like ride with SUV-like capacity. You won't wander far from pavement, though. The Enclave isn't meant to blaze trails but to follow them.
Premium Interior, But Not Luxurious
If you're moving up from a Chevy Equinox to the Buick Enclave, you may be pleasantly surprised. But those going from a Mercedes-Benz or BMW will be disappointed. It's well equipped inside, containing premium features like Bose premium 10-speaker sound system and Buick IntelliLink with Navigation. It also has heated and cooled front seats, Forward Collision Alert, articulating headlights and 4G LTE Wi-Fi.
What's missing are some obvious premium systems. There's no mention of Adaptive Cruise Control, which has become expected even on non-premium brands. Surround view monitor, a head-up display and enhanced parking assist would be fine additions too.
For its $50,000 premium price tag, there are some deficiencies for Buick to correct, but overall, it's a solid SUV with third-row seating.
2017 Lincoln MKT
Some people may find the Lincoln MKT's looks a little too gaudy, myself included. But on design, to each their own. The Lincoln MKT seems to be good value, so let's see how it stacks up.
A Better Performance Standard
Lincoln takes pride in performance and it shows. The 2017 MKT does have an engine choice. The standard 3.7-liter V6 is naturally aspirated and pushes just past 300 horsepower, 303 to be exact. The second choice is the 3.5-liter twin-turbo V6 with 365 horsepower. If it sounds familiar, it's because it's shared with virtually every Ford and Lincoln in the lineup. And that 365-horsepower V6 is the bee's knees.
You May Also Enjoy:
The Buick Envision Is Quiet Inside and Unfortunately in Appearance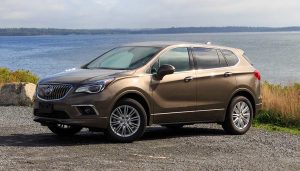 Choose from either the FWD or available Intelligent AWD for superior control and handling. Then, top it off with continuously controlled damping suspension to stabilize the ride without making it too cushy.
A Step Up from Premium to Luxury
The 2017 Lincoln MKT features some stellar tech for a premium domestic brand. It all starts with the feel of the interior. The leather seems to be high quality, the fit and finish is tight, the ride is supremely quiet, and the interior design is classic yet contemporary. The THX Sound System sings out 600 watts of crystal clear music through Ford's most recent version of SYNC, the renowned SYNC 3.
Tech and driver assist features are done well, but there's nothing overly impressive included. Along with SYNC 3, the Lincoln MKT has available Adaptive Cruise Control, Lane Keeping Assist, Forward Collision Warning and Adaptive HID headlamps. Active Park Assist is amazing but not necessarily a feature that will be used frequently by most drivers. The Panoramic Vista Roof is quite nice to have as well, and heated and cooled front and mid-row seats are a great touch, as is the refrigerated center console between the middle row bucket seats.
You're stepping up in price for the Lincoln MKT, but only slightly. With all these fancy features, you're just beyond $55,000, which may be worth it to you.
2017 Lexus GX 460
Unlike the other two in this comparison, the Lexus GX 460 has a body-on-frame design, much like a truck. But the GX 460 is much more refined than a truck in so many ways, without compromising much on ability.
Rugged and Refined Performance
There's just a single powertrain choice for the Lexus GX 460, and that's the 4.6-liter V8 with VVT-i. It puts out 301 horsepower, well shy of the Lincoln's available 365-horsepower V6. But there's few instances where you'll miss the extra power.
The Lexus comes underpinned by a full-time four-wheel-drive system and a rock-solid 6-speed transmission, completely befitting the full-frame design. With the Lexus GX 460, you probably won't be off-roading much, but you could do it quite competently.
With the Lexus GX 460, you'll have meticulous noise control also. The cabin is so well isolated and the suspension so well done, your radio needs to be barely above a whisper to drown out the noise.
Premium Utility and Tech
The GX 460's interior is perfect to bridge the gap between truck and luxury SUV. While the layout is rather utilitarian and rugged, the quality of finishing and the amenities take over quickly.
Lexus Enform App Suite is like a personal concierge in your car, all voice command-navigable. Front seats are heated and cooled, and for 2017, the middle-row bench has an option for captain's chairs. Notably missing is middle-row heated and cooled seats though. Wood and metal trim take the quality up a notch to make up for it. Of course, Driver Assist features such as Dynamic Radar Cruise Control, Blind Spot Monitor, and Intuitive Parking Assist are available. And we won't forget the Wide-View Front and Side Monitor, peeking around corners before your line of sight can.
One unique touch that seems oddly appropriate: the liftgate that opens like a swing-open door, along with its moveable glass for easy access. It's not a common item but definitely appreciated.
Entry-level pricing on the 2017 Lexus GX 460 is around $52,000. If you want all the fixings, you'll need to part with around $64,000 instead.
If you're in the market for a premium SUV, you have some good options. The Buick Enclave gets you into the scene if you don't mind a few absent bells and whistles. The Lincoln MKT amps up the tech and performance game but has an odd look. And the Lexus GX 460 is the most capable and truck-like, if that's your thing. Pick your poison.