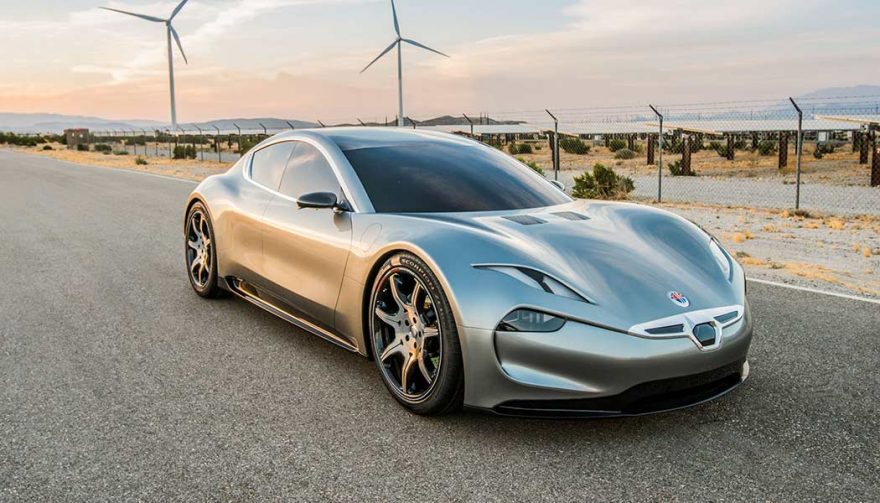 The Fisker EMotion claims to go 400 miles on a single charge
Check Out the Coolest Cars and Car Tech from CES 2018
CES 2018 is in full swing until the end of this week in Las Vegas, Nevada. The Consumer Electronics Show is the world's largest show of consumer tech. From 8K TVs to connected coffee makers, if it's the latest gadget for your home it'll be here.
In the last few years, more and more in-car tech has come to CES. Some automakers are even using this show to launch new models. Here's the best car-related tech, and cars, from this year's CES.
Fisker EMotion
Henrik Fisker is once again trying to bring an electric car to market. It's not the first time he's tried, nor the first company he's tried to do that with. This time, it's the Fisker EMotion. Among the claims are 400 miles on a single charge, a top speed of 161 mph, and arrival to the market at the end of next year.
Say what you want about the production chances of the car, but there is no arguing that it looks amazing. Fisker's resume includes the BMW Z8 and the Aston Martin DB9, and the EMotion's gull-wing and scissor-doored shape looks stunning.
Self-Driving Lyft
Lyft is bringing an autonomous taxi service to CES. The ride-hailing company has teamed up with self-drive tech company Aptiv to offer show attendees autonomous rides in self-driving BMW 5 series cars.
The rides will only be offered to about 20 preset destinations and there will be a human ready to take the wheel if necessary, but it's one more step down the road to autonomy and another battlefront between Lyft and Uber.
Byton Electric SUV
Chinese EV startup Byton brought their "intelligent electric vehicle." That sounds impressive, but deep down it's just an electric SUV. That said, it's one that offers impressive tech. Like a dash with a massive touchscreen that stretches from door to door. It looks like the steering wheel has a screen of its own.
Byton says that the car has a cloud platform that will automatically sync your apps and will unlock the doors using facial recognition. Production is expected to start in 2019 with US sales the next year.
Nissan Brain-to-Vehicle
Nissan is hoping to read your mind with new brain-to-vehicle technology. The tech uses a device that monitors the brain waves of the driver to decide what you want to do and then do it.
Nissan says it will mean quicker reaction times and "systems that adapt to maximize driving pleasure." People talk about sports cars like Mazda's MX-5 being intuitive to what you want to do, but Nissan is taking that to a whole new level. Just hope you aren't easily distracted.
Rinspeed Snap
Rinspeed is a Swiss automaker that has produced some bizarre concepts like the amphibious Splash and the shape-shifting iChange. They're bringing the Snap to CES. It uses a chassis that the company calls the skateboard and a separate passenger compartment called the pod.
The company knows that the EV and autonomous tech in the skateboard will quickly become outdated. Like a smartphone. So the chassis can be replaced separately from the pod. Upgrade your engine – or in this case battery and motor – keep your car.
The pod can even be used separately from the car. Rinspeed says you can use it for shopping, camping or even as "a cozy cuddling pod."
Hyundai Fuel Cell Crossover
Hyundai is showing off a crossover this year, but this one isn't an EV. Sort of. It uses a hydrogen fuel cell to produce electricity, but that means a fill-up not a charge-up.
As the result of a partnership with autonomous tech company Aurora, Hyundai is announcing new advanced autonomous driving features for the new vehicle, called NEXO. Hyundai expects to develop the vehicle to level 4 autonomy. That means it can drive itself almost all of the time. It will also have a new intelligent cockpit with more advanced voice control. It has "vital sign-based wellness care" to keep an eye on your health behind the wheel.
Innoviz LiDAR Sensor
Innoviz Technologies is bringing a new type of LiDAR scanner to CES. The company calls it the "most accurate and reliable performance of any LiDAR sensor."
More importantly, it's also much cheaper than existing sensors. A big holdup for autonomous cars hitting real roads is the cost of the LiDAR sensors that use laser light to give the car a 3D picture of what's around it. The sensors now cost upwards of $80,000, making them more expensive than the car. Lowering the cost of the sensors is a real step forward for self-drive tech. Innoviz claims to have done that with a sensor that is smaller too.
Toyota e-Palette Alliance
Toyota isn't going to be left out of the autonomous driving scene, and the e-Palette Alliance concept is their latest offering. Toyota says this just isn't for transportation, it's a mobility device that combines ride-sharing, delivery, retail and all sorts of other commercial enterprises.
"Just think how great e-Palette will be at Burning Man," Akio Toyoda, president of Toyota Motor Corporation said during the press event.
Toyota already has a number of partners ready to try out the new mobility platform, including Uber, Pizza Hut, Didi and, of course, Amazon. It isn't hard to imagine an e-Palette rolling down street the week before Christmas packed to the brim with Amazon orders.
You May Also Enjoy:
Hyundai Ioniq EV Spotted In The Wild