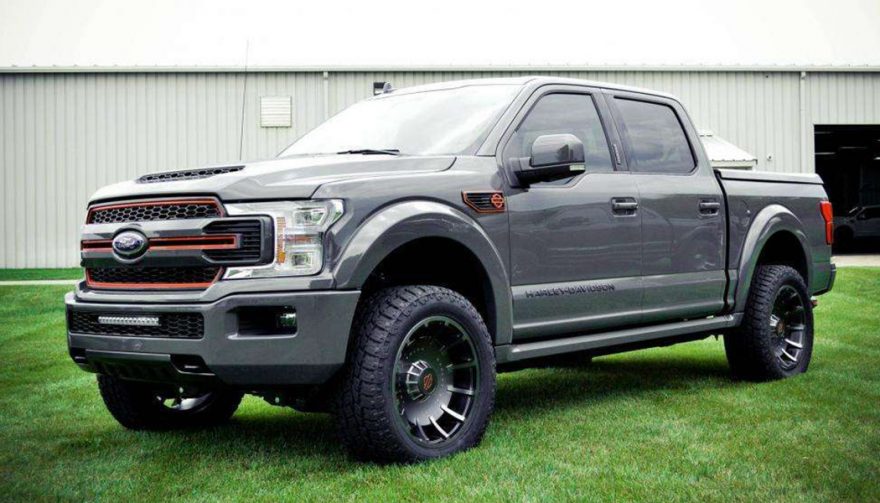 It calls itself the biggest auto show in the country, so we're bringing you the biggest reveals. It's the best of the 2019 Chicago Auto Show
Tailgates, Big Blocks and Sports Sedans: The Best of the 2019 Chicago Auto Show
The Chicago Auto Show might not be the biggest show when it comes to news stories. But maybe it should be? The show calls itself the nation's largest auto show. More than one million square feet of show floor with more than 1,000 vehicles on display. More than a dozen of those were revealed here for the first time. So with that, here's the best of the 2019 Chicago Auto Show.
Harley-Davidson F-150
The Harley-Davidson F-150 Pickup is back. But this time it's not coming directly from ford. The motorcycle-themed truck will be built by Tuscany Motor Co, from Indiana. The H-D Pickup gets more than 70 new and custom parts. Like the Fat Boy inspired 22-inch wheels, a custom lift, and orange and black all over. You can order this one from select Ford dealers, so it comes with at least a slight blessing by the automaker.
2020 Volkswagen Jetta GLI
Volkswagen's Jetta had an all-new and 35th Anniversary model launched in Chicago. While the last GLI felt a bit neutered compared to the Golf-based GTI, that feeling is no more. It gets the GTI's engine, a 2.0L turbo four with 228 hp. It also gets the GTI's Haldex-clutch-operated front differential. If that's not enough, the car uses the Golf R's front brakes. This is also the only Jetta with an independent rear suspension to help the car handle.
2020 F-Series Super Duty
Ford revealed an all-new big-block gas engine for the F-Series Super Duty. 7.3 liters of cam-in-block V8 grunt. There's some new towing tech too, but who cares. The real news, making this one of the best of the 2019 Chicago Auto Show is that big engine, expected to make somewhere well over 400 hp.
You May Also Enjoy:
Best Reveals of the 2019 Detroit Auto Show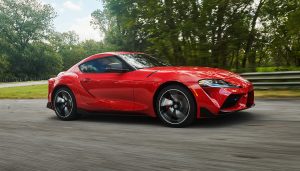 Related Search Topics (Ads)
2020 Toyota Tacoma
Toyota updated the Tacoma pickup for the Chicago Auto Show too. A new and desperately needed infotainment system upgrade adds Apple CarPlay and Android Auto to the vehicle. There are new grilles and new wheels for nearly every trim. And the TRD Pro trim gets some suspension changes that should make it even better off-road.
2020 Chevrolet Silverado HD
The Chevrolet Silverado HD saw a full reveal at the Chicago Auto Show. Max tow capacity is way up, more than 50 percent on the top trims, putting it at 35,500 lbs. There's a new 6.6L gas engine with more than 400 hp and 464 lb-ft of torque. Plus the diesel gets a 10-speed automatic with a massive rear end gear to make sure it can use the diesel's torque.
Ram 1500 Multigate
Ram added a new Multifunction Tailgate to its 1500 series pickup. It's not quite as fancy as the one in the GMC Sierra, but the barn-door style gate has a 60/40 split that lets it open in four different ways.
2020 Subaru Legacy
It wasn't all trucks at the show, of course. Subaru launched an all-new Legacy sedan at the Chicago Auto Show. It sits on the company's latest platform, making it stiffer for better handling, and offering what Subaru says will be a quieter and better handling experience. Under the hood, the 2020 Subaru Legacy gets a 2.5L boxer four that makes 182 hp. Or if you're looking for something a little more sporting you can opt for the XT and the 2.4L turbo four that makes 260 hp. Both get Subaru's Symmetrical all-wheel drive and the company's CVT that is one of the best around. The interior has been redone with nicer materials. Plus there's a huge portrait-orientation touch screen on top trims to run the show, or get the base model and get a pair of screens that add up to be almost as big and make this one of the best of the 2019 Chicago Auto Show.