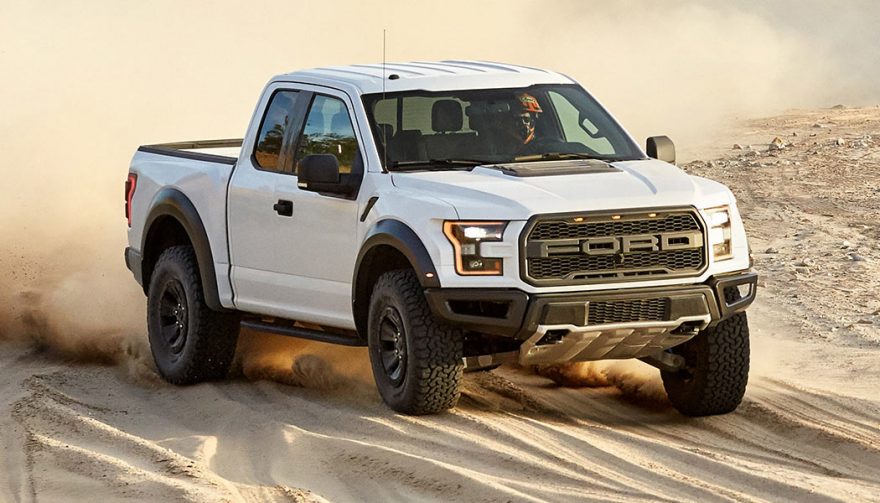 The F-150 Raptor is a completely thought-out performance vehicle, perfectly suited to the off-road environment.
Ford F-150 Raptor: Off-Road Performance Done Right
There is an easy way and a hard way to make a performance version of a standard mass-market vehicle. The easy way is stiffen the suspension, then add side skirts, some stripes, red stitching in the interior, bigger wheels and tires, and maybe a few more horsepower.
Ford, with its new 2017 F-150 Raptor, has taken the hard way. Ford has thoroughly reengineered the world's best-selling vehicle, making it into an extremely capable off-road performer. The latest F-150 Raptor raises the bar for all vehicles of its type, including its highly praised predecessor. See a side-by-side comparison of the Ford Raptor vs Power Wagon.
Getting to Know the F-150 Raptor
The new F-150 Raptor combines more power and torque with a 500-pound weight reduction, thanks to the F-150's new aluminum alloy body structure. This greatly improves The F-150 Raptor's power-to-weight ratio, making it an even more formidable performer.
New Engine
The F-150 Raptor comes standard with the second-generation 3.5-liter high-output EcoBoost engine. It produces 450 horsepower and 510 lb.-ft. of torque, also boasting a 23 percent gain in combined fuel economy, according to the EPA. The aluminum block, direct injection V6 replaces the previous Raptor's cast-iron V8. This saves weight while adding 39 horsepower and 76 lb.-ft. of torque.
Engine enhancements for the F-150 Raptor's EcoBoost V6 include a twin direct and port-fuel injection strategy, stronger and lighter crank and valvetrain components, a redesigned twin-turbocharger system with electronic wastegate, and a redesigned valvetrain and variable-displacement oil pump.
Upgrades specific to Raptor are more aggressive turbo compressors with increased boost calibrations, cast stainless steel manifolds and full dual exhaust, oil-cooled pistons and more aggressive engine control calibrations. The result is quicker spooling of the twin turbos, which produces torque more quickly, making it feel more like a V8 than the previous V8!
New 10-Speed Transmission & 6-Mode Transfer Case
Even more Raptor performance benefits come from its new 10-speed transmission and torque-on-demand transfer case. Advantages include more low-RPM torque and better optimized power bands and shift points across all two-wheel drive and four-wheel drive modes.
The standard 10-speed automatic transmission features Auto Start-Stop and an integrated electric pump. The result is improved driving efficiency. Closer ratios between gears better optimize the power and torque curves of the engine. Raptor's all-new adaptive shift algorithms monitor more than a dozen powertrain and driver control signals in real time. In addition, a high-speed, one-way clutch allows for non-sequential shifting. This advanced transmission uses advanced materials and alloys that result in less weight. Not a single cast iron component has been used.
The torque-on-demand transfer case and six-mode Terrain Management System is unique to Raptor. Modes include Normal, Sport, Weather, Mud/Sand, Rock/Crawl and Baja. It provides the benefit of a clutched all wheel-drive system for around-town maneuverability in bad weather. At the other extreme there's Baja Mode, which automatically engages a mechanically locked 4X4 high, and optimizes throttle response, shifting and boost control to provide improved off-road capability.
Suspension Upgrades
The 2017 Ford F-150 Raptor features better ground clearance than the first-generation Raptor. It also sports 3.0-inch FOX Racing Shox with custom internal bypass technology. This technology allows for variable damping rates based on wheel travel, which keeps the wheel securely planted, off-road or on-road. The new Raptor also features 17-inch BFGoodrich® All-Terrain T/A tires designed specifically for Raptor. An optional beadlock conversion kit from the Ford Performance catalog lets you deflate the tires for maximum traction off-road while keeping them firmly attached to the rims.
F-150 Raptor An Excellent Value
With a base MSRP of less than $50,000, the 2017 Ford F-150 Raptor is a lot of off-road performance truck for the buck. It will be available in 2-door SuperCab or 4-door SuperCrew body styles. The Raptor offers more power, more torque, more gears, a more sophisticated drivetrain, and a major drop in weight. It's a completely thought-out performance vehicle, perfectly suited to the off-road environment. The F-150 Raptor will be available this fall at Ford dealers.