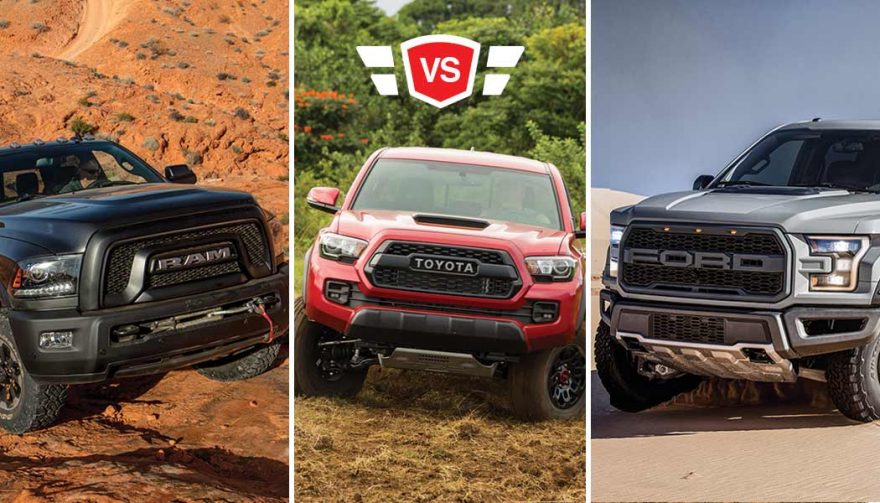 You're probably not going to get stuck with any of these trail beasts
Best Off Road Truck: Ford Raptor vs Tacoma TRD vs Ram Power Wagon
While SUVs are usually the vehicle of choice for hitting the trail and leaving the pavement behind, having a truck that can climb over rocks and play in the dirt is even better. So what's the best off road truck?
Since we don't know anything about the Jeep Wrangler truck yet, it's not on our list. Instead, we get to compare three very different approaches to trail-worthy pickups: the Ford F-150 Raptor, the Tacoma TRD and the Ram Power Wagon.
The Blue Oval Strikes Again: Ford F-150 Raptor
Ford loves to brag about how it used a street-legal Ford F-150 Raptor in the Baja 1000. The Blue Oval also ran the truck in four Best in the Desert Races during the 2016 season. That's impressive, you must admit.
The shining star everyone talks about is the specially tuned EcoBoost 3.5-liter V6. It puts in your control 450 horsepower and 510 lb-ft of torque, which is probably overkill, but fun at the same time. It pairs with a 10-speed automatic transmission.
You, of course, get all kinds of electronic goodies such as hill descent control, an electronic-locking rear differential, and a terrain management system with six settings. A Torque-On-Demand dual-mode transfer case means you get more of an all-wheel-drive experience on pavement. Hit the trail, and you can switch it over to a mechanically locked, four-wheel-drive system.
Rounding out the impressive list of equipment are 3-inch Fox Racing Shox that have an internal bypass. Those shocks provide 13 inches of travel up front and 14 inches in the rear. They also allow for variable damping rates, which adjust automatically to conditions.
Angles and More
You can only get a 5.5-foot bed on the Raptor. The short bed is a complaint some people have about the Raptor. But really, hauling things isn't the modus operandi of the Raptor.
You also get to choose between a SuperCab or the SuperCrew. The version you choose affects the trail chops of the truck, at least to some degree.
With the SuperCab, your approach, departure and breakover angles are 30.2, 23.1 and 22.9 degrees. Those numbers change slightly if you go with the SuperCrew, where your approach, departure and breakover angles are 30.2, 23.0 and 21.8 degrees. Ground clearance for both variants is 11.5 inches.
Those figures are decent, but are they enough to make it the best off road truck?
JDM Power: Toyota Tacoma TRD Off-Road
Long ago there was a commercial for some domestic truck that poked fun at Japanese trucks, hinting there were no mountains on the island nation. That's obviously not true.
What's more, since Toyota's handed more design and engineering control to its North American operations, the brand's trucks have improved vastly.
While you can't kill a Tacoma by driving too much, the real question is how easily will the Toyota Tacoma TRD get stuck out on a trail?
Rugged Equipment Galore
If you want the most trail-worthy version of the current Tacoma, look at either the TRD Off-Road or TRD Pro. They both boast some rugged equipment as part of the stock setup, like skid plates for the engine and suspension. On the TRD Pro, you also get a front skid plate for even more protection and rock-sliding goodness.
When you get on steep slopes, rocks, logs or whatever else, the included inclinometer and roll/pitch gauges for both Tacoma models are much-needed.
Crawl Control takes over the throttle and brakes when you're in particularly sticky situations. You just choose one of five available settings, all of which use a low speed. You also get terrain settings, hill start assist and an electronically locking rear differential. All are crucial  to be considered the best off road truck.
By the Numbers
Ground clearance for the Tacoma TRD Off-Road and TRD Pro is good at 9.4 inches. Approach, departure and breakover angles are good for the TRD Off-Road at 32, 23 and 24 degrees. The TRD Pro comes in at 35, 19.1 and 23.9 degrees.
You can throw up to 1,155 pounds of gear into the TRD Pro's payload, and 1,295 pounds into the TRD Off-Road, making either truck practical enough for most outdoor activities.
Rebirth of a Legend: Ram Power Wagon
Ram has tried to combat the media frenzy around the Ford Raptor with its own off-road full-size pickup, the Power Wagon. Based on the Ram 2500, the model hasn't made a big splash. That's not because the truck doesn't have any trail capabilities. It does, and it's firmly in the running for best off road truck.
One of the coolest features is a 12,000-pound Warn winch that's built in to the front bumper. You can get that sort of thing on the aftermarket no problem, but to see an automaker offer it is an unusual trick. An electronic front sway bar disconnect helps with articulation. It's something Ram learned from Jeep.
You also get Bilstein monotube shocks, 33-inch Goodyear all-terrain tires, fuel tank and transfer case skid plates, and hill descent control. Front and rear selectable lockers come standard, too.
Oh yeah, and this thing has a 6.4-liter Hemi V8. It produces a peak 410 horsepower and 429 lb-ft of torque.
The Numbers Don't Lie
Ram only offers the Power Wagon with a crew cab and 6-foot 4-inch bed, plus four-wheel drive. Ground clearance is almost insane at 14.3 inches. It gets better, with approach, departure and breakover angles of 33.6, 26.2 and 23.5 degrees.
The Verdict
Each of these three trail-worthy pickups provide different approaches to off-roading. Ultimately, there can only be one victor.
When it comes to overall rugged qualities, the Ram 2500 Power Wagon is the best off road truck. Chalk it up to fraternization with Jeep, because Ram really nailed what makes a great pickup for trail runs.