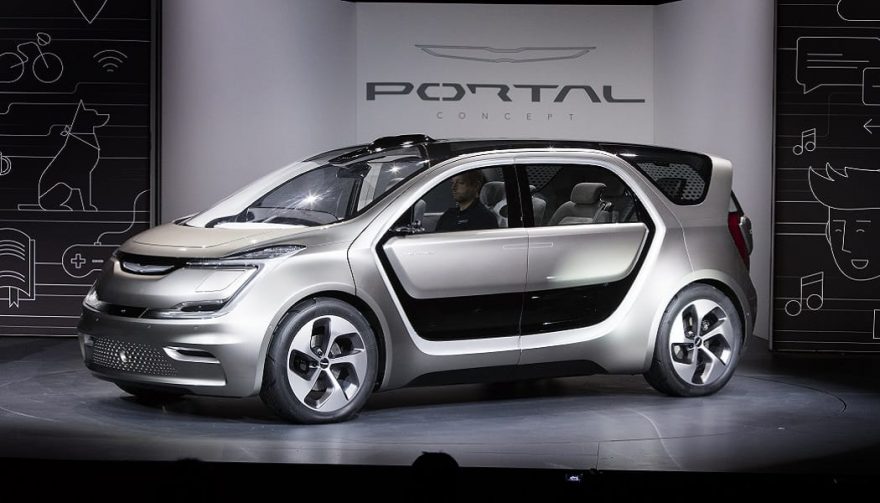 The Chrysler Portal Concept has lots of room, just don't call it a minivan.
Chrysler Goes Futuristic With Portal Concept
Coming on the heels of the Pacifica Hybrid minivan, Chrysler showcases its commitment to producing technologically advanced vehicles with the Portal Concept.
Recently unveiled at the Consumer Electronics Show (CES), the Portal Concept has a futuristic appearance, like something out of a Japanimation cartoon about when we have large robots defending major metropolitan areas.
The Powertrain
The Portal Concept demonstrates an impressive level of technological sophistication. It uses a single electric motor. The lithium-ion battery pack is rated at about 100 kWh, and it's integrated into the chassis. That design boosts torsional rigidity and lowers the center of gravity, which improve handling.
The CCS plug in the front handles charging. With 350 kW DC Fast Charging, you get 150 miles of driving range in under 20 minutes, which isn't too shabby. When the vehicle is plugged in, the front badge functions as an indicator light. You can see the status at a glance.
Chrysler estimates range to be over 250 miles. That's actually pretty good. Even better would be if the company brought something like this to market soon.
Autonomous Driving
It seems like everyone's working on self-driving cars these days, including Chrysler. The Portal Concept contains a Level 3 autonomous system. It's similar to Tesla's Autopilot. That means it can handle some situations, especially cruising on the highway. Drivers always have to be ready to take over. If the system can't navigate a stretch of road and the human doesn't take over, it simply pulls over.
Onboard sensors make autonomous driving possible. They include radar, cameras, sonar and LIDAR.
To help the vehicle stay up with the latest advancements, it's been created to be upfitted to Level 4 autonomous driving, once that tech is ready. Creating that kind of adaptability is a new trick for Chrysler.
It's worth noting the Portal Concept is also outfitted with Vehicle-to-X capabilities. This means it can "talk" to other cars equipped with the technology. The Chrysler can communicate with smart infrastructure, so you get crash or inclement weather warnings, plus up-to-date traffic and construction updates.
A Vehicle For Millennials
Chrysler's not shying away from the fact this minivan concept is aimed at Millennials. That's surprising some, because they think most of the rising generation still live in their mom's basement.
The truth is, there are Millennials with multiple kids, a mortgage and the desire to drive something practical, but not like what their mom has. It's a natural tendency, which is why Millennials' parents opted for minivans back in the day, instead of wood-paneled station wagons.
Instead of just guess what Millennials want, Chrysler management had a brilliant idea. They decided to put young designers and engineers on this project. It truly is a concept made by Millennials, for Millennials.
You May Also Enjoy:
The Chrysler Pacifica Is Here To Move Your Family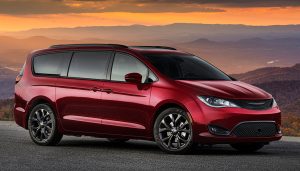 What came about is something Chrysler's calling the "fifth generation" of family transportation. The other four generations are station wagons, minivans, SUVs and crossovers. Apparently, this isn't really a minivan, even though people are calling it one. It also marks a new era in how families get around, or at least how they could get around in the near future.
Revolutionary Design
Most automotive designers start by getting the overall shape of a new vehicle down. Chrysler says for the Portal Concept its team began by designing the interior.
It's made to be flexible. All the seats are thin but comfortable, and are mounted on tracks so they can slide to pretty much whatever position. Each one can fold flat quickly, and drivers can easily remove them as needed.
Chrysler took full advantage of the electric powertrain. More interior space is available without a big engine up front. The slim battery pack in the chassis makes for a low, flat-load floor that's perfect for loading in people of all ages, or heavy items.
Emphasis on Tech
The Chrysler Portal Concept helps celebrate a technologically saturated lifestyle, as seen with the central interior elements is a single infotainment display. It's supposed to incredibly user-friendly.
Screens can be moved around throughout the three rows. Passengers use these for entertainment, and maybe accessing some useful info. You can share photos, music, videos, whatever, with other passengers, which makes for some personal interaction on trips.
Included in the seats and dash layout are eight docking stations. That's enough for charging one mobile device per person, with two left over. Is that excessive? Maybe for some, but many families would find it useful.
Some downright crazy technologies are included. Thanks to facial recognition and voice biometrics, the system can detect who's driving and adjust settings accordingly. If an emergency vehicle is coming, the Personal Zoned Audio system is designed to enhance the siren sounds. Then drivers have a better idea where the sound is coming from.
Zany Exterior
Instead of going with something that looks mildly production-ready, Chrysler designed a completely crazy exterior. The most interesting element are the "portal" doors. If you open both on the same side, thanks to no B-pillar,  it's just a huge opening into the vehicle. It's a great feature if you're headed to Ikea.
LED lights are included on the front and rear, and the doors are illuminated as well. It makes the vehicle more Tron-like, and Millennials apparently like that. Drivers can switch the color of all these exterior lights. They can give them an "animated" look. There's the possibility for these lights to indicate when the vehicle's locked, running autonomously, etc.
You might also notice the clear roof. It's not made of glass, but instead a clear polycarbonate. This follows the trend of going well beyond just panoramic sunroofs. However, Chrysler hasn't said anything about if and how sunlight can be blocked. If it can't, driving this concept in Phoenix during the summer would be an absolute joy.
Bright Future
Not that long ago, I thought Chrysler was finished. The brand has come roaring back, proving it does have a place on the market. Of course, vehicles like the Portal Concept prove that Chrysler has a pretty bright future ahead of it.