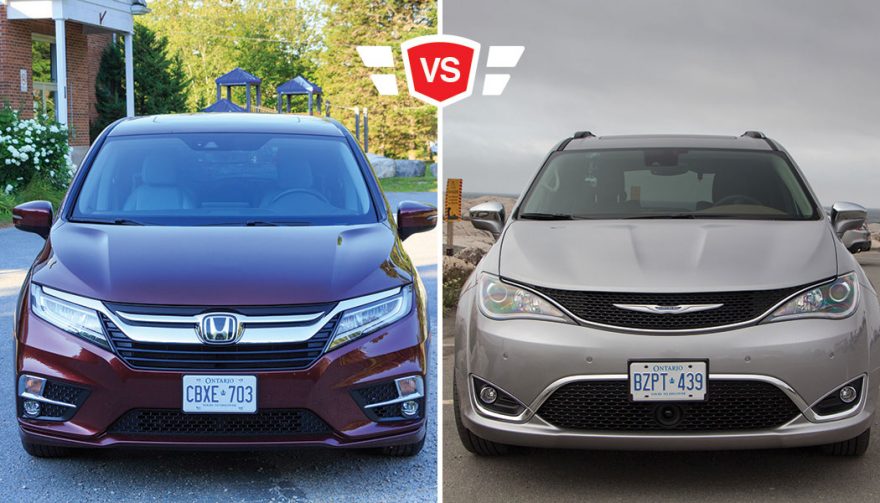 The Honda Odyssey and Chrysler Pacifica both offer what you would expect from a modern minivan
Minivan Matchup: Chrysler Pacifica vs. Honda Odyssey
The minivan matchup between the Chrysler Pacifica vs Honda Odyssey is an interesting comparison. A far cry from the cramped three-row benches of the first minivans, the latest from Honda and Chrysler have gadgets we never could have imagined as children. Captain's chairs, TV's, power outlets, internet access and even a vacuum cleaner.
The newest people movers on the block offer some or all of those features, along with real utility. So here's a look at the all-new 2018 Honda Odyssey and 2017 Chrysler Pacifica.
Chrysler Pacifica
The Chrysler Pacifica is the 800 pound gorilla of the minivan market. It comes as a replacement for the Town & Country and the Dodge Caravan, which started it all way back in 1983. Since then, they've been some of the best selling minivans every year.
There are two things that Fiat Chrysler does well these days, and they're 700-horspower V8 monsters and eight-passenger family haulers. But they haven't combined the two…yet.
Not that the Pacifica lacks power. The Pacifica gets a 3.6-liter V6 that makes 287 horsepower and 262 lb-ft of torque. With that engine and a nine-speed automatic, the Pacifica can tow 3,600 pounds, or get 28 mpg. But not at the same time. The engine is powerful and smooth, even at full throttle. It'll move the Pacifica along quickly, even when full of stuff.
If you want even better mileage, the Pacifica Hybrid offers 33 miles of electric range and 84 mpge.
Inside, this isn't your parent's minivan. The standard seats are cloth, but move up and multi-color seats are available in Nappa or McKinley leather. With contrast stitching and piping everywhere. This looks luxury in a way that is new for vans. Active noise cancellation makes the cabin whisper quiet. Even the usual minivan echo is gone.
Honda Odyssey
The 2018 Honda Odyssey is also all-new. After a couple of strange early years, the Odyssey became a conventional minivan for 1999.
Under the hood is a 3.5-liter V6 that makes 280 horsepower. The automatic has nine-speeds. It gets the same 28 mpg highway rating. Touring and Elite models get a 10-speed with stop-start. But the mileage stays the same as the lower trims. Towing capacity is 3,000 pounds, and 3,500 for Touring and Elite.
Honda also offers leather interiors for the Odyssey. But Honda only offers a few exterior colors and one interior color per trim. Chrysler has more paint colors, and at least two interior colors per trim.
Tech and Cargo
Both vans offer blind spot monitoring, cross traffic, radar cruise, lane guidance, and all the safety features, but you'll have to step up to the L for Pacifica or the EX with Honda Sensing to get them. Chrysler offers self-parking, something Honda doesn't.
You May Also Enjoy:
How the Pacifica Is Making Chrysler Relevant Again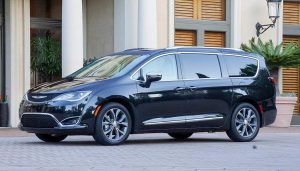 Related Search Topics (Ads)
Inside, both have seating for seven or eight, depending on how you option it. But they go about those seats very differently. Both will let you fold the third row flat. Or flat into the floor to save space. But Chrysler lets you power-fold them.
Chrysler's middle row can fold flat. Honda's can't. That's right, you can't fold the middle row of seats flat in the Odyssey. Seems like a big misstep. And where Pacifica's stow-n-go lets the middle row power-fold into the floor, you'll have to remove the Honda's seats by hand. All 68 lbs each of them.
Even consulting the manual, I found the seats extremely difficult to remove and reinstall. Most people wouldn't be able to lift that huge weight at all, let alone maneuver it in and out of position. For van owners, the lack of fold flat is a really big deal.
If you want tech toys, these vans deliver. Both have 12-volt and USB plugs in abundance. Both can even be had with a vacuum cleaner, though they are not very powerful. And both can have TVs for the middle row, however Honda's center-ceiling option might give outboard passengers neck strain. And while it can show two video feeds at once, it's more distracting than the separate seatback TVs offered in the Pacifica. The TV location makes for a smaller sunroof as well, instead of the full-glass panel of the Pacifica.
The Odyssey does get points for the optional CabinTalk in-car PA system, and CabinWatch rear seat monitor, although the former is only on EX and above and the latter is top-trim only.
The Final Decision
Both vans are good on the road. They feel more powerful than three-row SUVs, due to their lower weight. That weight, along with no need for off-road pretensions means that the vans ride and handle better too.
These two vans are fun to drive in a way that no SUV will be. The light weight, lower ride height and softer suspension soak up bumps well, but can still handle an off-ramp. The Pacifica takes the edge in ride, and there is slightly less body roll in corners.
When it comes to cargo space, a seatless Odyssey has a huge 140.5 cubic feet of space, and the Pacifica has an almost identical 140.6. That's close. They both can fit a 4×8 sheet of plywood flat on the floor too, although the Odyssey is less drywall-friendly because of the seat track. Seats in place they'll hold 32.9 and 32.3 cubic feet respectively. That's more than some SUVs can hold at all.
And that's why it's a shame that minivans are being outsold by SUVs. These vehicles offer massive cargo space, more flexibility, more room for passengers, easier access, better fuel economy, and drive and ride better than SUVs.
If you're picking between these vans, the Pacifica's better interior comfort and layout and fold flat seats win the day. I prefer the operation of Chrysler's active safety controls over Honda's as well. They're less intrusive in daily use.
But I'd take either one over their Pilot and Durango stablemates any day of the week. I guess I would make an exception for the Durango SRT. Pacifica SRT versus Honda Odyssey Type-R? Has a nice ring to it.