German Carmakers Face Strong Criticism Following Monkey Emissions Testing
German car makers are facing heavy condemnation following reports they commissioned research where live monkeys were exposed to toxic fumes from diesel emissions.
Volkswagn, Daimler and BMW deny having any knowledge of the methodology behind the research. They are also highly critical of the practice, according to statements from all three car makers.
The New York Times first reported details of the study on Friday. They say Volkswagen, Daimler and BMW paid a European research group to commission a study with the intent of refuting data indicating diesel exhaust fumes were carcinogenic.
That organization, the European Research Group on Environment and Health and Transport Sector (the EUGT), hired a lab in Albuquerque, New Mexico, to conduct the study.
The test involved pumping diesel exhaust fumes from a diesel VW Beetle directly into an airtight chamber where 10 monkeys were watching cartoons.
The study was conducted in 2014 by the Lovelace Respiratory Research Institute (LRRI). VW furnished the Beetle for the experiment. Interestingly, the Beetle came equipped with the "defeat devices" at the heart of the Dieselgate scandal.
You May Also Enjoy:
VW Diesel Buyback Approved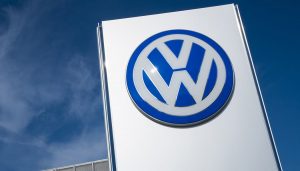 Following the report from the Times, the carmakers were swift to distance themselves from the study and LRRI. All three automakers condemned the tactics and said they had no idea that animals were used in testing. Further, each launched their own independent inquiries into the researchers' tactics.
In another development, a German news outlet reported on Sunday that EUGT was also involved with studies testing nitrogen dioxide on humans. However, that report has been said to be linked to workplace safety and not diesel emissions from vehicles.
Will It Matter?
Obviously these carmakers don't want to be associated with such perceived contemptible research, regardless of whether they knew anything about it. Especially VW. The company has been making gains after its reputation was left for dead on the side of the road following Dieselgate.
Many analysts and experts expected the German automaker to die a slow and painful death. After all, the company was caught and then admitted to rigging millions of cars worldwide to perform better in lab settings.
Yes, the company has more than $25 billion in costs associated with Dieselgate. However, the incident doesn't seem to have any lasting effects.
For 2017, global sales were up 4 percent, according to Bloomberg, with over 10.7 million units sold. What's more, in the U.S. the company's share price is now higher than it was in September 2015. That's when the EPA issued the company its first violation.
In the end, consumers globally didn't care about that monkey business. So who's to say they will care this time?