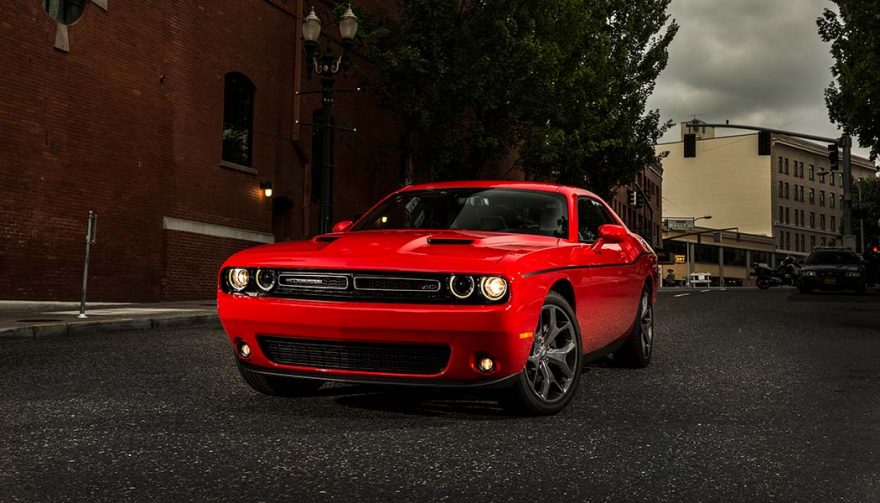 The Dodge Challenger SXT can scoot to 60 mph in just over 6 seconds
Six Cars Under $30K That Can Do 60 MPH in 6 Seconds or Less
You feel like you're ready to channel Mario Andretti, but your new car budget is channeling Grandpa Tom's Sunday afternoon ride. Don't panic. You've got options when you look at the fastest cars under 30K available in 2018.
Thanks to car makers' obsession with horsepower and torque, you can now get a sports car or a muscle car with a 0-to-60 time in 6 seconds or less for a very reasonable price.
These rides aren't growling, gas-guzzling V8s because they don't have to be. Technological advances in the powertrain and suspensions have turned V6s and inline-4 engines into powerhouses.
Some of these cars won't surprise you at all, aside from their low cost. Others may be vehicles that you would not expect to be blowing past you.
Are there cheaper cars that go fast? Yes, there are. But by stretching to the $30k sticker price you get more horsepower, more torque, a smarter transmission and a better tuned suspension. So, with that in mind, let's take a look at the fastest cars under 30K.
2018 Dodge Challenger SXT
0-to-60 time: 6 seconds
This one is just a brutish, old school muscle car whose retro looks bring back the fight for bragging rights in high school for those of a certain age. Who doesn't love a Dodge Challenger?
The Dodge Challenger has awesome big brothers that get the headlines, most certainly the Dodge Demon, which can rocket to 60 mph in just over 2 seconds. But the 3.6-liter Pentastar V6 that comes as the base engine on the Dodge Challenger SXT is no slouch at all.
Generating 305 horsepower and 268 lb-ft of torque is formidable. The Pentastar will propel the Challenger to 60 in 6 seconds. Not only that, the instrument cluster has a nifty 0-to-60 meter to track performance. You can keep trying to beat your personal best. Mostly this car is just a ton of fun to drive.
2018 Volkswagen Golf GTI
0-to-60 time: 6 seconds
Yes, the Volkswagen Golf GTI is a hatchback, but it's a hatchback with plenty of attitude to go around. This hot hatch has a turbocharged inline 4-cylinder engine that generates 220 horsepower that is mated to a six-speed automatic.
That may not sound like much but it gets the GTI to 60 mph in 6 seconds flat. One of the secrets to this ride's acceleration is the dual-clutch transmission that promotes performance with every shift.
It's a VW, it's a hatchback, it's quick and it sells for under $27,000. We think it belongs on this list.
2018 Subaru WRX
0-to-60 time: 5.5 seconds
If there was a category for millennial muscle car, the Subaru WRX would probably be king of the organic juice bar. Small, sexy looking and packing a motorized punch, the WRX is like this generation's Challenger.
A big air scoop on the hood, flared fenders, a reputation as an urban hot-rod, and a base selling price of $27,855 are enough to make this list of the fastest cars under 30K. Under the hood is a turbocharged flat four that cranks out 268 horses. Zero to 60 takes a brief 5.5 seconds, and it promises a top speed of 144 mph. Crisp steering carves up twisty roads like the rally cars that inspire the Subaru WRX.
As an added bonus, even the base model comes as a sure-footed AWD. Think about that the next time you try to burn rubber on a snow packed road.
2018 Chevrolet Camaro 1LS
0-to-60 time: 5.4 seconds
Always a contender, even when it's powered by the base turbocharged inline 4-cylinder powerplant. The Camaro engine comes up a bit short on torque compared to the Ford Mustang EcoBoost at 295 lb-ft, but it still gives a sporty ride. We're not talking about the $70,000 Chevrolet Camaro ZL1, and you can't get to 60 from a dead stop in 3.2 seconds. But the Camaro 1LS can run to 60 mph in 5.4 seconds.
You can take curves at speed and the rear end will track nicely. It is a compact sports car that when compared to most others performs ably but looks like a cripple when run against its V6 and V8 big brothers.
One other problem. Just like all Camaros, visibility sucks. It takes a while to get accustomed to. Equally important to some, it's hard for others to see who's driving the beast.
2018 Nissan 370Z
0-to-60 time: 5.2 seconds
At $29,990 the Nissan 370Z just sneaks under the $30,000 threshold. Of course, this means we are only talking about the base trim, but that's still pretty impressive.
The Z car looks like a fast car. It will not be confused for a Golf GTI for example. It is a two-seater sports car with a 3.7-liter V6 that generates 332 horsepower and 270 lb-ft of torque. A short throw, snappy 6 speed manual transmission comes standard. This is a sports car, not a daily driver. I
It goes from 0 to 60 mph in 5.2 seconds and has a top speed of 165 mph. If you're interested in the fastest cars under 30K, this one is for you.
2018 Ford Mustang with EcoBoost
0-to-60 time: under 5 seconds
An impressive 4 cylinder is alive inside this pony car, and it puts out an even more impressive increase in torque compared to earlier versions. The 2018 version generates 350 lb-ft of torque thanks to the improved transient overboost function that increases output on every gear change.
And while we are at it, there are now 10 gear changes with the new transmission. While you can still get a 6 speed manual, the new 10 speed SelectShift gives you the best torque and mpg. You can get from 0 to 60 in under 5 seconds using the 10-speed in Drag Mode. It's not the monster V8 that lives in the Ford Mustang GT but, hey, for a little over $26,000 this 4 cylinder is a player. It tops our list of the fastest cars under 30K.
Speed comes cheap. At least relatively speaking. If you need to satisfy your need for speed without declaring personal bankruptcy, check out these six speedy rides.
Of course, if this sort of speed just isn't enough for you, and you've got a much larger budget, the fastest cars under 100K have 0-to-60 times and top speeds that will take your breathe away.
You May Also Enjoy:
Ford Mustang Gets a 10-Speed Transmission