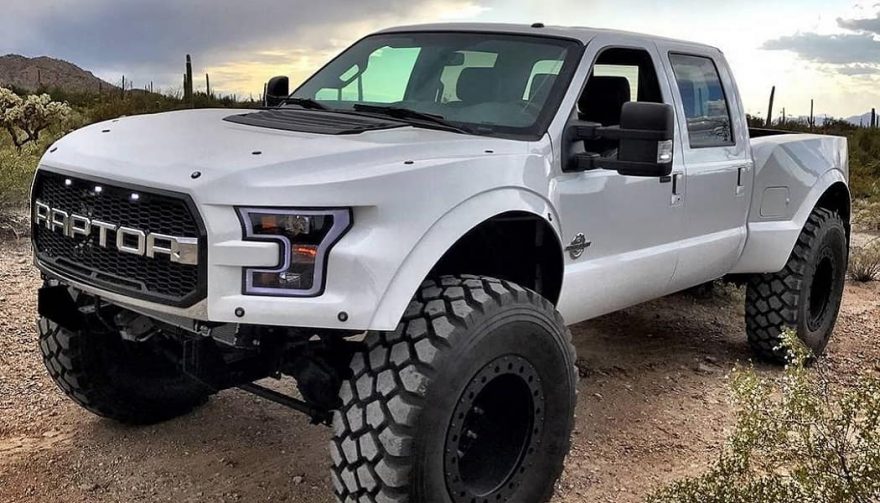 The custom F250 MegaRaptor is the Chuck Norris of pickup trucks
Behold the MegaRaptor: One Off-Road Truck to Rule Them All
You've heard of the Ford F-150 Raptor. Now in its second generation, the truck has gained quite a bit of respect among enthusiasts. In fact, the reputation of the trail-worthy pickup has spilled over into the general populace, to an extent.
When any vehicle enjoys that kind of fame, emulation always follows. You can expect Ram would try duplicating that success, which it did and so far has failed at miserably, or that Chevrolet would.
But the last thing you'd expect is for serious competition from a tuner in Arizona.
A Different Kind of Beast
Calling the Raptor a beast is pretty accurate, but the MegaRaptor, a custom F250, is on a whole different plane of existence. A creation of F250R, these trucks make the F150-based pickup look dinky.
To start off, F250R uses a 2005 to 2016 F250. The sheer size difference is accentuated further by the mods.
For example, this thing rides on 46-inch tires, with custom fenders flared out to avoid any rubbing and allow for full articulation. If that's too much, F250R offers a SuperRaptor. It's essentially the same truck, but it rolls on 40-inch tires, so you can climb in easier.
To make the custom F250s look as much like a Raptor as possible, F250R goes to great lengths. Constructed of fiberglass and held in place by a steel halo assembly, the front fascia mimics that of the Raptor. Both the headlight and taillight designs are heavily influenced by the source material, as are the customized rear quarter panels.
One of the most extreme cosmetic customizations is the hood. It looks like the Raptor, but doesn't open even remotely the same way. It comes in two pieces and opens more like a clam shell.
Under the Skin
Of course, the MegaRaptor is about more than just image. F250R customizes some of the mechanical portions of the truck, making it a hardcore trail machine.
You May Also Enjoy:
Top Truck: 2020 Ford Super Duty Gets Highest Towing, Payload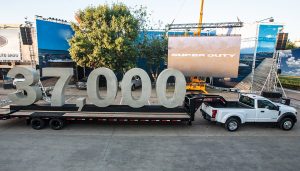 The front axle sits 1.5 inches forward, and the truck sits higher with a 4-inch lift, to accommodate the humongous tires. Bilstein 5100-series shocks and an adjustable track bar help with rolling over obstacles of all sizes.
The recommended engine for the MegaRaptor (and SuperRaptor) is a 6.7-liter PowerStroke V8. If you don't know, that engine throttles out 440 horsepower and 925 lb-ft of torque, so it should be plenty capable.
Still, for some people that's not enough, so F250R offers an exhaust package that squeezes out another 140 horsepower and 250 lb-ft of torque. That's a peak 580 horsepower and 1,175 lb-ft of torque. Definitely one of the most powerful diesel trucks on the road.
F250R will work with a 6.2-liter V8 that runs on sissy gasoline, but you might have to turn in your man card.
Pricing
The MegaRaptor is definitely not a vehicle for the common man. No, it's really a plaything for those with money to burn. It's not like the Raptor is exactly cheap. But the F250R packages start at $28,000 and go up from there. Oh, you still have to buy an F250 first.
Of course, F250R will add all kinds of niceties to your truck, for even more cash. You can get leather upholstery, extra lighting, spare tire racks and all sorts of other truck accessories. It's pretty easy to drive the total cost of the truck, plus mods, to near the six-digit mark.
F250R
Based in Tucson, Arizona, F250R really plays up the rugged, macho image of its trucks. For example, it makes a huge deal about how the MegaRaptor rides on rims from a "military battle machine."
In other words, the wheels are made to go into warzones, and have served in hostile territory. They're mine-resistant, and some have scarring from their time in the service. If you can't handle this truth, this truck obviously isn't for you.
If you haven't heard of F250R until now, that's because the shop only does the custom F250 MegaRaptor and SuperRaptor builds. Maybe it will expand into other ridiculous realms later.
Trail Worth
I'm sure the MegaRaptor can roll over all kinds of obstacles on a trail. Hell, it can apparently hit a land mind, and at least the wheels might survive. But I can't help but wonder just how practical it is for most trail excursions.
Track width matters on the trail. In some areas, like certain trails near Moab, you barely have enough space to breathe. Other trails require you to squeeze between big boulders or ride through narrow slot canyons.
There's no taking the custom F250 MegaRaptor through those areas, which kind of defeats the purpose of an awesome off-roader that's supposed to conquer any terrain.
You can't exactly tread lightly with a vehicle that rolls on either side of an established trail. The thing will tear up the landscape, possibly putting at risk the right to access in the future. These are issues off-roaders constantly face.
To be fair, the Raptor suffers from this shortcoming as well, although not quite to the same extreme extent.
Probably Never See One
You could say the custom F250 MegaRaptor is a lot of things. One things it's not is small, or understated, or even affordable.
Will you ever see one in person? Maybe not, because for many good reasons, these things will probably be quite rare.