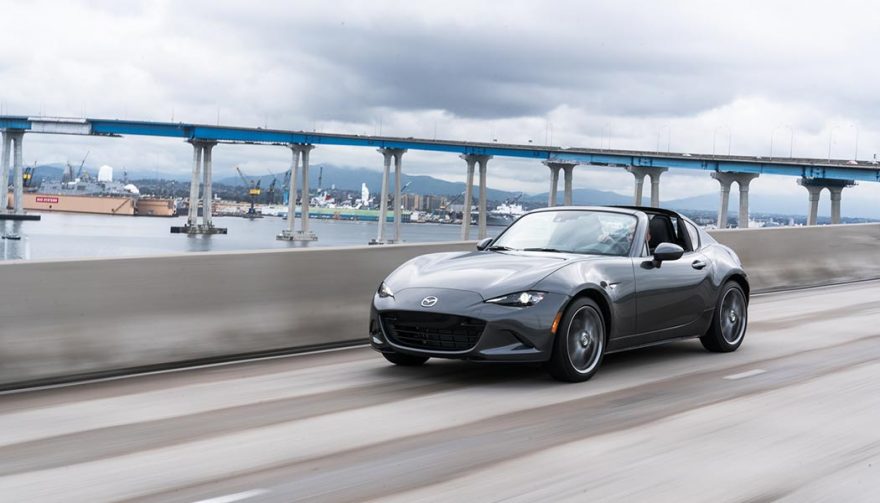 The 2017 Mazda MX-5 Miata is powered by a SKYACTIV-G 4-cylinder that makes 155 horsepower and 148 lb-ft. of torque.
12 Affordable Sports Cars for Fun, Cheap Speed
If you're looking for the most affordable sports cars, you're in luck. Sports cars are one of the most popular and well-researched segments in the automotive world.
Like everything else out there, the best sports cars don't come cheap. If you want one of the fastest sports cars or one with fancy leather and the latest bells and whistles, you won't find it here. We've compiled the top 12 sports cars for the money-conscious buyer. It's the most affordable sports cars for 2017.
2017 Mazda MX-5 Miata: $24,915
A pure driving experience, uninhibited by the frills you'll find on luxury cars. It's an iconic open-top sports car, the 2017 Mazda MX-5 Miata. It's a clean design with simple lines but wholly gorgeous. And underneath that beautifully sloped hood is where the real magic is bottled up.
The 2017 Mazda MX-5 Miata is powered by a SKYACTIV-G 4-cylinder that makes 155 horsepower and 148 lb-ft. of torque. Immediately, you might question why this is even considered a sports car with those power numbers. It's quickly answered when you discover the car weighs just 2,332 pounds. Mixed with a penny-pinching 6-speed rower, the Miata is a riot to drive.
For the base price of $24,915, you get decent equipment too. Power locks, power drop-top, a nice dashtop audio display with Bluetooth and headrest speakers, keyless entry, alloy wheels – all the basics are there plus more. It's one of the most affordable sports cars you'll find.
2017 Toyota 86: $26,255
It's the first time in a very long time Toyota has had a rear-wheel-drive car in its lineup. The 2017 Toyota 86 is essentially the Scion FR-S rebadged for the parent brand since Scion is no more. Visually, it's quite aggressive and appealing, contradicting most of the Toyota lineup altogether. The sexy little two-door, even in its basest configuration, is an enjoyable drive with great features.
Starting inside, the Scion – I mean, Toyota 86 – shows its value with bolstered seats, a three-spoke steering wheel, soft-touch materials, and a complement of standard power options. Amid the equipment, however, there's a cheap feel inside, little you might expect from an entry-level Toyota.
That sensation disappears once you go for a boot. Its 2.0-liter Boxer engine is silky-smooth and has 205 horsepower. The 6-speed manual transmission is what you get for a little more than $26k. For the money, it's all right. If you're comparing it to a BMW or Porsche, it's notching and unpleasant. But shoppers of affordable sports cars won't mind or notice.
View on One Page