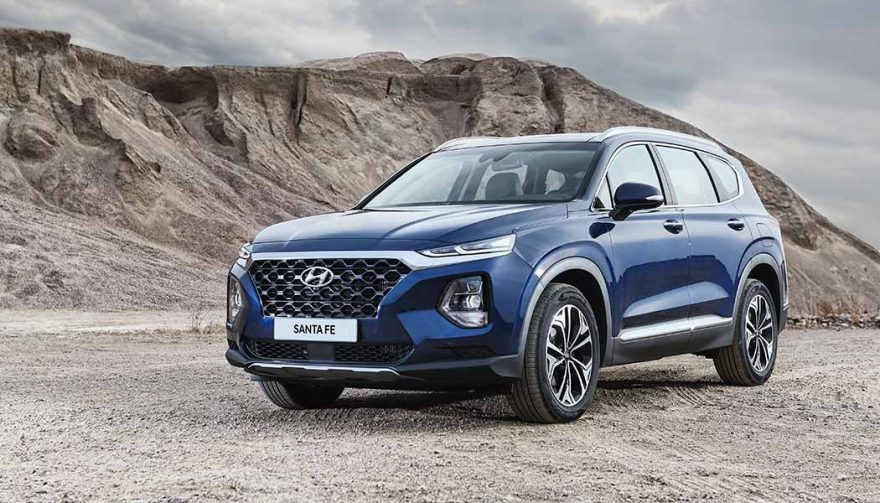 The 2019 Hyundai Santa Fe will have an available diesel engine option
All-New 2019 Hyundai Santa Fe SUV Will Have a Diesel Option
A new Hyundai Santa Fe diesel option will be available on the 2019 model. It will be the first diesel engine the South Korean car maker will bring to North America.
Along with the new diesel engine option, there are a few other changes in store for Hyundai's best selling SUV, including an all-new three-row, eight-passenger trim.
2019 Hyundai Santa Fe Powertrains
The all-new fourth-generation 2019 Hyundai Santa Fe will have three available powertrains. The diesel engine is a 2.2-liter CRDi turbodiesel with an estimated 200 horsepower and 320 lb-ft of torque.
Along with the diesel there are two gasoline engine options. A 2.4-liter inline four-cylinder GDI engine has an estimated 185 horsepower. The more powerful turbocharged 2.0-liter four-cylinder engine has an estimated 232 horsepower.
All three of these engine options will come mated to a brand-new Hyundai-designed eight-speed automatic transmission. It's lighter than the out-going six-speed transmission. What's more, Hyundai says it improves economy by more than three percent.
New Naming Scheme
Say good bye to the five-passenger Santa Fe Sport. Beginning in model year 2019, the Santa Fe Sport will just be the Hyundai Santa Fe.
The current seven-passenger, three-row SUV that we call the Santa Fe will become the Santa Fe XL for model year 2019. The new eight-passenger model is yet to be named.
The car maker says the Hyundai Santa Fe diesel will also get an "occasional-use third-row seat" with one-touch folding second-row seats for easy entry into the third row.
New Appearance
The fourth-generation Hyundai Santa Fe has a much more athletic look and wider stance than its predecessor. The cascading grille, which debuted on the 2018 Hyundai Sonata, dominates the front. There's also a composite light design with LED daylight running lights positioned on top of the LED headlights.
Inside, the Santa Fe interior design combines premium quality with a horizontal and roomy layout with  enhanced visibility.
It's bigger inside, too. Total interior volume is up 4 cubic feet in the two-row Santa Fe, and nearly 7 cubic feet on the third-row model. Outside, the 2019 Santa Fe is about 3 inches longer.
Safety and Technology
As would be expected, the 2019 Santa Fe is loaded with safety features and other technologies, including Hyundai's latest AVN 5.0 navigation system on upper trims. The base level trim gets a standard 7-inch user interface, and they are both Apple Car and Android Auto compatible.
Other features include an available Qi wireless charging pad for Apple iPhone 8 and iPhone X users, as well as some Android devices. There's also a Smart Speed-Dependent Volume Control feature which automatically alters the stereo's output based on the vehicle's speed and the system's volume setting.
Hyundai Smart Sense technologies will be standard on Santa Fe SE trims and higher. New features include Rear Seat Occupant Alert, which helps detect movement in the back seats and reminds drivers to let back-seat occupants out of the car when they reach the destination. The 2019 Santa Fe also gets Hyundai's first Safe Exit Assist. This feature temporarily prevents doors from being opened when a motorcycle, bicycle or vehicle approaches from behind even when the doors are unlocked.