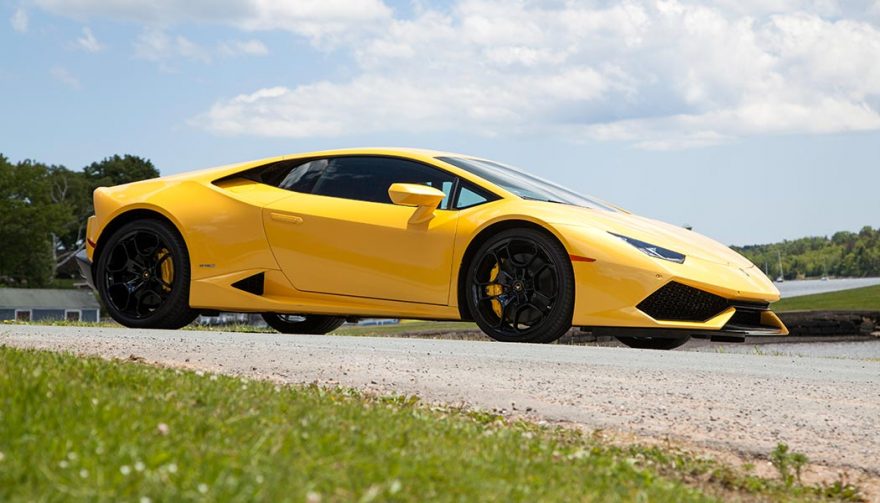 Marvel ditches the Audi for a Lamborghini Huracán in the new "Dr. Strange" feature.
Lamborghini Huracán Stars in "Doctor Strange" Movie
For all you car enthusiasts who are tired of seeing Audi get all the love in the Marvel Cinematic Universe, there is great news! The Lamborghini Huracán Coupé makes an appearance in Marvel's latest Superhero release, "Doctor Strange," starring Benedict Cumberbatch in the title role. The film opened Nov. 4.
The Lamborghini Huracán, painted in Grigio Lynx, was on display at the film's Los Angeles premiere, while celebrities walked the red carpet. Appearances were made by Benedict Cumberbatch, Tilda Swinton, Chiwetel Ejiofor, Rachel McAdams and Benedict Wong, who all star in the film.
The Huracán is prominently featured during a key turning point in the movie's plot, driven by the film's main character, Dr. Stephen Strange, The Sorcerer Supreme.
The Story Of "Doctor Strange"
"Doctor Strange" is the story of world-famous neurosurgeon Dr. Stephen Strange, whose life changes forever after a car accident robs him of the use of his hands. When traditional medicine fails him, he is forced to look for healing, and hope, in an unlikely place—a mysterious enclave known as Kamar-Taj. He quickly learns that this is not just a center for healing but also the front line of a battle against unseen dark forces bent on destroying our reality. Before long Strange—armed with newly acquired magical powers—is forced to choose whether to return to his life of fortune and status or leave it all behind to defend the world as the most powerful sorcerer in existence.
The Lamborghini Huracán
The Lamborghini Huracán LP 610-4, which made its world debut at the Geneva Motor Show in 2014, is the successor to the iconic Gallardo. It is powered by a 90-degree naturally aspirated V-10 of 5.2 liters displacement. With a 12.7:1 compression ratio and dry sump lubrication, the Huracán's engine puts out 602 hp and 413 lb.-ft. of torque.
The Huracán's transmission is a 7-speed DCT. It provides power to all four wheels through an electronically controlled all-wheel drive system with a rear mechanical self-locking differential. Acceleration figures are 0-62 mph in 3.2 seconds and 0-124 mph in 9.9 seconds. Cornering force comfortably exceeds one g.
Brakes are carbon-ceramic with fixed monobloc calipers in aluminum with 6 pistons (front) and 4 pistons (rear). Front and rear brakes are ventilated and cross-drilled. Wheels are 8.5 x 20 front and 11 x 20 rear, wearing 245/30 R20 tires on the front and 305/30 R20 on the rear. Braking distance from 62-0 mph is 105 ft.
The structure of the Huracán consists of an aluminum and carbon fiber chassis and an aluminum and synthetic material body. For optimal aerodynamics, a rear fixed spoiler is integrated in the body shape. The underbody is completely paneled to minimize drag. Base price is $237, 250, with many available customization options. A Spyder model with power-retractable softtop is also available, starting at $267,545.
The Takeaway
It's always nice to see a cool exotic car getting attention in a mass market movie. In this case, there is some irony involved. Iron Man's Audi R8 and Doctor Strange's Lamborghini Huracán are both produced by brands belonging to Volkswagen AG. In fact, the R8 and Huracán share their structure with each other. Separated at birth, indeed!
Why is Lamborghini interested in this type of product placement? Reinforcement of the brand's iconic status among children, teens and young adults is essential for Lamborghini's image as we are all pushed into a connected future of autonomous car-sharing. As this happens, the young will have less and less interest in vehicle ownership. In a world of boring, ordinary cars, Lamborghinis are special, inspirational and cool. It is an image worth nurturing, and is essential if the Lamborghini brand is to survive.
Another thing to think about: The Lamborghini Huracán is the car involved in the accident that results in the loss of Dr. Strange's use of his hands. That's one more expensive lawsuit that Volkswagen does not need, even if it's a fictional one!