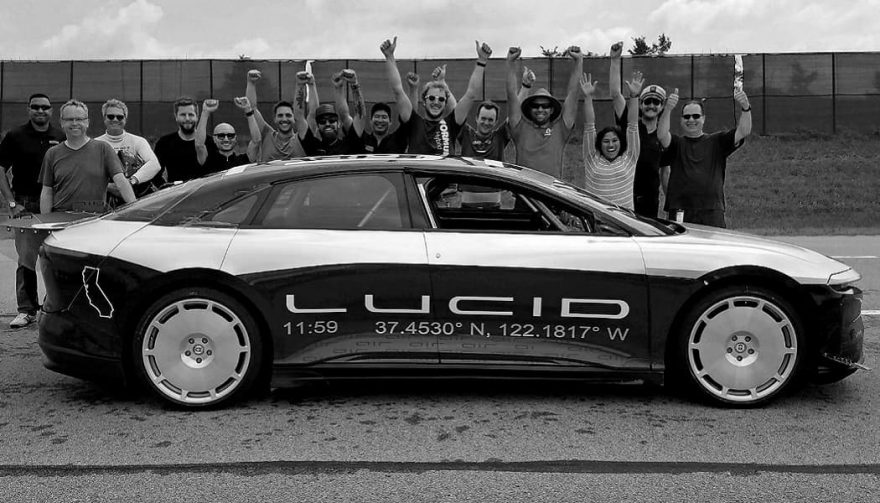 The Lucid Air Alpha prototype hit 235 mph today
All Electric Lucid Air Prototype Hits 235 MPH in Latest Speed Test
Menlo Park, Calif. – Lucid Motors says that its Lucid Air prototype car hit a top speed of 235 mph today. This was the all-electric vehicle's second high-speed test run.
During the car's first test run in April, the Lucid Air Alpha speed car prototype reached a peak speed of 217 mph. However, during that run the car was equipped with software that limited speed.
Learning from the First Run
The company made updates to the Lucid Air prototype based on data from the initial test run at the Transportation Research Center in Ohio.
Some of the modifications included an update to the air suspension software to improve responsiveness when heavily loaded. As well, Lucid updated the front motor coolant flow and ventilation.
Back to the Track
The test today was nearly cancelled due to an early morning rain, but commenced at 11 a.m.
You May Also Enjoy:
Lucid Motors Targets Tesla with Arizona Plant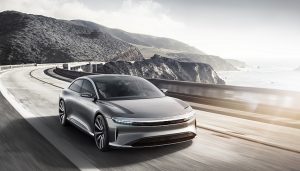 With the software updates, and without the speed-limiting software, the Lucid Air Speed Car hit 235.44 mph.
Along with this top speed, there were indications that the other modifications were a success.
"The car was perfectly stable in corners and on the straight. The software update to the air suspension performed as expected and responded appropriately during cornering. The thermal levels of the powertrain, including the front motor, stayed within specification throughout the run," Lucid Motors said in a release.
Lucid Motors went on to say that top speed was indicative of the conditions of the day on the speed car prototype. However, it is not the final production top speed for the Lucid Air.
Another Luxury All Electric Option?
To say Lucid Motors wants to position itself as viable alternative to Tesla would be an understatement. The Model S luxury sedan, in particular.
The upstart EV manufacturer has considerable Tesla lineage. Lucid Motors' CTO Peter Rawlinson was the chief engineer behind the Tesla Model S. Further, other former Tesla Model S engineers are involved with Lucid Motors now.
Lucid Motors says some versions of the Lucid Air luxury sedan will have a 400-mile range and be capable of producing 1,000 horsepower. The car will also be autonomous-ready.
Lucid Motors will manufacture the Air in Casa Grande, Arizona. The car should go on sale sometime in 2019. The company says starting prices for the electric car will be $52,000 after tax credits.