2017 BMW i8
It's a bit of a stretch to include the BMW i8 because it's aiming at the supercar buyer, not just the luxury market. But through "objective journalism practices," we've decided to allow it. The BMW i8 is one of the best BMWs ever in acceleration, zipping to 60 mph in 4.2 seconds. Inside, it's still the familiar BMW feel and layout, despite the reclined seating position. A massive screen rests atop the dash, and the digital instrument cluster is a marvel when you're driving.
The BMW i8 has a combined 357 hp and the top end in regenerative energy recovery. Even with astonishing power, the BMW i8 manages an EPA rating of 76 mpg-e! Tack onto that a 330-mile total range, and the $140,000 price tag doesn't seem so bad after all.
 2017 Mercedes-Benz C350e
If the BMW i8 is just out of your price range, let's scale it back a little. The 2017 Mercedes-Benz C350e could be more your style. Everything about the C350e screams Mercedes, from the finely crafted wood accents and oddly shaped infotainment screen to the rotating selector knob on the console and the analog clock. Like all good Mercedes models, it's all about comfort and style. AIRMATIC suspension and Dynamic Select tell you just that.
Related Search Topics (Ads)
The 2017 Mercedes-Benz C350e is a great premium sedan with power to match. 275 combined hp from the 2.0-liter turbocharged gas engine and a 60 kW electric motor mean the C350e still manages to be a sub-6 second car from 0-60mph. The starting MSRP is $46,050 but added packages can easily put you over $60,000.
2017 Infiniti Q70 Hybrid
The 2017 Infiniti Q70 Hybrid takes their full-size luxury sedan to a new level. Standard equipment includes Approaching Vehicle Sound for Pedestrians (which seemsodd), front and rear sonar, Around View monitor, Infiniti Intelligent Key, and 10-way power adjustable heated front seats. It's not overly inspiring until you look at the upgrades, including the Technology and Deluxe Touring packages, but that's for another time.
360 hp are produced between the 3.5-liter V6 gas engine and an electric motor. Fuel efficiency is respectable at an EPA rating of 28 mpg city and 33 mpg highway, but nowhere close to the Bimmer. It starts out at $56,200.
View on One Page
You May Also Enjoy:
MDX Sport Hybrid: Acura Nails First Shot at Hybrid SUV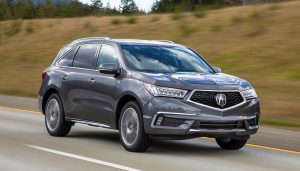 Related Search Topics (Ads)