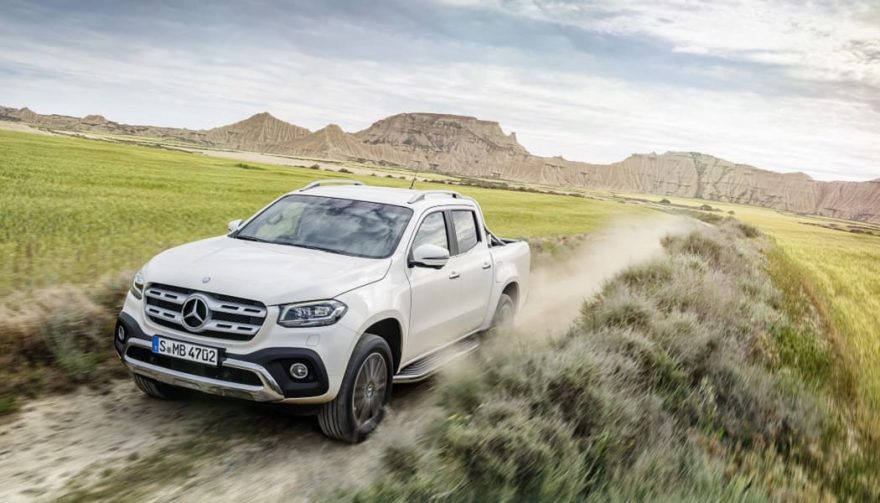 Mercedes-Benz has no plans currently to bring the X-Class to the United States
The Mercedes-Benz X-Class Pickup Truck Is Finally Here, Sort of
Cape Town, South Africa – The Mercedes truck in its final form is finally here. Mercedes-Benz unveiled the X-Class luxury pickup truck today at an event in Cape Town, South Africa.
At the unveiling, Mercedes-Benz officials said their new midsize pickup perfectly combined rugged utility and vehicular luxury.
"The segment for midsize pickups is ripe for a premium vehicle. With the X-Class we will open up this segment to new customer groups, just as we redefined the off-road segment with the M-Class more than 20 years ago," said Dr. Dieter Zetsche, the chairman of the board of Daimler AG and head of Mercedes-Benz Cars. "Our pickup convinces as a workhorse, yet also as a family and lifestyle vehicle. In short, the X-Class is the Mercedes among pickups."
However, if you're reading this in the United States, don't get too excited. The X-Class will be readily available in Germany and other parts of Europe this year. And it will be available in South Africa and Australia next year.
And then in some parts of South America in 2019. But there are no plans for a State-side release of the Mercedes truck.
Mix and Match Options
Where it is available, the X-Class comes in three trims: Pure, Progress and Power. Each one has a long list of different standard options.
Under the hood, the X-Class has a lot of options to mix and match. You've got four engines, two transmissions and three types of drive systems.
For the engine, there's two 2.3-liter diesel engines. One is a single-turbo with 163 horsepower, the other is a bi-turbo capable of 190 horsepower. There are also two gasoline engines, an inline-four that produces 160 horsepower and a 258-horsepower V6.
Not a Complete Mercedes-Benz Product
The X-Class is the product of a joint operation partnership between Mercedes-Benz parent company Daimler and the Renault-Nissan Alliance.
So the The Mercedes truck isn't a complete Daimler product. The X-Class is built on a frame that first belonged to the Nissan Navara. The Navara isn't available in the United States either, but it's precursor is – the Nissan Frontier.
Mid-Size Pickup Market
Most analysts have pinned the reason for the X-Class not coming to the United States on the county's disinclination for the midsize pickup market. Though the midsize segment is becoming more popular, large pickups are still king in the U.S.
The 2018 X-Class go on sale in November starting around €37,000. Not that it matters, but that's around $43,000.