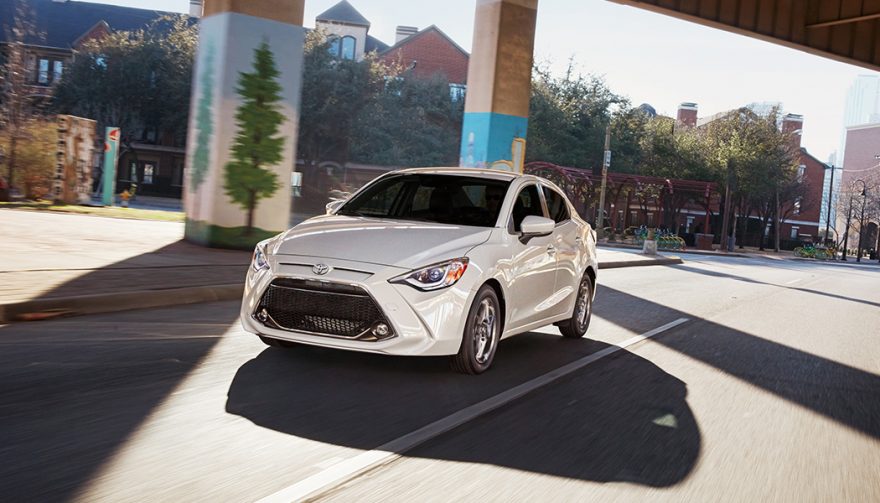 Need new wheels, but want to spend just half the average American new car? This list of the most affordable cars helps you do exactly that
Stretch Your Pennies with the Eight Most Affordable Cars in 2019
On average, the American car buyer spends around $35,000 to enjoy the comfort, ride, and performance of a new vehicle. If that number makes you throw up in your mouth a little bit, don't worry. You can get a new car for much, much less when you pick one of the most affordable cars.
Let's be clear here. When you're looking at new vehicles that cost well below average, you're giving something up. It could be a handful of tech options that you could do without, or you might be sacrificing sheet metal. That is, buying a puddle jumper instead of a midsize car or SUV.
There are still good options on the market
if you want to spend as little as possible. Here are the eight most affordable
cars you can buy for the 2019 model year.
2019 Toyota Yaris L Sedan
In the eighth position, the 2019 Toyota Yaris L finds itself as the highest-priced car on our list of the most affordable cars. Nearly $20,000 below the average selling price for new cars today, it's still a bargain.
The Yaris L is a sporty sedan that is
relatively well equipped, even for a low sticker price. It has a 7-inch touchscreen
display, remote keyless entry, steel wheels with hub caps, and 'sport' bucket
seats. You won't be doing much 'sporting' with the Yaris L, though, because its
1.5-liter naturally-aspirated four-cylinder makes just 106 horsepower. And if
you want to upgrade to an automatic transmission, it's going to cost you an
extra $1,100.
Price: $15,600
2019 Chevrolet Sonic LS Sedan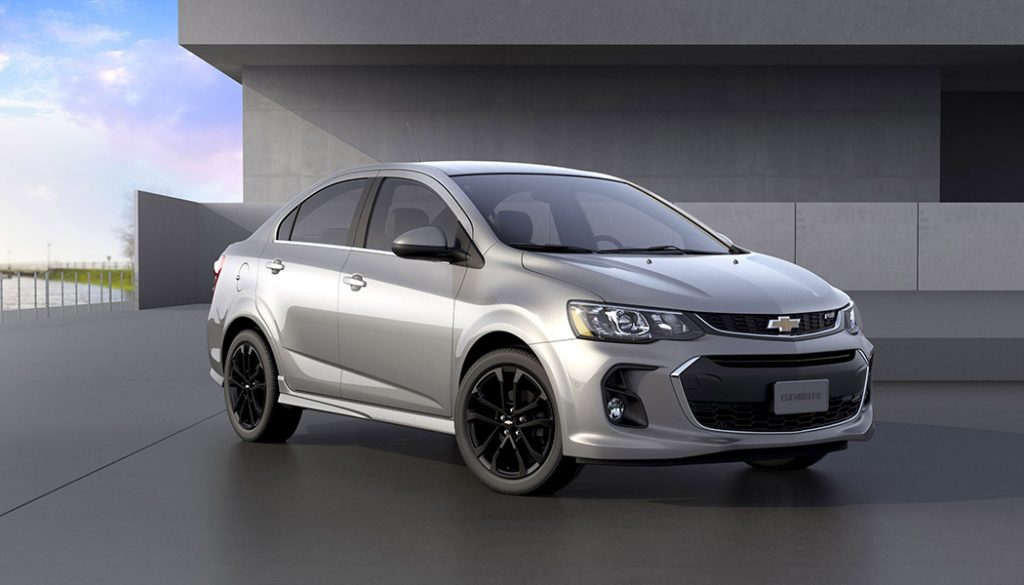 Squeaking in under the Yaris' price tag is
the 2019 Chevy Sonic LS sedan. The Sonic has been around for about a decade and
has always seemed a little soft on quality… until now. The Sonic holds its own in
the segment with generous basic equipment including power locks, body-color
trim, steering wheel controls, A/C, and even Chevy's 4G LTE Wi-Fi hotspot.
There isn't a lot of horsepower on this
list. The Sonic just might have the upper hand here, making 138hp from a 1.4-liter
four-banger. You can sip Perrier instead of tap water with the money you save
on this car.
Price: $15,420
2019 Kia Rio LX Sedan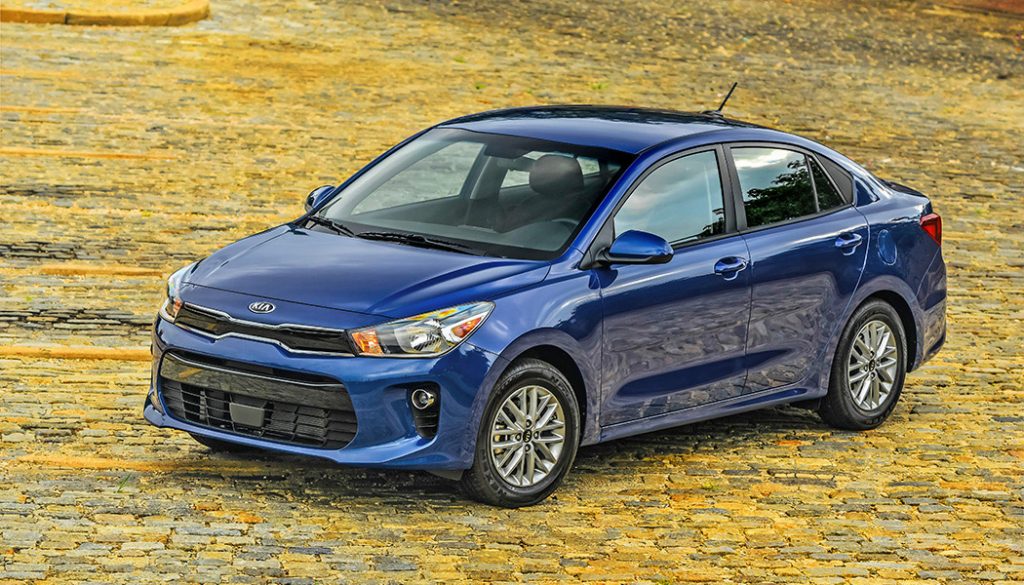 Surprise, it's another subcompact car! The
Kia Rio LX sedan happens to be a low-cost option. But unlike Kias from the nineties,
you don't have to be worried about its longevity. They're built to last. The
Rio LX isn't packed with options by any means, but you'll do fine if you're on a
budget.
Tinted windows, heated mirrors, backup camera, air conditioning, power locks and windows, and satellite radio are all standard. The 1.6-liter four-cylinder makes 130hp which isn't bad, but the big surprise is the standard-equipment six-speed automatic transmission on this list of the most affordable cars. Score!
Price: $15,390
2019 Hyundai Accent SE Sedan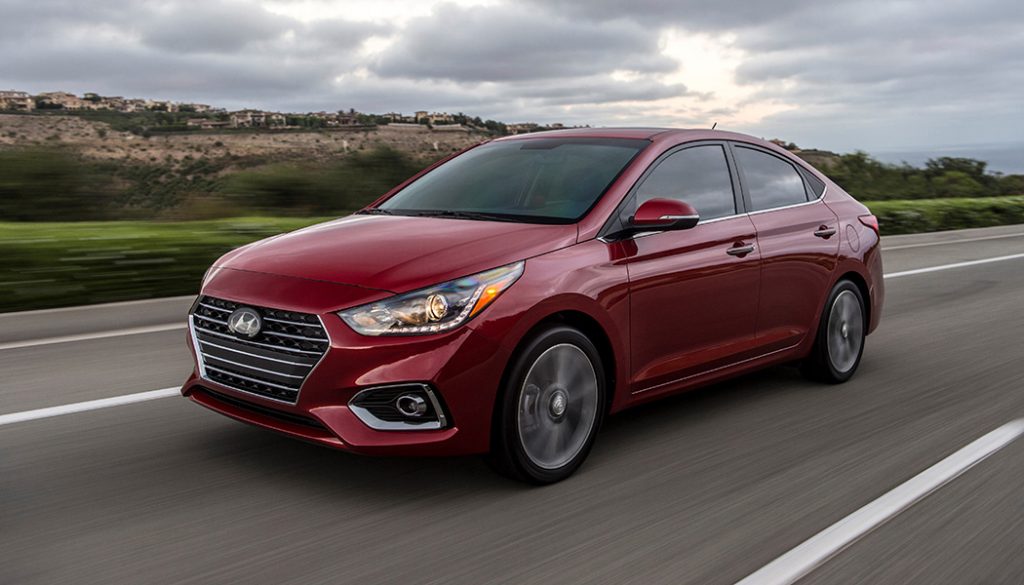 A sibling to the Kia Rio, you shouldn't be surprised that the Accent SE is next on the list of the most affordable cars. It's a couple hundred bucks cheaper for some reason, but otherwise it's nearly identical. Standard features for the entry-level SE trim include a 5-inch color touchscreen audio system, rearview camera, Bluetooth hands-free, and the same 130-hp, 1.60-liter four-cylinder as the Kia Rio.
Price: $14,995
2019 Ford Fiesta S Sedan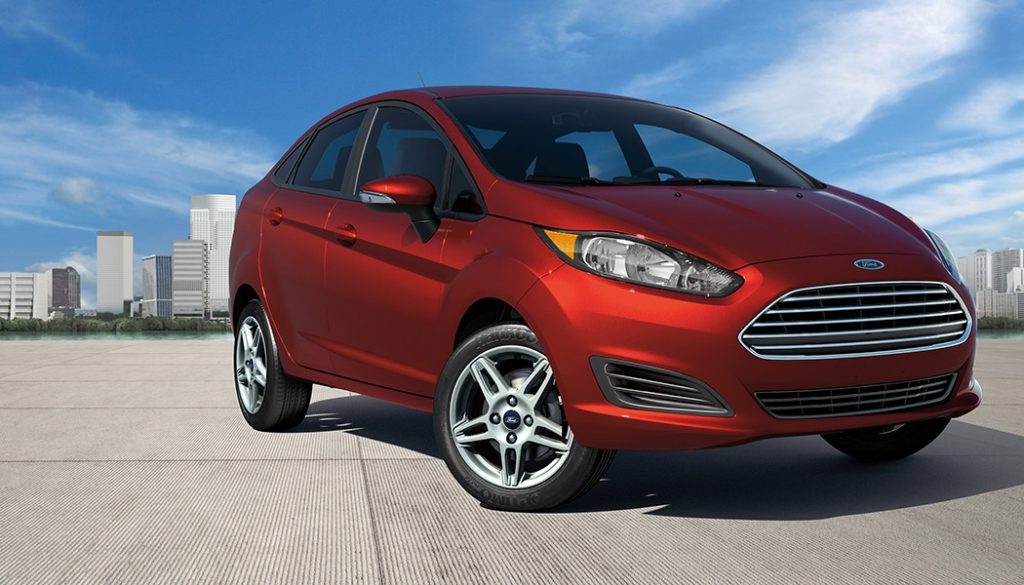 Will you shed a tear for the 2019 Ford Fiesta?
This is its last year in production, but it's been a good run for Ford. If you're
looking for value, you could definitely make a case for the Fiesta S. Not only
is it a sharp-looking car despite its steel wheels with covers, but it has good
tech for the price tag.
Rearview camera, A/C, tilt and telescopic steering
wheel, power door locks with auto locks, and SYNC infotainment are standard. The
1.4-liter I4 is decent, especially paired with the five-speed manual tranny.
The big question is: Will Ford throw a going away party for the Fiesta?
Price: $14,260
2019 Mitsubishi Mirage ES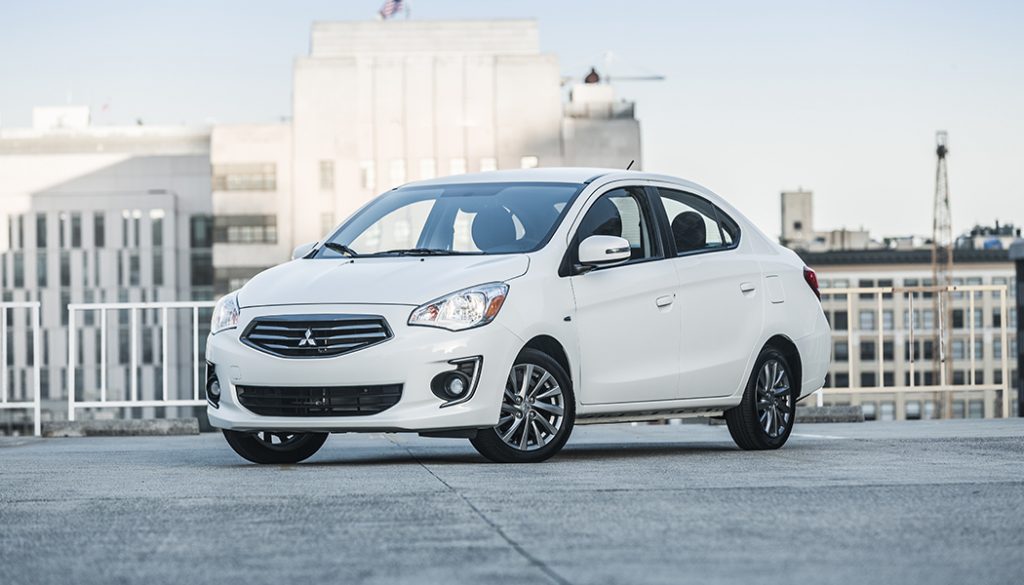 Trying to claw their way into mainstream American automotive, Mitsubishi has put out a compact car with an even more compact price. The 2019 Mirage ES gives you plenty of bang for your buck. A 7.0-inch touch panel audio system with Bluetooth, air conditioning, keyless entry, cruise control, and even a rear spoiler are standard fare for the Mirage ES.
The engine is a little diminutive, however.
A 1.2-liter MIVEC three-cylinder makes an appearance with only 73 horsepower! A
5-speed manual rower is obviously standard with an upgrade to CVT optional.
Price: $13,795
2019 Chevrolet Spark LS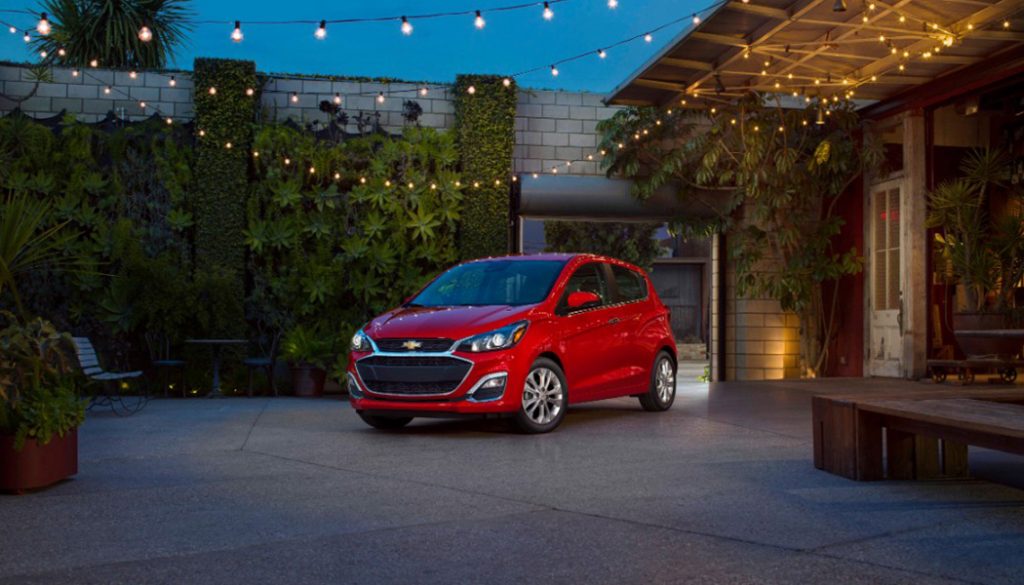 It seems we're still getting smaller. The
Chevrolet Spark LS happens to be in second place for most affordable cars in
2019. Strangely, there appears to be more to the Spark LS than some of the competition.
A rear spoiler, 4-wheel disc brakes, Bluetooth, Wi-Fi hotspot, rear vision camera, 10 airbags, and even Apple CarPlay compatibility are standard. You don't get remote keyless entry, cruise control, or a few other features in the base LS trim though. I guess this is the point you start giving up things on the most affordable cars.
Price: $13,220
2019 Nissan Versa S Sedan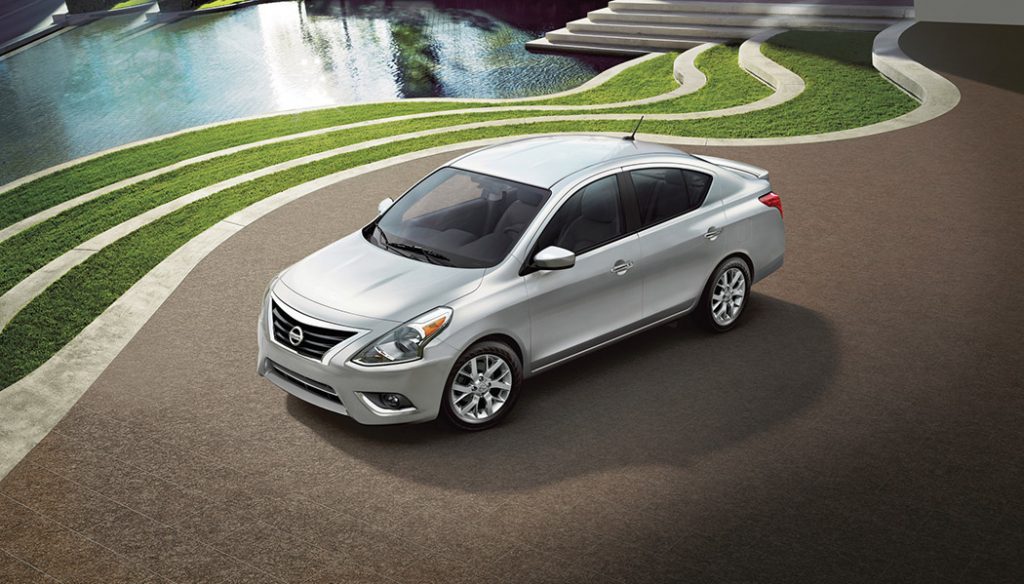 By far, the most affordable car in 2019 is the Nissan Versa S sedan. When we talk about basic transportation, this is what you get. It still looks decent and all but expect to get a little bored inside.
You'll have Bluetooth hands-free, but what
car doesn't these days? No cruise control, no power windows, no remote keyless
entry, and no Apple CarPlay or Android Auto. You get a fancy 7-inch color touchscreen
though. The 109-hp four-cylinder is all you can demand along with a 5-speed
manual shifter.
But hey, you saved a big wad of cash, didn't
you?
Price: $12,460