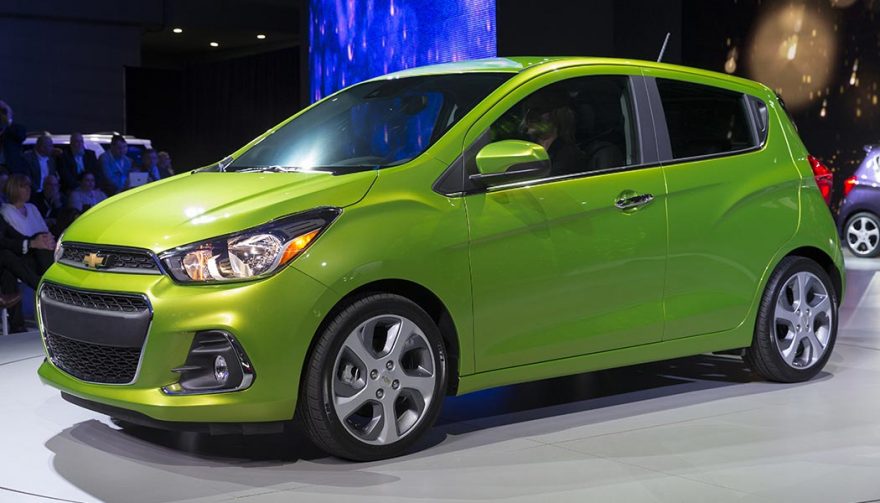 The Chevy Spark is a great new inexpensive car
New Inexpensive Cars in America
According to Kelly Blue Book the average price for a new car in the U.S. marketplace is $33,000. If you are old enough you can recall a time when you could buy a starter home for less than 30 grand. A price point of over $30,000 is a good argument for a certified used car (or previously owned if that makes you feel better) that is typically no older than four years and comes with a limited warranty.
But what if you want to breathe in that new car smell? What if you want to take advantage of the fuel efficient engines and advances in safety technology that only a new car can provide? Well if you like small, and in some cases really small, you can claim a new ride for about a third ($11,900) of the average new car price.
Cheap, Not Chintzy
Here's what we mean:
Nissan Versa
It's not surprising that the Versa has hung on to its title as the cheapest new car in America for another year. What is surprising are all the goodies this price tag brings you. Versa lists as standard equipment air conditioning, Bluetooth hands-free connectivity, an AM/FM/CD audio system, and trip computer. Traction and stability control and anti-lock brakes with Electronic Brake Force Distribution are also included in the base model. You won't be winning any drag races with the Versa's 105 hp engine but you will win the battle of the wallet at the gas pump with a rating of 36 mpg. Price: $11,900
Chevrolet Spark
Chevy's Spark can lay claim to the least expensive American brand on the market and probably ranks high in the "isn't it so cute" quotient. With trim names like Splash, Lime, and Salsa and outlandish exterior colors to match, the Spark is going for the fun look. However, it comes with big car features like rear view camera, stability control, traction control, anti-lock brakes and 10 airbags (where do they put them?). The 98 hp engine will get you 30 mpg around town. Price: $13,485
Kia Rio
The exception to the boxy look of super compacts, the Rio has distinctive car-like design lines that are very attractive. It comes with a nice list of standard equipment including AM/FM/CD/MP3 audio system, a trip computer, air-conditioning, multiple airbags and traction/stability control. Powered by a 1.6L engine that delivers 138 hp the Rio almost qualifies as a muscle car for this class while still maintaining a respectable EPA rating of 27/38 mpg. Kia also comes with a 10 year, 100,000 mile warranty on the powertrain. Price: $14,165
Nissan Versa Note
People come in a Nissan dealership to look at a Versa and they leave driving the 5 door Versa Note hatchback. If you need more cargo space, more legroom and want a clever adjustable cargo system including a hidden compartment in the floor for valuables, then for $2280 more than the Versa you can have the Note. Same features, same engine, same mpg. Price: $14,180
Chevrolet Sonic
Chevy owns two of the least expensive 7 cars and the Sonic is an example of what a motivated American brand can do. The Sonic has plenty of head and leg room up front and more than you might imagine in the back. If you want to turn the sedan into a 5 door hatchback it's only a $700 upgrade. The interior materials are a bit cheesy but the cargo space and surprisingly good handling make up for it. Price: $14,335
Ford Fiesta
The Fiesta sedan is Ford's smallest and least expensive model in their lineup. If you really think there is something akin to a performance-oriented sub-compact then the Fiesta is probably it. It has spritely handling, is fairly quick (particularly if you opt for the 3 cylinder turbocharged engine) and comes with a nice selection of features and technology standard. If you have kids, the back seats will accommodate three of them. Otherwise you can pack in two average sized adult even though there are three sets of seat belts. Price: $14,580
Smart ForTwo
OK this one is definitely for a niche market. If you are a city dweller and drive in grid lock on a daily basis this might be the ride for you. It's a two seater powered by a rear-mounted 89-hp turbo three-cylinder engine that gets 33/39 mpg. This ride is only 8.8′ long. It makes a Mini Cooper look like a limo. On the plus side Smart Car has widened the body a bit so you can keep your elbows inside the car while driving. It has also added about 800 lbs. of reinforcing to the frame making the ride significantly more confident feeling. With a 22.8′ turning circle you'll be able to do a U-turn in an alley should the need arise. Price: $14,750
A word about the prices. All of the prices listed here are for entry level trims excluding transportation, taxes and licenses and dealer fees. We all know your odds of finding a car with absolutely no optional equipment is next to nil so it's a good idea to do your shopping on the internet where dealers tend to list the actual price of the vehicle based on how it's equipped.
The Sunday ads that promise a Nissan Versa for $11,900 never seem to pan out when you get to the dealer. Some states have even passed laws that require dealers to reveal how many cars they have priced at the advertised rate.
But overall, there are some quality new car rides that can be had for $15,000 to $16,000 that should satisfy the new car buyer on a budget.