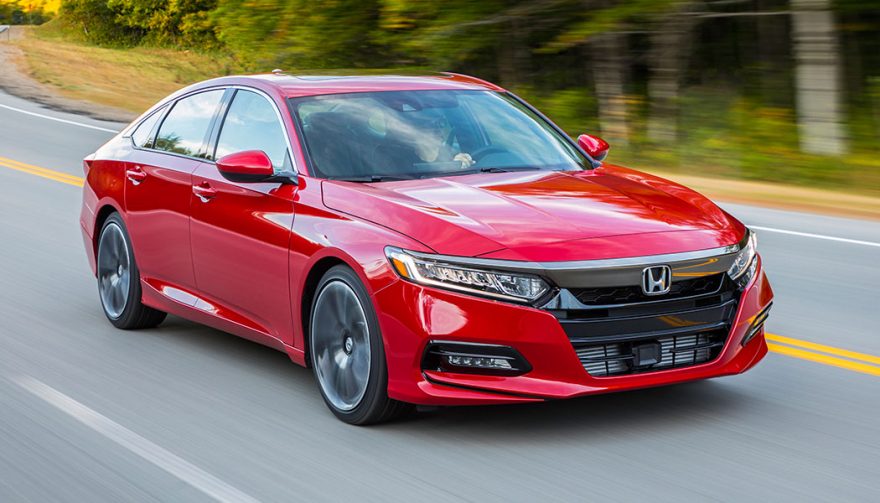 The Honda Accord comes with two four-cylinder engine options.
Is the All New 2018 Honda Accord Still the Midsize Sedan Gold Standard
There's something that Honda just gets right every time they launch a new Accord. What's needed to make the Honda Accord great changes from generation to generation. And this time around, as the 10th-generation 2018 Honda Accord hits dealer lots, the priority seems to have shifted to making the model more upscale than ever, while adding plenty of user-friendly high-tech to the package.
The 2018 Honda Accord is the latest version of one of the best selling cars in the universe. It's a sales superstar, a standard to which other affordable family cars are held. And, for the next few years, it's the machine that will carry Honda's presence into the family sedan marketplace, giving competitors a run for their money once again.
On Board the 2018 Honda Accord
This cabin sets the high-tech stage with a partially digital instrument cluster and a gorgeous wide-screen central command touch interface. Beneath that a wireless charging pad sits in a dedicated bin to juice your smartphone.
The tester, a 2018 Honda Accord Touring, also included a great Head Up Display (HUD) interface, which projects vital running data into the lower edge of the windshield. It's worth noting the system has better graphics and resolution than a similar HUD I recently used in a six-figure BMW.
No issues to note with on-board space. The 2018 Honda Accord cabin is generously sized. It's easy to get in and out, and the rear seats offer ample legroom and headroom.
Plus, in typical Honda fashion, the interior is packed with handy and functional storage cubbies and compartments to keep smaller items organized and secure. Signs of the time include numerous high-output USB charging ports scattered throughout.
The materials and style project some modest swank, with matte-wood finishes, aluminum-colored trim and nicely stitched leather seats as the most notable attributes. However, even though the interior is formal and uncluttered, some drivers will wish for a little more excitement from the shape and overall design.
User Friendly Tech
The tester provided virtually every outward-looking hazard detection system available, as part of Accord's included Honda Sensing Technology. The system can even steer for you to keep the car centered between visible lane markings, and can detect and alert drivers of a car approaching in a laneway they're backing into. Radar parking assist? It's got that, too. Heck, if the 2018 Honda Accord was any more self-aware, they'd have to ship it with a birth certificate.
You May Also Enjoy:
2018 Honda Accord: No V6 Option on the 10th Generation Sedan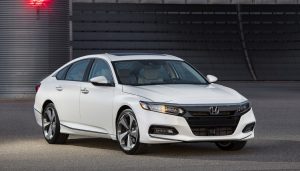 Related Search Topics (Ads)
There's also a new tablet-like central command interface, with new graphics and upgraded buttons and controls nearby that click precisely, like a computer mouse.
If it's been around 10 years since you've bought a new car, you might find all of the newfangled technology and interfaces a little overwhelming. Fortunately, Honda has included a clever little "tool tips" function, which appear in the instrument cluster screen as you manipulate certain features.
Powertrain Tech
The Honda Accord comes standard with a 1.5-liter turbocharged four-cylinder, which you'll also find in the new Civic and CR-V. Horsepower and torque are rated at 192 apiece, and since the engine is turbocharged, that torque output is available in full by just 1,600 revs.
Further, Honda's CVT transmission is on board.  It has no pre-set gears and allows the powertrain to operate more responsively, much more smoothly, and even more fuel efficiently. A manual transmission is available on some model grades, just not on the top tier Touring trim.
The V6 option is gone, but a higher output 2.0-liter turbocharged four-cylinder engine will be available. It produces 252 horsepower.
With the standard 1.5-liter engine, fuel efficiency is rated at 30 mpg in the city and 38 mpg on the highway.
On the Road
First and foremost, there's a nice balance between sporty tautness and overall comfort. The shocks are slightly firm. There's a layer of softness around the edges of their travel that ensures the ride is never jarring or jagged, and that it rarely crashes into bumps.
It's an athletic ride, but not an uncomfortable one. It reminds me of any number of higher-end luxury sport sedans. What really stands out is the rigidity of this body structure. Not to mention how well the driver can actually feel it. Hit a bump or pothole and the car feels like it's made out of cast titanium.
The brakes deliver good stopping power, a strong bite from the first bit of pedal, and a nearly sports-car precise pedal action that's confidence inspiring and not too touchy. There's plenty of peace-of-mind when you need to quickly slow down.
Steering, further, typically feels nicely tuned for the situation at hand. At lower speeds, it's feather-light, which eases maneuverability in tight quarters. At highway speeds, the steering heavies up a touch, helping the car stay centered in its lane.
Comments and Complaints
The 2018 Honda Accord largely stacks up as a solid machine with many strengths and few weaknesses. Still, I think it has three problems.
First, in the loaded Touring trim, pricing starts at $33,800. That's not even with the bigger engine. The base model starts at $23,500, if you're wondering.
Next, the new Accord is not a fantastic looking machine. Aside from the sexy turbine-like wheels, the rest of the styling looks a little incoherent. Worse, it seems like some details incorporate touches heavily inspired by recent competitors, including the new Toyota Camry and Hyundai Sonata, as well as the Chevrolet Malibu. If you're test-driving the new Accord, be sure to drive these.
Third, highway noise levels were higher than I expected in a machine at this price point when cruising at a decent clip. However, this may be partly due to the tester's winter tires.
However, ultimately this machine should be considered a priority test-drive for those in the market, and especially, for those after some of the best safety and powertrain tech currently offered in this segment.