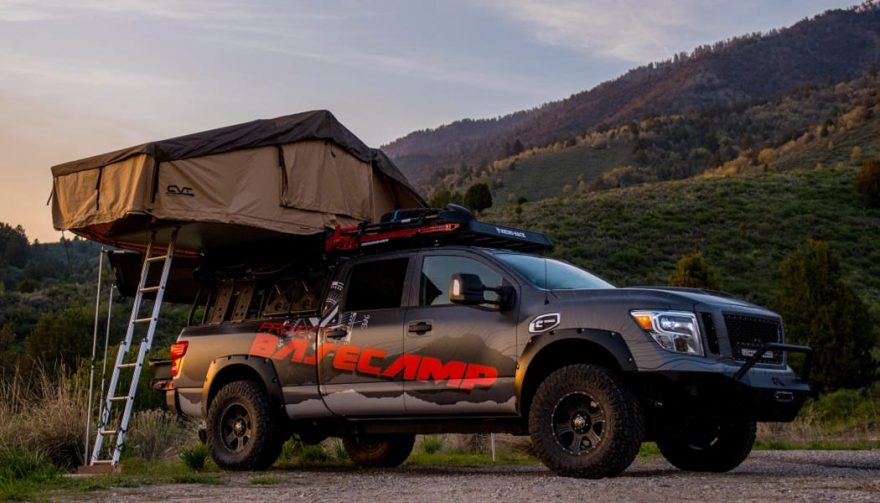 The Nissan Titan Project Basecamp uses over 60 aftermarket parts
The Nissan Titan Project Basecamp Is the Ultimate Overlanding Machine
Overlanding, or going out into the middle of nowhere for long periods of time, is the kind of thing only the most hardcore of outdoor enthusiasts take on. It's something the Nissan Titan Project Basecamp was designed for.
It's a heavily modified truck that can get you through all kinds of difficult conditions. As the name implies, it also acts as a basecamp when you're far from civilization.
Anything But Stock
Starting off fresh, Nissan used a Titan XD Pro-4X Crew Cab. It was fresh off the assembly line in Mississippi. The thing didn't stay stock for long, but the ladder frame, Cummins V8, and other hardware made for a solid jumping off point. After all, this pickup pounds out 555 lb-ft of torque and can make it through some pretty rugged trails without any mods.
Amazingly, Nissan used over 60 aftermarket parts and accessories from all kinds of big names in the industry to create this monster. It's the kind of project vehicle everyone dreams of building, but usually can't afford.
Riding Hard
To help with all those important off-roading angles, the Nissan Titan Project Basecamp features a 3-inch lift. Air springs plus an onboard compressor help smooth out performance. Drivers can adjust the ride height to suit different scenarios.
The truck rides on Nitto Ridge Grappler 35-inch all-terrain tires, which are 12.5 inches wide. They should make this ride pretty surefooted, even in bad conditions. Those tires wrap around 17-inch beadlock wheels made of an aluminum alloy.
Looking the Part
The new stance makes the Nissan Titan Project Basecamp look like it means business, not like the Titan XD Pro-4X looks weak or unprepared in stock form. Other exterior mods play into that ultra-tough, utilitarian vibe we all love. Most feature black powder coating, which is a good option to choose, since it goes with any paint color.
To accommodate those big 35-inch all-terrain tires, the fenders flare out some, facilitating full articulation. A custom hood adds to the sporty factor, thanks to a wide scoop up front, plus heat extractors on the sides in the rear.
Both front and rear bumpers are custom-fabricated by Fab Fours. Nismo isn't saying if it will offer versions of these for regular Titan XD owners, but I think it should. The truck also wears rock sliders down both sides of the cab.
A custom wrap makes this Nissan Titan XD anything but subtle. Of course, the rest of the exterior is sure to turn heads anyway. The wrap is splashed with the Project Basecamp name, in case anyone doesn't have the courage to ask what it's called.
The Essentials
Overlanding isn't like going off-roading in Moab. You don't head out on a trail during the day, then go back to a nice designated camp spot, or a hotel, at night. No, the vehicle is often part of your camp as you move along, if not the entire camp. Nissan Titan Project Basecamp comes with quite a few essentials to keep people sustained for weeks at a time without any resupplies.
Daystar fuel packs help you when the closest diesel station is far, far away. Water canisters, also from Daystar, give you a safe drink and a way to wash dishes. A Black Forest portable Fridge Freezer means you can enjoy some perishables, instead of canned and dehydrated everything the entire time in the wilderness.
To carry everything necessary, this truck features a bed cage from Leitner Designs. A Rhino Rack Pioneer rack system also helps keep things organized. Shielding you and your gear from any elements is a Foxwing Awning. You can seek shelter at night in the CVT Tents Mt. Rainier Stargazer tent and vestibule, which you access from a ladder, hopefully keeping critters out.
Of course, plenty of other gear also comes on this truck, like a shovel, hi-lift jack, and a recovery kit. Project Basecamp even comes with a Goal Zero Nomad Solar 100 portable panel, so you have electricity wherever there's sunlight. It hooks up to a storage system, so on overcast days you still have juice.
The Trailer
Wearing a matching wrap, the customized Patriot Camper X2 Off Road Adventure Trailer helps haul the rest of your gear. Going for weeks where there are no stores makes this truck accessory essential.
If you pack it right, this trailer can carry a lot, like two-thirds its weight, or more. Nissan claims the thing can stay hitched and roll right over obstacles with the Titan XD Pro-4X, without tipping. That's not something you can do with most trailers, but overlanding means you don't have some nice roads or maybe even trails, so everything has to be capable.
All the Toys
When you're out in the middle of nowhere, lighting matters more than you realize. Nissan threw on a big light bar, helping drivers to see where they're going.
The chase lights do more than just make the truck more visible at night. Incorporated into them are fog lights, so drivers can see better in low visibility situations, plus spot lights that work for setting up camp or seeing obstacles on a trail in the dark.
No overland vehicle is complete without a winch. Glance and you might miss the Warn on Project Basecamp, because it's tucked under the front bumper. Drivers can work it remotely, a nice feature for safety. Quick-connect cables are great for urgent emergencies.
The Reveal
The big reveal for the Nissan Titan Project Basecamp was at the Overland Expo 2017 in Flagstaff, Arizona. If you missed it, you still might be able to catch the truck in person. It will make the rounds at other outdoor adventure shows and exhibitions through the summer.