2020 Nissan Titan XD Adds More Tech, Simplified Lineup to 'Tweener Pick-Up
This announcement comes just a couple of weeks after the light-duty Nissan Titan was revealed. Like its little brother, the 2020 Nissan Titan XD will come with just one engine choice. A 5.6L V8 Nissan calls Endurance, that offers 400 hp and 413 lb-ft of torque. Gone, at least for now, is the Cummins diesel V8 that the old Titan XD offered. While roughly half of XD sales were the diesel, Nissan decided it was no longer a good fit.
The old seven-speed automatic has been replaced with a nine-speed unit and a much shorter final gear. That means more torque at the wheels more of the time, as well as helping the 2020 Nissan Titan XD stay in its power band more of the time, both of which should help when towing. The extra ratios should also help fuel economy.
Nissan has simplified the number of cab choices this year too. Instead of regular, crew, and extended cabs, there will only be a crew cab. There will also only be a 6.5-foot bed, and four-wheel drive will be standard. Likely because that's what most pickup buyers are opting for anyway.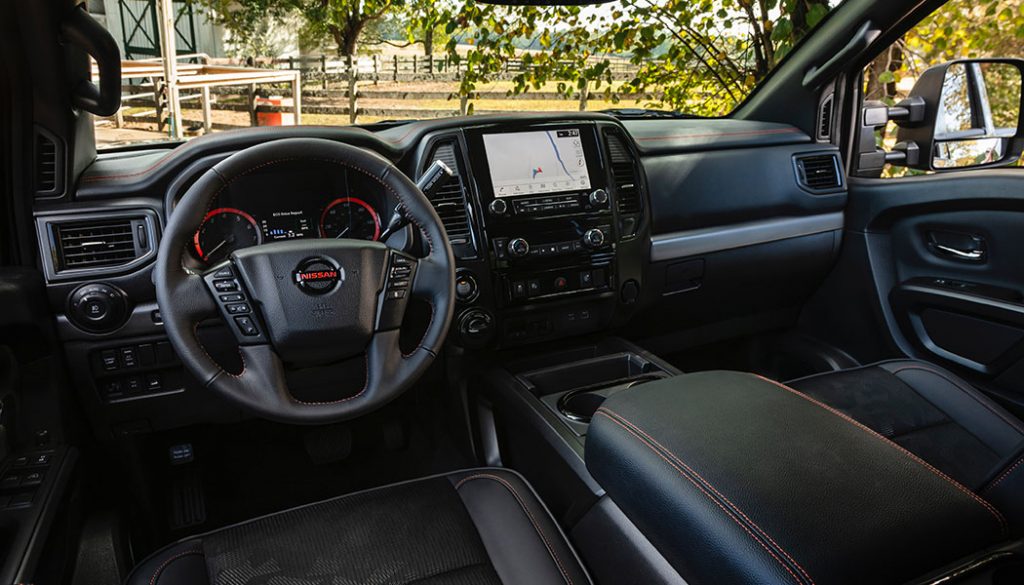 More Tech Inside
Inside, the base 2020 Nissan Titan XD offers a large 9.0-inch touchscreen that comes with Apple CarPlay and Android Auto as standard. There's a built-in router to let you add WiFi connectivity for passengers, too. Nissan's Concierge allows 24-hour access to a digital assistant through the truck who can help with appointment scheduling, even restaurant reservations and personal shopping. Rear seat passengers get a new Zero Gravity seat that Nissan says improves posturing and enhances comfort on long drives. The audio system has a new technology that can counter vehicle vibration in each individual speaker to improve audio quality.
Trucks need rugged and imposing exterior looks, and Nissan's given the new Titan XD what it calls a "Powerful Warrior" design theme. That includes a "modern armor" design and new grilles that help distinguish between the different trims.
More Tech Underneath
Adding to the safety tech, the 2020 Nissan Titan XD comes with an integrated trailer brake controller, trailer sway control, and a one-person trailer light check. There is an available birds-eye camera view to help when maneuvering the truck in tight spaces. Also included on all Titans is Nissan's Safety Shield 360. That comes with automatic emergency braking with pedestrian detection, blind spot warnings, rear cross traffic alert, lane departure warning, high-beam assist, and rear automatic braking.